Photos: Nicolae Stoian
When we ran a photo essay by PSP photographer Nicolae Stoian about Kensington Soccer Club's Family Day a few weeks ago, the response was, simply put, overwhelmingly positive. KSC founder Jim Hardy now talks to the PSP about how the club got started, its mission and plans for the future, why soccer is such a powerful community building tool, and what you can do to help.
Philly Soccer Page: Tell me a little bit about your soccer background.
Jim Hardy: I grew up playing intramural soccer and then returned to it as an adult playing pick-up games in West Philly and later with a Sons of Ben team in CASA (the Philadelphia-based adult amateur soccer league). I am a charter member of the Sons of Ben, season ticket holder to both the Union and Independence, and avid supporter of the US Men's and Women's National Teams. I always enjoyed playing and watching soccer, but I have to admit that over the last five years, I've become quite obsessed with the sport.
PSP: When did you found the Kensington Soccer Club?
JH: I started talking to other community organizers and residents about it in the spring of 2009 and then we kicked things off the following winter with three months of drop-in indoor soccer on Sundays for kids of all ages. We realized the next step was to organize something more formal so we set up a summer intramural program in the summer of 2010 serving 85 kids. This summer, we expanded to include 115 boys and girls ages 6 to 18.
PSP: Why did you start the club in Kensington? Do you have ties there?
I'm a teacher at Kensington High School and I also moved to the neighborhood because I believe I can make a bigger difference by being there around the clock. I can relate better to the students, my everyday neighborly activities have a magnified impact, and I have a great opportunity to organize with other Kensington residents to lift up the whole neighborhood and build stronger connections between the school and community.
PSP: KSC's mission is to work with "youth and families to organize positive, healthy, and fun youth soccer activities while building self-esteem, social skills, and community." How does KSC accomplish community building?
JH: Our soccer games bring together players, volunteers, and families who wouldn't otherwise be interacting. We then try to get as many people as possible involved in actually organizing and running activities because working together to accomplish a goal is the most effective way to build community.
We also organize Family Day celebrations each season where we invite the extended families of all the players to come together, share food, and get to know one another.
The hope is that the community that we build will spill over to peoples' lives outside of soccer. To encourage that, we're launching a Community Resource Table. Every time we gather, we'll have a table with information on other positive community-building activities and resources in the neighborhood. This will also include occasional presentations from other organizations such as the Kensington Free Library promoting a summer reading program, the Norris Square Civic Association signing up parents for computer classes, or the Art Factory exhibiting a youth-made film. Organizations like these, along with countless individuals, have been working for years to lift up the community and we are excited to collaborate with them and support their efforts.
PSP: KSC is volunteer run. Tell me about the volunteers—are they drawn primarily from within the neighborhood?
JH: Our first volunteers were friends of mine who were excited to work with kids and were willing to do anything to help lift up the neighborhood. That original group included my neighbors, Kensington High School co-workers, and my parents and cousins. We then worked hard to spread the word and gained volunteers from the neighborhood and beyond who had more soccer experience. Now, we're putting an emphasis on involving the families of our players in coaching and other roles.
This fall, we're launching a Teen Leaders Initiative to recruit teens and train them to be assistant coaches and referees. Those teens are our next generation of community leaders and are instrumental in growing soccer in Kensington. We're raising money now to fund a quality coach training program that will result in confident, empowered coaches running exciting, effective programs for our growing group of players.
PSP: Are the volunteers primarily motivated by the community-building mission or the desire to help kids learn the game of soccer?
JH: Every person who volunteers has their own unique reasons, but I think we all do it mostly because of the obvious joy it brings to our kids' lives. Some volunteers are passionate about growing soccer or just love being around the game. Others do it for the sense of community and camaraderie. Still others are more motivated by the possibility of helping some of our more disadvantaged kids and families lift themselves out of poverty. Of course, our parent volunteers also give their time because they love to be involved in their children's lives and they want take responsibility for making the neighborhood a better place to grow up.
For me, it's a combination of all those reasons. I am passionate about soccer and part of my motivation for starting KSC is my desire to see soccer become a top level sport in this country both in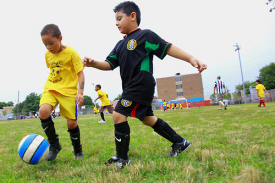 terms of the level of play and the amount of fan support. But, that's only a small part of what drives me. I do want KSC to have a tremendous impact on the game, but what's more important is the impact the game can have on our community.
PSP: Tell me about the kids who make up the club.
JH: Our kids are a joy to be around, especially when they have a ball at their feet. And nothing can top their goal celebrations. With the little kids, the whole team acts like every goal is a World Cup winner. No matter how bad a day I'm having, they always bring a smile to my face. Of course, they're not always happy so we work hard at teaching fair play and conflict resolution.
Most of the players come from within a few blocks of our field near 3rd and Dauphin, but we draw many players from the broader Kensington neighborhoods and a few from other parts of the city. Our intramural program for high-school aged players is a rarity in the city and so brings people from far away while our younger kids tend to walk to the field from near by. Ethnically, the players are mostly Puerto Rican and African American with smaller numbers of Asian Americans, Caucasians, and other Latinos. Individually, they range from gentle to rough and from silly to serious just like all kids everywhere. And like all kids, they each have the potential to do great things with their lives if we raise them right.
PSP: What are some of the challenges the kids may face, challenges that may be unique to their background or that are unique to Kensington?
JH: A lot of people know Kensington for it's high levels of poverty and unemployment and everything that tends to come with that. Whether it's violence, obesity, lack of educational opportunity, or teens becoming parents, there's a lot for our youth to overcome and we want to help equip them with the tools to do so. We feel our soccer activities themselves can make a big impact, but we're trying to go further. Take the problem of obesity for example. Just playing soccer is good for physical fitness, but we also make sure to always provide healthy snacks and are collaborating with other neighborhood groups to start explicit healthy foods education along with tips on where to get healthy affordable food. We'd like to use that same approach when it comes to other challenges our players and families face.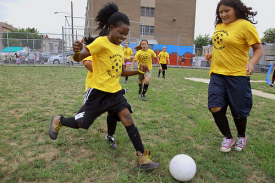 PSP: Do the kids come into the club with much of a soccer background?
JH: Very few of our players come to us with any soccer experience at all. Some have played in phys ed class and then there's that 10 percent who were raised on soccer by their families. A lot of people assume that because Kensington has a large Latino population that there's a strong soccer culture, but that's not the case. The more popular sports are baseball, basketball, and handball. We honor those established sports and support efforts to make them grow. I was thrilled last year to buy trophies for one of my students to give out at a handball tournament he organized. But, we believe that a well-organized soccer program is needed for those thousands of Kensington youth who are in need of more activities to engage them and keep them safe and healthy.
PSP: Tell me about the importance of parental involvement in the success of the club.
JH: We got the organization up and running without any parental involvement in coaching or organizing, but to reach our goals and to sustain our work, it's crucial to have parents in leadership roles. We had a few parent volunteers this summer and are looking to have dozens this fall. In addition to the people-power that parents provide, their involvement means that our programs are more likely to reflect the desires, needs, and interests of participants. It also means great things for our goal of building community and affecting the neighborhood. Joining together to make positive things happen and overcome obstacles is habit forming. So, for some parents who've previously kept to themselves, this could be a step to them becoming community leaders. The same is true for volunteers who don't have kids in the program. Even as parental involvement increases, a lot of our strength will still come from volunteers from the neighborhood and beyond who don't have any direct stake in the program, but realize its importance and want to do their part.
PSP: How much does it cost to join as a player? Do you have assistance available for kids and their families who may find it difficult to afford the cost to join?
JH: We will never turn a player away. Essentially, it's a free program, but we do encourage families to give what they can (from $5 to $20) in order to support our work. We use those contributions to defray the costs of uniforms and equipment, but it doesn't come close to covering everything. We want to make sure that lack of money isn't a barrier to our players having a good experience so
we provide each player with free shin guards, socks, a shirt, and a soccer ball to take home and keep. You should see the looks on their faces when they get their uniform and especially when they get their soccer balls. One girl asked me four times if she could really keep it. She thought I must surely be confused. Hopefully, having that ball will mean she makes soccer a regular part of her life and will be more likely to see big benefits from being involved in our program.
PSP: How do you raise the money to fund the club? Can PSP readers donate to KSC?
JH: To do this work, we need significant contributions of money, food, time, and used and new equipment. I believe in putting my money where my mouth is and leading by example so I myself give the group my every spare moment and more money than I can afford. If a need arises for our players, I can't stand to see them go without, so I often just pay for it myself. I've been amazed how many of our volunteers are the same way. They contribute whatever money they can in addition to giving their time and effort. But if we're going to keep this up and even expand to run programs in every season, we need a broader base of volunteers and donors. I hope we've proven that we'll use the contributions well.
In terms of people, we need volunteers to help with coaching, phone calls, mailings, data entry, community outreach, web development and anything else you can think of!
Our equipment needs include shoes and balls of all sizes, shin guards, goalie gear, and even goals, cones, and other training tools.
Cash contributions are also very welcome and go to pay for field trips, equipment, uniforms, and our new Teen Leaders Initiative.
I have faith in the soccer fans and good people of Kensington and the greater Philadelphia region. I believe that if they see our dedication to our kids, our passion for soccer at its best, and our commitment to making a profound and lasting difference in the community, they will support us.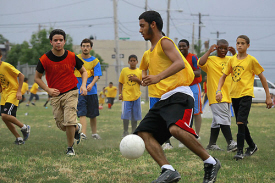 PSP: What is it about the game of soccer that helps in "building self-esteem, social skills and community"?
JH: More than other sports, success on the soccer field is in the hands of the players themselves. We coaches can prepare and guide them, but the players need to work together to solve problems themselves on the field while they communicate and move as a team. Of course, good teamwork also means supporting each other off the field. In doing that, the players bond with their teammates and experience the importance of working for the good of the group whether it's a team or a neighborhood. That team will also experience success on the field and every time they experience that success and know that they earned it, it builds individual and group self-esteem.
PSP: KSC is currently a summer program. Do you have plans to organize a select team to participate in local league play?
JH: Our next step is to expand on the success of our summer program by organizing intramural leagues this fall and next spring and helping local elementary schools set up afterschool soccer clubs. It's a very ambitious plan, but I know we can make it happen. If we have young people and their families involved year round in various settings, we can dramatically increase the positive impact on their lives and on the community as a whole.
Soccer is a great participatory sport and a lot of what we do isn't really about the soccer so we'll always maintain our efforts to involve as many people as possible in intramural programs. But, we do hope to add select teams next year once we have enough players with the requisite skill and commitment-level.
For details on how to volunteer or donate to support the Kensington Soccer Club, go to http://kensingtonsoccer.org/support