Text and interview by Eli Pearlman-Storch. Photographs by Nicolae Stoian.
With the rain pouring down in buckets, the boys and girls of the West Philadelphia Hurricanes Youth Soccer Club probably thought practice would be called for the day. Yet, when they arrived at the Shepard Recreation Center at 57th Street and Haverford Avenue for an impromptu indoor training session, they received an unexpected surprise.
Tony Meola, the 100 times capped United States goalkeeper joined Mexican international goalkeeper Adolfo Rios in providing a soccer clinic for the team. The session, initially slated as an outdoor event, is part of a series of similar clinics sponsored by Allstate, who is in their first year as a sponsor of MLS and the US Men's National Team. Following a brief session that ended with a penalty shootout—Meola dutifully jumped in goal to the young players' delight—all the players were presented with new gear bags, jerseys, balls and tickets to Wednesday night's between the United States and Mexico at Lincoln Financial Field.
The Philly Soccer Page was able to catch up with Tony after the session to get his thoughts on working with youth teams, Jurgen Klinsmann's appointment and how he feels he can help US Soccer grow.
Philly Soccer Page: So how did you get started doing these sort of clinics?
Tony Meola: They [Allstate] called and asked if I'd like to be involved in some of their promotions, so I've been really fortunate to do things like this when you get around to the community—with their generosity—and give back a little bit. I normally don't give back by sweating in the goal like this, but to see the look on these kids faces when they pull tickets out for a game is pretty neat.
PSP: Is this how we pull the right kids in for the future of US soccer?
TM: They [US Soccer] need to spread their wings a little and have their tentacles out there. I did this a few years ago in New York and I saw a bunch of guys that, if you would have told me they were on the National Team, I would have believed you. And these are guys that never get a look.
PSP: Claudio Reyna has spoken of creating a national style of play for the US and Jurgen Klinsmann has echoed that sentiment. If you were drawing the plans, what would that style be?
TM: We're a fast break team. We're not a team that has a Number Ten like everybody else in the world cause we don't really promote it in our country, which is a sad thing. But, we over-coach too much—you've got to let the kids imagine some of this stuff. I always use the example of Messi. When Messi was in the street, no one was telling him what to do with a soccer ball, he was just going and playing. There were no coaches there, he was just making it up. Are you going to tell me we don't have an athlete like Messi in the United States? We don't have a soccer player like him, but we certainly have athletes like him and we just have to nurture that kind of environment.
PSP: Talking about your old team in Kansas City, they've got the new stadium that's the talk of MLS…
TM: I played there for nine years and to think that that stadium is built is beyond me. It's outstanding. Things like that just show the evolution of the game. If you can do it in Kansas City, you can do it anywhere.
PSP: Going forward, where do you fit in the coaching picture for US Soccer?
TM: I don't know. Tab [Ramos] asks me all the time. That's completely up to Claudio [Reyna] and Jurgen and I've spoken to Tim Howard on occasion about it and time will tell. I would love to work with the youth program. I don't want to be pigeon-holed as a goalkeeper coach, because I think I have some more to offer down the road. I need some more experience but one day I will get the opportunity somewhere. I'm in no rush, I still think about playing in my head sometimes.
PSP: In the short term, what are the immediate things the US needs to get out of their first friendlies under Klinsmann?
TM: From a team standpoint, they need to get a feel for what Jurgen Klinsmann wants. He's the boss now. It's his team and they need to be the first translators of whatever Jurgen Klinsmann's program is for the entire national team. And the quicker they do it, the quicker it can translate down through the system.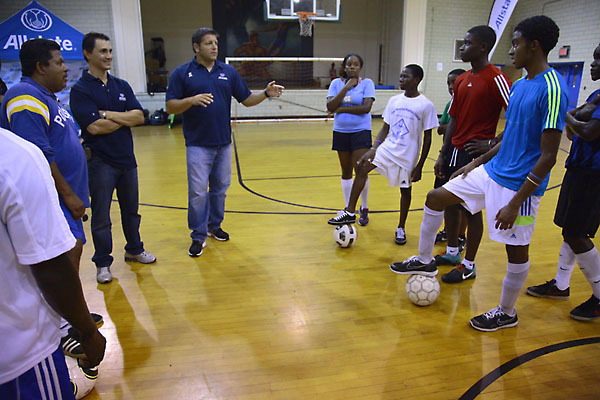 Tony Meola and Adolfo Rios introduce themselves to the team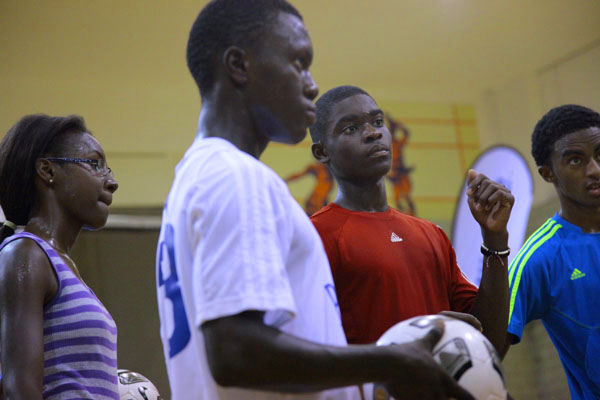 Awaiting the next set of instructions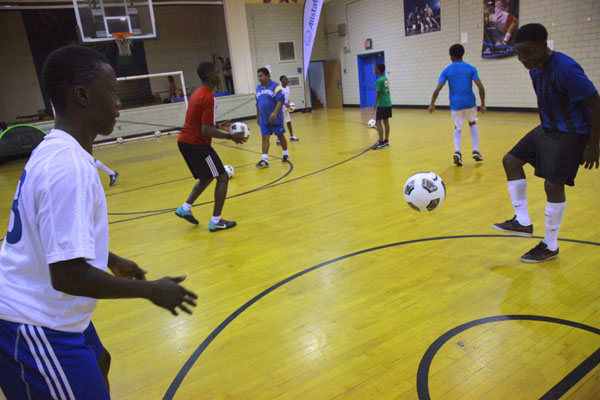 Can't forget about the fundamentals
48, 49, 50…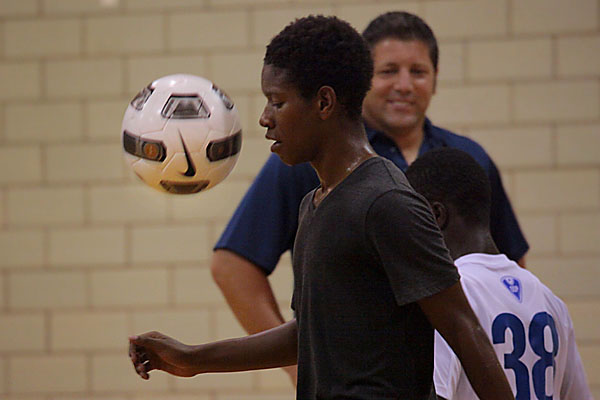 65, 66, 67…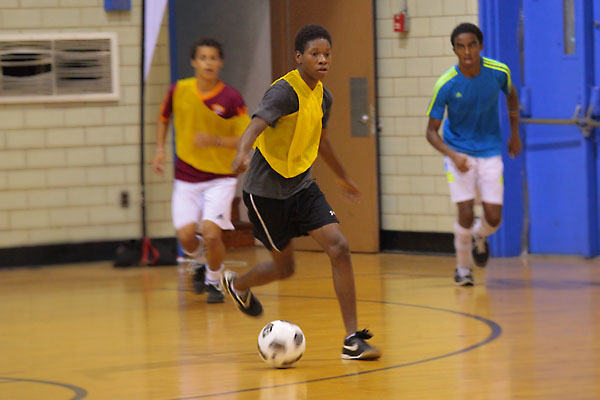 Showing off some silky skills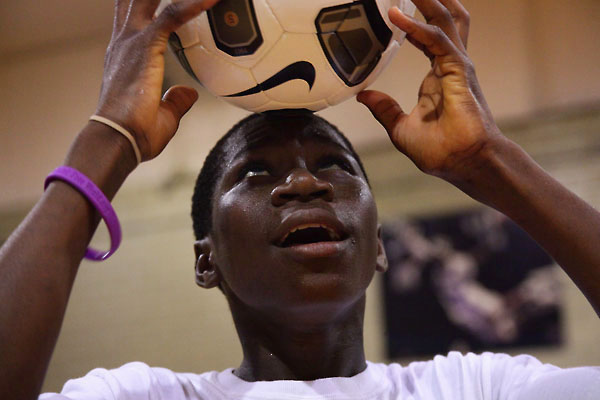 Keeping your eye on the ball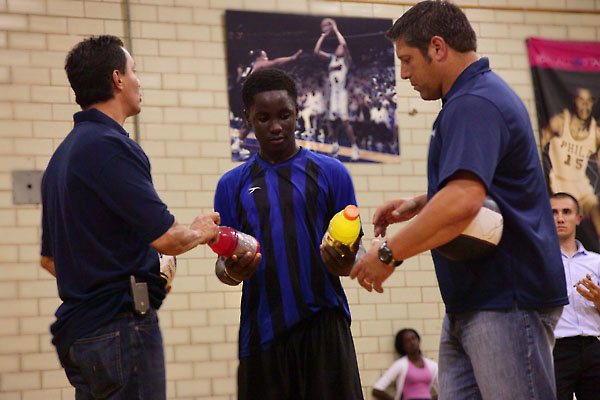 It was scorching hot in that gym
Tony approves of the technique
"HOW TO GET BIG," starring Tony Meola
Preparing to take a penalty
Not even Tony could keep out this blast
A few inspiring words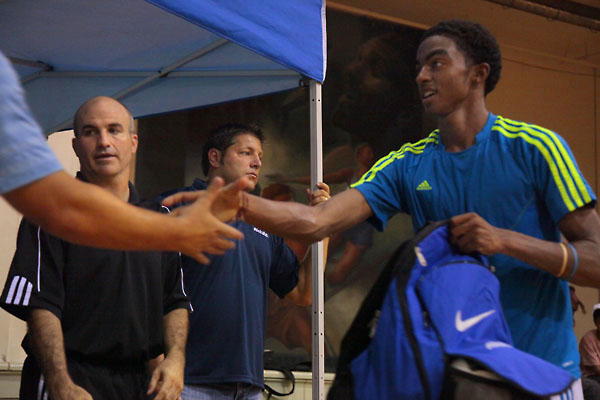 Collecting some new gear
Next stop. USA v Mexico
West Philadelphia Hurricanes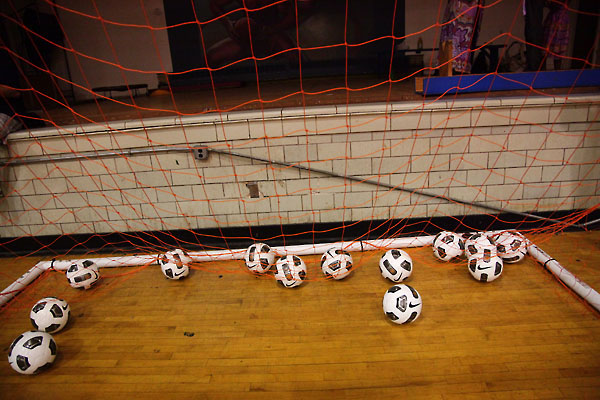 These kids know how to put the ball in the back of the net. Sign them up!