What a terrible first half.
While the Union tallied 20 attempts on goal by the end of their 2–1 loss to Colorado, only four were made in the first half. Of those, none was on target with Keon Daniel hitting the crossbar. Of the two Union forwards, Sebastien Le Toux and Danny Mwanga, only Le Toux registered an attempt on goal in the first half. He skyed it.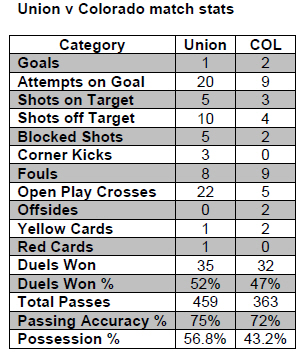 Colorado had four attempts on goal in the first half. Two were off target and two were goals. They would record but one more shot on target in the second half.
Down two goals at home, Roger Torres and Michael Farfan were subbed in at the start of the second half. Even though the Sheanon Williams ejection meant the Union played the final 25 minutes of the game a man down, the offense came alive, registering 16 attempts on goal. Five shots were on target, six were off target and five shots were blocked.
Of the five shots that were on target, one came from Le Toux, two came from Carlos Valdes and two came from Roger Torres, including his 93rd minute goal.
Le Toux and Mwanga each registered one shot off target in the second half, as did Marfan, Williams, Valdes and Torres
With Colorado apparently content to absorb the Union attack in the second half, Philadelphia overall registered 96 more passes than the Rapids, enjoying a 13.6 percent advantage in possession.
It didn't matter.
Scoring first
The Union have a dismal record when their opponent scores first. Overall, that record is 1–5–3 in 2011. They have been somewhat better at home when an opponent scores first, their record being 1–1–1 with the win coming against Chivas USA and the draw against LA Galaxy. On the road, the Union's record is 0–4–2 when their opponent scores first, the two draws coming against Colorado and DC United. In each of the four road losses the Union was unable to score a goal.
When the Union scores first their record is 7–0–2. At home they are 4–0–2 when scoring first. On the road they are 3–0–0.
There have been two scoreless draws this season, one at home and one on the road.
Union offensive stats
The starting of Mwanga and Le Toux up top against Colorado was surely a cause for celebration for the many Union fans who have called for a return to the chemistry the duo enjoyed in 2010. The Colorado match marked the fifth time the pair has started as the Union's strike force, twice at home and three times on the road, the starts coming when Carlos Ruiz was on international duty or did not travel for away games. Some may have celebrated more if they knew that the reason Le Toux and Mwanga were starting together against Colorado at home was because Carlos Ruiz was no longer with the team.
So, how did they do?
Not particularly well, really, at least in terms of generating dangerous shots on goal. Le Toux had three shots, one of which was on target. Mwanga had four shots, none of which was on target. Le Toux had 26 successful passes and nine unsuccessful passes. For Mwanga it was 19 successful passes and six unsuccessful passes. Each registered one unsuccessful dribble and no successful dribbles. Whatever has happened to the chemistry between Le Toux and Mwanga, this question remains: can the Union afford them the time they may need to find that chemistry again?
The Union's record in 2011 when Le Toux and Mwanga have started together up top is 1–2–2. Mwanga has scored twice with Le Toux as his strike partner, both goals coming against Toronto when the score was 4–2. Le Toux has yet to score in 2011 with Mwanga as his starting strike partner. He has recorded two assists when starting with Mwanga, both coming against Toronto. Le Toux and Mwanga both shared the assist on Kyle Nakazawa's goal and Le Toux assisted Mwanga's first goal.
On two other occasions Ruiz did not make an appearance. In those games, Le Toux started with Paunovic against Vancouver and with McInerney against Dallas, both times on the road. While the Union was unable to score against Vancouver, Mwanga's game-tieing goal against Colorado was assisted by Le Toux.
In all matches, Mwanga has not scored a goal in four games, the game-winner against Chivas USA on June 25. We all have to be hoping he hasn't caught the goal-scoring curse that has afflicted Le Toux since the beginning of the season. Le Toux's last assist came on July 17 against New England. Mwanga also had an assist in that game.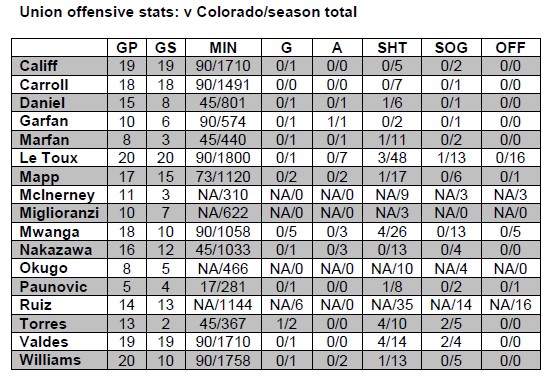 Union: home and away
The loss to Colorado was the first home loss of the season, ending a nine game undefeated streak for 2011, ten games going back to 2010.
Looking at the Union's home and away numbers for 2011, they are unsurprisingly stronger at home. They have recorded more goals overall than their opponents both at home and on the road but the road goal total is skewed by the 6–2 win over Toronto and the 3–0 win over New England. As mentioned above, the Union have been held scoreless four times on the road. The remaining four road goals come from the season opening win against Houston and the two come-from-behind draws, 1–1 against Colorado and 2–2 against DC.
The chart below lists the home and away season averages for the major match statistics categories. (Because there have been ten home games and ten away games simply multiply each average by ten to determine the raw totals.) Given their better home record, it follows that in most of the categories that the Union's away averages would be less than the opposition averages. Thus, while the Union averages 13.6 attempts on goal at home compared to their opponents 10.2, on the road the Union's 10.3 attempts is bettered by their opponents 13.5 attempts.
Where the Union's averages are better than their opponents both at home and away is in shots on target, duels won, duels won percentage and total passes.
Overall, the Union enjoy better averages in the categories of attempts on goal, shots on target, duels won, duels won percentage, total passes, and possession.
Featured image courtesy of mightyohm