USWNT
Abby Wambach says the US is ready to face Japan.
The USA v France Women's World Cup semifinal was the fourth most watched USWNT match ever. An average of 3.35 million people watched the match on ESPN, another 450,000 on ESPN3. Philly was not one of the top-five markets for that or any of the games. ESPN's investment in women's soccer seems to be paying off.
As is always the case whenever the US is in the World Cup, the boringly familiar appearnace of "Soccer will never make it here" articles make their yawn-inducing appearance. The Wall Street Journal suggests a very appropriate response to the nay-sayers claims that soccer isn't as big as American football, or baseball, or whatever: "Who cares?"
PSP contributor Maura Gladys talks to US Women youth players for USA 10 Kit.com about being inspired by the USWNT's play in Germany.
The Philadelphia Independence are cheering on their teammates and colleagues on the USWNT at the Women's World Cup.
The Independence are not the only ones as the local media has blossomed with USWNT love. NBC Philly, CBS Philly and uwishunu.com all have pieces about local support for the team as well as the local connections of some of the players and coaches. "Delaware girls (and boys)" think the team is "pretty cool." Delran is pulling for Carli Lloyd. Philly Magazine says, "come for the sex appeal or to root for a few Philly expats [but] I bet you'll stay for the athleticism and the drama." The 76ers Jrue Holiday, boyfriend of US star Lauren Cheyney, is in Germany with some family members and says, "The games have been unreal, these are my first international games. I wasn't really much of a soccer fan before, I was more of a Lauren Cheney fan." Cheyney says, "They're like little kids cheering and all dressed up for the games." Crikey, even some Philadelphia bankruptcy lawyer has managed to find a tie in between the USWNT love and financial affairs in soccer worldwide.
The Wall Street Journal says that, while the USWNT's play becomes more technical, they still thrive on physical play.
The Sporting News says that hiring Pia Sundhage as head coach was a turning point for the US team.
The LA Times looks at the history of the development of women's soccer compared to men's soccer in the US and the advantages the women's game found here compared to the rest of the world.
US Army Captain Nassar Jabour, stationed in Afghanistan, has asked Hope Solo to accompany him to the Austrian Officer's Ball:
Union
Kerith Gabriel has been told by the Union technical staff that Carlos Ruiz has an "ironclad contract" with the club and that the Union has "no desire to transfer or even listen to talks of a transfer."
Ruiz told Gabriel, "[T]his thing about me leaving Philadelphia has gotten crazy. I don't know who has started this gossip, but I am going to say this again: I am not moving anywhere, I am very happy in Philly."
On the suggestion that it is because his family is unhappy here that he wants out, Ruiz noted "all my family is coming in 2 weeks to stay with me." He said of those who claim knowledge of his family's unhappiness, "Well, they must know something I don't. I don't have any problems [with being] here. My girlfriend is from the United States, so she's more than happy to live in the States. I mean, this all just gossip. Seriously, ask yourself why would I want to play for some second-division team in Mexico when I have all my family coming and things are going great here in Philly? If that was the case and my only option . . . then there really is no chance for me."
Peter Nowak says of Sebastien Le Toux's goal-scoring travails, "He needs to relax and just play. Sometimes you have to make the game simple, and he is trying so hard…He just needs to chill out a little. That is the phrase?"
A flagging New England has found confidence from their first half performance against Manchester United on Wednesday ahead of Sunday's match against the Union.
Union CEO Nick Sakiewicz says he plans to wear shin guards on both sides of his legs for tonight's charity River Cup match against the Sons of Ben. SoB president Matt Ansboro suggested Sakiewicz also bring ice.
Amobi Okugo talks to his hometown paper about playing for the Union and what he thinks about Philly, "It's good to be come and be part of a great team. With the Union, I hope we win the MLS Cup (league championship) and I hope to be a permanent starter." On his aspirations, "With the national team, the next step is the Olympics (in 2012 in London). After that, everyone aspires to play in Europe."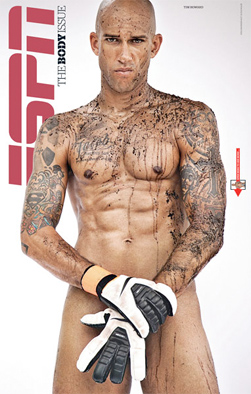 The Union Dues' Poor Spoertsmans Almanac weighs in on next week's freundlies and gives them the thumbs down. "Say what you like, this is a risk, and a distraction that quite frankly, the Union do not need. Ask yourself: Would Everton play us, in England, in February?"
Yes, Poor Spoertsman, but what about the children? The Union's new Youth Technical Director Alecko Eskandarian reports that the club's academy players are "extremely excited" about Wednesday's match with Everton's U-18 team. And, anyway, my girlfriend gets the vapors every time she sees Tim Howard's ass.
Independence
Tasha Kai has been named WPS Player of the Week because she scored a hat trick in one game, a goal and an assist in another, and totally kicks ass.
Local
Christian Barreiro of Reading United was named to the PDL's Team of the Week. Brian Ackley and Brian Holt received honorable mentions.
MLS
Sir Alex Ferguson says US soccer needs a promotion/relegation system to reach its full potential.
LA and New York both want Nicolas Anelka, but only on a free transfer even though he still has a year on his contract with Chelsea..
US
In an article entitled "US seeks payback against Mexico," Bob Bradley tells Marc Narducci, "I wouldn't go crazy with the revenge factor." He then did not add, "And shut up about the Sobs and potty-mouth chants at PPL Park."
Apparently Michael Bradley and Eric Wynalda had a spat. Here's the skinny.
Elsewhere
Sotheby's has auctioned the oldest soccer rule book for $1.42 million. The handwritten copy dates from 1857 and comes from the archives of Sheffield FC, the oldest soccer club in the world.
Footy on the Telly™
Friday, July 15
Pateadores v FC Dallas (Youth, Developmental Academy U-18 final) 1pm ESPNU
Los Angeles Blues v Dayton Dutch Lions (USL) 11pm FSC
Saturday, July 16
Malaysian XI v Liverpool 5:30am FSC
France v Sweden (Women's World Cup third-place match) 11am ESPN2
ECNL girls' U-17 final 2pm ESPNU
Colombia v Peru (Copa America quarterfinal) 3pm Univision
Seattle Sounders v Colorado Rapids 4pm FSC
Argentina v Uruguay (Copa America quarterfinal) 6pm Univision
Coritiba v Fluminense 5:30pm GolTV
Orlando City v Rochester Rhinos (USL) 6:30pm FSC
Manchester City v Club America 8pm. Telefutura
Los Angeles Galaxy v Real Madrid 10pm ESPN2, ESPN Deportes
Chivas USA v New York Red Bulls 10:30pm Galavision
Sunday, July 17
USA v Japan (Women's World Cup final) 2:45pm ESPN, Galavision, CBC
Brazil v Paraguay (Copa America quarterfinal) 3pm Univision
Botafogo v Corinthians 3pm GolTV
Chile v Venezuela (Copa America quarterfinal) 6pm Univision
Sky Blue FC v Western New York Flash 6pm FSC
New England Revolution v Philadelphia Union 7pm CSN
Monday, July 18
Vancouver Whitecaps v Manchester City 10pm ESPN2, ESPN Deportes