Union
Peter Nowak says of what to expect of the Union lineup over the next couple of games: "We will shuffle the deck. It's been a couple of months we've been playing 14 guys. It's time for the others to step up. Gabriel Farfan is coming back, Stefani (Miglioranzi) played the first half in Vancouver. We need those guys back. We are glad Carlos (Ruiz) is back too." First thing: "Shuffle the deck"—he does that practically every week—does he not think we are paying attention? Second thing: Is "shuffle the deck" anything like "roll the dice" because it sure feels like it? Third thing: Miglioranzi?
MLSsoccer.com previews tonight's match. Here's the always insightful scouting report from the Union's website.
From the Unholy Union, here is an edited version of their match preview: "DO NOT START PAUNOVIC! That is all." The unedited original had more exclamation points.
Looking at the Union's offensive woes, Kerith Gabriel says of Danny Mwanga, "It's amazing Mwanga is even as effective as he is, considering the striker has been in and out of the lineup, in part because of shoulder and hamstring injuries, but primarily because of an inconsistent lineup that has seen him split time with Ruiz, Sebastien Le Toux and now Paunovic."
Ruiz had this to say about the transfer rumors: "Yes, in Mexico, some teams are talking about Carlos Ruiz going back to Mexico. But the truth is no one has contacted me. I don't know if they are going to contact me later. But—I also said this to a Mexican newspaper—I'm very happy here in Philly. All of my family lives in the States and I want to make history with this team…I'm focused on my teammates on Philly." Nowak said, "The transfer window opens soon, so there will be rumors there…I think everyone is happy with his performance…Carlos is a different player. You can say whatever you want, but the guy knows what he's doing."
Nowak said of Veljko Paunovic's first game with the Union, "I think he's very promising. We'll see how he will adjust to the speed of the game, and of course he's not match fit. During the [upcoming] weeks, he will improve this. But for the first time, I thought he was pretty good." Paunovic said of starting after not playing for two-and-half- years and five days after signing with the Union, "It's not something strange for me. I've played on so many teams, so I know what the team mentality is and I know how to be a part of a team. I just do what I do. All my life, I've played this wonderful game. I really enjoy it, and I think my teammates can feel that. It's just about being who you are."
In this week's power rankings roundup, at MLS soccer.com and ESPN, the Union drop two spots to fourth. At Soccer America, The Union drop from number three to fifth. At Goal.com and SBI, they fall four spots to sixth.
In case you missed it, Sheanon Williams was named to Goal.com's Best XI for Week 14. To think that people question Adam's player reviews. (By the way, Andrew Jacobson was also named to the Best XI. His trade is looking more and more like one of the premier mistakes of the season. Dallas coach Schellas Hyndman says of Jacobson, "we got quite a steal there.")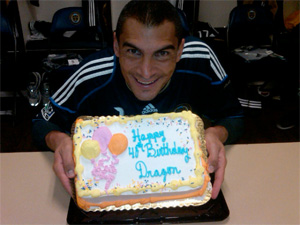 If you tweeted a vote for Carlos Valdes and/or Sheanon Williams for the All-Star game over the weekend, feel proud: they were number one and number two in the voting. Jordan Harvey came in at number four, Faryd Mondragon at number five. In the official balloting, Mondragon is number four for goalkeepers, Danny Califf number five for defenders, and Justin Mapp leads the votes from text messages.
Tuesday was Faryd Mondragon's birthday. His wish? Six points this week. Asked on Twitter with what team he would like to retire (crappy Google translation here), Mondragon replied with the Union (crappy Google translation here.)
Local
Harrisburg City Islanders are out of the US Open Cup, losing 1–0 to Rochester Rhinos. Rochester scored on a penalty kick in the 90th minute.
MLS
While acknowledging that "Everyone associated with MLS – coaches, executives, fans, league personnel, journalists and players – understands that the quality of officiating presents a real problem for the present and the future of the league," Goal.com says the league must act swiftly to discipline Red Bulls general manager and sporting director Erik Soler for having the temerity to release a statement saying that the officiating in New York's draw with Portland on Sunday "was absolutely below the standards of what is required for a MLS match and completely unacceptable."
The Brotherly Game reports on the ejection of some members New England supporters group The Fort by security for using profanity, which resulted in an organized walkout by other supporters groups to protest the ejections in a following game. The best part is some quotes in the comments section from Clint Dempsey. The Union Dues says that "Support the Fort" will be the goal kick chant throughout MLS this week in recognition of the ejected New England supporters.
MLS finally notices the thug play of RSL midfielder Jean Alexandre and suspends him for a game for an "egregious and reckless tackle" against DC United.
US
Carlos Bocanegra says the USMNT are "peaking at the right time."
Ahead of tonight's Gold Cup semifinal match with Panama comes the news that Aston Villa have declined the option to buy Michael Bradley.
Elsewhere
Authorities in Trinidad & Tobago are awaiting for a response to their request for information from FIFA before deciding how to proceed with an investigation of Jack Warner. Meanwhile, a secret report from FIFA's ethics committee concludes there is "comprehensive, convincing and overwhelming" evidence that FIFA member Mohamed Bin Hammam tried to bribe officials during his presidential campaign and that Jack Warner was "an accessory to corruption." The report describes Warner's evidence to a May 29 hearing as "mere self-serving declarations" and that he "failed to provide the FIFA ethics committee with a plausible explanation." Warner will receive a pension from FIFA that could total as much as £23,000 a year. He is eligible to receive the pension until he is 96.
On Tuesday, FIFA opened disciplinary proceedings against CONCACAF Vice President Lisle Austin, who was the acting president of the federation when Warner was first suspended before Austin himself was suspended, or breaching FIFA regulations by going to court to challenge his suspension from the regional organization.