Union
Carlos Ruiz says anything less than three points in Toronto will be an embarrassment. THAT'S the attitude I'm looking for!
we predict a 1–0 win for the Union.
Carlos Ruiz says, "When the team plays that good on the defensive line and we don't play that good on the offensive line, obviously something is wrong."
Peter Nowak thinks the criticism directed at Ruiz is, in the words of Dave Zeitlin, "unfair, unfounded and unwarranted." Nowak says, "And I don't really understand some of the critics or whatever saying he's a one-dimensional player. Carlos has his game and his way of doing certain things, but I can tell you that he is great every day in practice and great every day in the clubhouse." Well Peter, what the fans care about is Ruiz being great in every game.
Amobi Okugo, out for three weeks with a high ankle sprain, says, "This happens in soccer. You have to keep mentally strong, and once you return to the field you have to be ready to pick up where you left off."
Peter Nowak praised Okugo. "He's been playing so well since the preseason, He was great with the U-20s and he's really progressing very fast."
With Okugo out for three weeks, the Union are suddenly thin on defensive midfielders. Stefani Miglioranzi, out with a groin strain, is expected to be able to start training next week.
The winner of this week's Statement of the Obvious Award goes to this headline: "Carlo Ruiz's Gold Cup absence will leave Union with vacancy".
Kerith Gabriel notes that with the forthcoming Copa America, it is possible that Faryd Mondragon, Carlos Valdes and Roger Torres could all be called up by Colombia. He says Carlos Valdes is the only who is very likely to get the call. The Union defense without Carlos Valdes…I'm already having scaredy thoughts.
Dave Zeitlin tweets, "Because of injuries, @PhilaUnion will bring 5 extra players to Toronto for reserve game – 2 from Reading, 2 academy players and 1 trialist." He clarified, "Reading United guys are Matt Baker and David Rodriguez, academy guys are Jimmy McLaughlin and Zack Steffen. Trialist is not Paunović."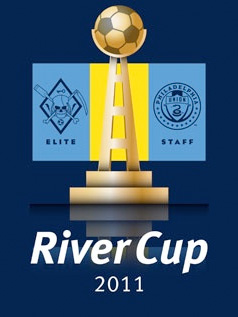 If I understand this article correctly, the trialist is Delaware County native Karl Reddick. Unselected from Boston College in the SuperDraft, Reddick has been with the Harrisburg City islanders. "It's incredible," Reddick said. "I love this opportunity. My family loves it. It's like anybody who gets a chance to play for the hometown team. I don't care how many minutes I get or where they position me. I just want to play."
The Union staff will play a select Sons of Ben team on July 15 at PPL Park in the first River Cup. Admission is $10 with all proceeds going to Chester City United, the City of Chester's club soccer team. Kickoff is at 6:30pm.
Independence
Independence midfielder Joanna Lohman previews the team's Sunday match against Marta and Western New York Flash. The game's at Widener and kickoff is at 6pm.
Local
Reading United's Will Bates is named PDL Player of the Week after scoring four goals in two games to help Reading secure a berth in the US Open Cup.
The Temple women's team announced three new transfers with Division 1 experience have joined the squad.
The first ever Scoring Goals for Autism charity tournament will take place at Starfinder on June 4. Click here for details about the tournament and how to register.
MLS
Don Garber says the franchise fee for the league's 20th team could be in the $75-100 million range.
US
Fox is getting behind the Champions League in a big way. "We are treating this like the event that it is," Fox Soccer's General Manager David Nathanson told the New York Times. "Last year we had two strong teams in Inter and Bayern, but that can't compare to this year's dream matchup. We are expecting significant growth."
Elsewhere
The FIFA meltdown continues as an ethics investigation is opened on FIFA president Sepp Blatter. The Guardian reports, "Fifa widened the investigation after Blatter was reported to the secretary general Jérôme Valcke by [Blatter's rival for the FIFA presidency and subject of corruption allegations Mohamed] Bin Hammam on the basis that the report prepared by a US lawyer at [CONCACAF vice president, lovable gnome Chuck] Blazer's behest contained claims that the Fifa president was told about the payments by [CONCACAF president, FIFA vice president and well known crook Jack] Warner and did nothing."
Footy on the Telly™
Saturday, May 28
Stevenage v Torquay 10am FSP
Toronto FC v Philadelphia Union 12:30pm TCN
Barcelona v Manchester United 2:30pm Fox
Nacional v Defensor 3pm GolTV
Mexico v Ecuador 4pm Univision,
Botafogo v Santos 5:30pm GolTV
Barcelona v Manchester United 8pm (taped) FSC
New England v Los Angeles 8pm Galavision
Sunday, May 29
Huddersfield v Peterborough 10am FSP
Barcelona v Manchester United 12pm (taped) FSC
Germany v Uruguay 2pm ESPN Deportes
Inter Milan v Palermo 3pm GolTV
Caen v Marseille 3pm FSC
Lille v Rennes 3pm FSP
Ireland v Scotland 4pm ESPN Deportes
Cruzeiro v Palmeiras 5pm GolTV Premiere
Barcelona v Manchester United 5pm (taped) FSP
Philadelphia Independence v Western New York Flash 6pm FSC
Barcelona v Manchester United 11pm (taped) FSC
Monday, May 30
Reading v Swansea City 10am FSC