Photo: Paul Rudderow
Union
The Union are ranked no. 1 in Soccer America's power rankings. At Goal.com, the Union are ranked no. 4, the same at SBI.
Michael Farfan made Goal.com's MLS Best XI for Week 7. "With the Union a man down after Jordan Harvey's red card, rookie Michael Farfan stepped on to the field and played beyond his years for the second half. He earned praise from his coaches and teammates alike for his composed, intelligent play and showed that the Union not only has a strong defense, it might just have a deep one as well."
The praise for Farfan begins within the team. Says Danny Califf, "He did a fantastic job. He came in and played with a lot of confidence. He was strong in his tackles and he knew when to step up and when to stay back. I can't say enough about the kid."
ASN Philly names Amobi Okugo the Man of the Match in their player ratings of Saturday's game.
Soccer365.com on the Union's win: "Despite playing down a man, the Union didn't look to be disadvantaged in the second half. Peter Nowak's side continued to create chances and maintain possession."
WV Hooligan on the Union win: " It may not be uber impressive or sexy but the Philadelphia Union are getting it done. 1-0 each time. Say what you will about it but being a man down for 45+ minutes on Saturday and still coming away with a win isn't something to shake a head at."
The Union Dues says Saturday's win felt like a loss.
MLS Talk wins this week's Lazy Metaphor Award for their recap of Saturday's game: "It was more of a Broad Street Bullies match out there than a soccer match with four yellows and a red being handed out, as well as a few scuffles." Boring, Sidney, boring.
The six finalists from the Union leg of the Sueño MLS 2011 competition have been announced. Among them is Milton Rico, the walk-on from Episcopal Academy who wowed everyone. "I had nothing to lose," said Rico, "so I convinced myself to do it and it's like a dream, really. I'm very humble and I know nothing's guaranteed. But it's wonderful."
Local
Reading United, the Union's partner in the Premier Development League, have been something of a powerhouse since Brendan Burke took over the helm. With four alumni picked in this year's MLS SuperDraft, it's no wonder Burke was chosen by the Union to coach their reserve team. This year's Reading team looks to be no different, at present featuring at least 12 players with US U-17 experience and the roster isn't even finalized.
Reading president and general manager Art Auchenbach says the strength of Reading's roster is related to their connection with the Union. "The first immediate benefit of this partnership with Philadelphia Union is it will enable Reading United AC to enhance recruiting efforts. The quality and depth of our roster is sure to get better and better."
JT Noone, waived by the Union in March, is training with Harrisburg City Islanders.
Vote for your Youth Soccer Player of the Month here.
MLS
Goal.com wonders when will be the right time to introduce goal line technology.
The Goalkeeper weighs in on the refereeing problem in MLS.
US
Referees are under the jurisdiction of US Soccer, not MLS. An indication of why they are so bad might be found at the Referee Week in Review feature in the referee area on the US Soccer website. The description of the feature says it "is designed to address the issues facing referees at all levels by using video highlights from professional games," and will "highlight specific areas of focus and current U.S. Soccer initiatives designed to improve performance and aid in the development of officials across the country." In addition to being riddled with typos, I found exactly two instances where the moderator disagreed with a referee's decision, one of which was a no call the moderator thought should have been called against the Union (the moderator refers to a "Portland defender") in the Vancouver game. Maybe the refs are crap because US Soccer is patting them on the back all of the time.
Zak Whitbread may be the next US player in the Premiership with the promotion of Norwich City. Whitbread is a contender for the US Gold Cup squad.
Bob Bradley is expected to name the Gold Cup roster in two weeks.
MLS Rumors.com has compiled video and photographs of soccer-style celebrations following the announcement of Osama Bin Laden's death.
Elsewhere
CONCACAF is meeting in Miami today but Mohamed Bin Hammam, the challenger to Sepp Blatter for the FIFA presidency, will not be on hand to state his case, citing "issues beyond my control." The South American confederation CONMEBOL has already come out in support of Blatter.
Ahead of this afternoon's deciding game between Barcelona and Real Madrid in the Champions League (2:30pm on FSC), Argentine legend Ossie Ardiles says, "I would now say that Lionel Messi will go down in history as the No. 1 player of all time, the best that there ever was."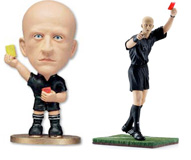 Sid Lowe says Barcelona/Real Madrid relations are hitting a new low.
Pierluigi Collina, UEFA's current head of referees and perhaps the only ref to have not one, but two action figures made of him, will oversee the performance of the match official in the final El Clasico of the season.
Real Madrid has accused UEFA of ignoring Barcelona's racism, alleging Sergio Busquets called Marcelo a "monkey."
The FA is investigating remarks made by Sir Alex Ferguson about the match official following Manchester United's loss to Arsenal on Sunday. Ferguson is just back from a five-game touchline ban for remarks he made about another official.
With the Greek government threatening to cut funding for the Greek FA in the wake of a cup final match that resulted in a riot, the office of an AEK fan club in Athens, the winners of the final, has been torched.