"I've never wished a man dead, but I have read some obituaries with great pleasure." – Mark Twain.
Photo tweeted by @MLS_Analyst. Quote tweeted by US National Team supporters group, the American Outlaws.
"There's a guy with a Jozy Altidore jersey waving a flag outside the White House. This is not a joke." Message tweeted by @FakePeterNowak, photo tweeted by @yossarin.
Union
One could be forgiven for thinking at the start of Saturday's match we would all now be talking about Danny Mwanga, Roger Torres and Amobi Okugo all getting the start. Instead, all the talk about the game is centered on the guy in the red shirt. There will be plenty of opportunity to discuss the outrageously bad officiating in Saturday's win over San Jose elsewhere on the PSP. Suffice it to say, the PSP's man in the pressbox, Adam Cann, sent me a text during the game suggesting we run a new regular feature called "Geiger Counter" in which we compare the week's refereeing blunders against the new benchmark of awfulness set by Saturday's ref, Mark Geiger.
SI.com says, "Mark Geiger is this the latest referee to leave a bigger stamp on his match than any player." He certainly left a bigger stamp on the match than Harvey did on Chris Leitch's person.
Peter Nowak said after the match that the Union will appeal the absurd red card shown to Jordan Harvey, From the Inquirer, "'I think everybody saw the replay,' Nowak said, diplomatically.'" I thought the 18,000+ on hand at PPL Park did a good job of people diplomacy letting Geiger know how they felt about the call after the card was shown. I'm just now beginning to get my voice back.
Danny Califf on Harvey's red card: "I felt bad for Jordan, because any time something like that happens, and you didn't really do anything, you feel kind of at a loss, and you feel like you let your guys down, even though you didn't do anything to really deserve it…He (Harvey) was trying to get away and the guy swung at him. I haven't seen (a red card) like that, and I thought that maybe the linesman could have said something, but it looked like the referee just went straight to his pocket. He didn't really consider anybody else's advice."
Danny Califf on the team's reaction following Harvey's red card: "I think it's a collective kind of spirit that we were just going to band together, regardless of what the ref was doing, and just do whatever it took and give them a really good fight. And that's what we did, we battled through everything."
Le Toux on the crowd at PPL Park: "The crowd was the 12th man. Even if it was 10 vs 11, [the fans] made it 11 vs 11. We could feel them throughout the whole second half. They gave us a lot of energy."
Earthquake's keeper Jon Busch tells the San Jose Mercury about the foul that led to the penalty kick, "This is my opinion, and I want to stress that because I don't want to be fined, but I think that was a makeup (for the questionable red card). I have been around for a long time, and you don't make that call. I feel bad for Jason [Hernandez]. He played his rear off."
Nowak on the penalty kick: "I don't think the ref made the wrong decision on this one."
Sebastien Le Toux on his first goal of the season: "It feels very nice. I think everybody was waiting for that. Even if it's a PK, I'll take it."
Match reports from: the Union website, Goal.com,  SBI. SB Nation, Philly Soccer News, The Brotherly Game, Philly Union Talk, Delco News Network.
More reaction from a San Jose perspective at the San Francisco Chronicle and centerlinesoccer.com.
Danny Mwanga spoke with KYW's Matt Leon ahead of Saturday's game.
Sebastien Le Toux and Ryan Richter are both among the nominees for the 2011 John Wanamaker Athletic Award, "presented annually to the athlete or team that has done the most to reflect credit upon Philadelphia and their team or sport during the past year." Other nominees include Roy Halladay and DeSean Jackson. You can vote here.
The multi-talented PSP photographer is at it again! Last week he released his "Harvey all the Time" mash-up of the Eddie Murphy classic "Party All the Time." This week saw the release of the b-side, "Kyle Nakazawa," based on "Barbara Streisand" by Duck Sauce. When will the Glee-style flash dance to "Kyle Nakazawa take place and where?
Independence
The Independence dropped three points to magicJack SC on Sunday. Tina DiMartino scored for the Independence in the 8th minute with magicJack and USWNT forward Abby Wambach equalizing in the 25th minute. Independence keeper Nicole Barnhart saved a Wambach penalty kick in the 35th minute. The match remained level until Lisa De Vanna scored in the 75th minute to give magicJack the win.
Coach Paul Riley on the loss: "When we had the first chance in the opening minute and then followed up with a goal in the opening minutes, we had a chance to put them away…and we didn't…big decisions by the referees went against us. It was not consistent for both sides. It made it frustrating for the players, having decisions affect the match."
MLS
The Union are one point behind the Energy Drinks for first place with a game in hand. The Energy Drinks beat Sporting KC on Saturday 1–0. New England went down 3–0 away to Chivas USA. Alejandro Moreno had a goal and two assists. Columbus topped Vancouver 2–1 to increase their unbeaten streak to six. Chicago gave up the lead to draw 1–1 with Colorado away. Toronto lost 3–0 to Seattle. On Friday, Houston beat DC United 4–1 with rookie Will Bruin recording a hat trick.
In the Western Conference, Real Salt Lake lost away to Portland 1–0. On Sunday, FC Dallas upset LA Galaxy 2–1 in a weather delayed match.
US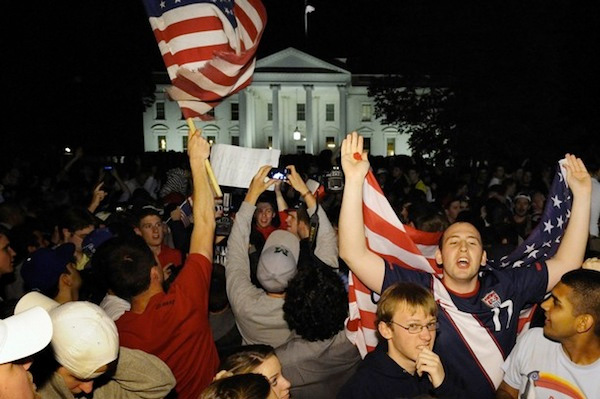 America, FUCK YEAH!