Union
Hundreds and hundreds of Union fans were at PPL Park on Tuesday night for the Meet the Players event. So many, in fact, players came down to the club shop to sign autographs for the hundreds on hand who couldn't get into the packed to the gills Stadium Club. The PSPs Nicolae Stoian did make it in to the Stadium Club and his photo essay of the event will be up this afternoon.
The Union move up four spots to number seven in the SBI power rankings. In the Soccer America rankings they come in at ninth.
Danny Califf was selected for the MLS Team of the Week.
Faryd Mondragon is "very proud" to be the captain of the Union. Just why he is the captain is explained here.
From the Department of I Didn't Know It Before But Now I'm Kind Of Sort Of Well Maybe Just A Little Bit Ticked Off, the Brotherly Game has a comparison of the gift Union season ticket holders received with their new boring as hell season ticket card—a short "doop" scarf—with the bounty received by DC United season ticket holders—among other things, a scarf (presumably not short), a hat, a pin, discount cards, Ledo Coupons, two patches, and a banner. Of course, the least expensive DC United season ticket package was $70 more expensive than the Union's and, frankly, all I really care about are the goodies on the field, not the ones that come in the mail.
Jordan Harvey's first post for his new blog on CSN is up and it's a very entertaining read on the preseason.
Levi Houapeu talks about how some simple advice from Didier Drogba has sustained him in his quest to become a professional soccer player.
Vancouver Watch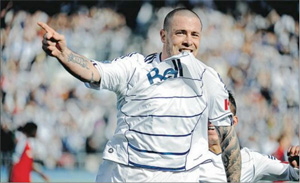 Looking forward to Saturday's home opener against Vancouver, the Whitecaps are expected to be missing up to four starters from their win last weekend over Toronto. Jay DeMeritt has been called up by the US, New Zealand international centerback Michael Boxall has been called up to play China, and wingers Russell Teibert and Davide Chumiento are questionable with injuries. More on the Whitecaps lineup challenges ahead of Saturday's game here and here.
Vancouver DP Eric Hassli scored two goals against Toronto, one with his right foot, one with his left foot. Get to know him.
Vancouver supporters group the Southsiders is miffed at the way the club has handled the allocation of away tickets.
Independence
The Independence will play Penn State tonight at 7pm at United Sports in Downingtown. Last year Penn State lost 1–0 and they are eager to meet he Independence gain.
The current Independence preseason roster combines "experience with an exciting collection of skills and young talent." The final roster will be submitted to the league on March 30.
Beginning with the question "What if you are great at something that not many people care about?", Joanna Lohman examines the state of women's professional team sports in the US with passion and intelligence and their search for "the mysterious profitability formula."
Check out Lohman and teammate Lianne Sanderson's appearance on the 10 Show.
Local
A new edition of the excellent Home Grown Hopefuls series is up on The Brotherly Game.
Union supporters group the IllegitimateS could use your help in support of the Camden Youth Soccer Club, which works with kids aged 4-14.
MLS
Galaxy supporters groups are beginning to turn on David Beckham. This guy argues the Beckham bashers have got it all wrong.
Is it a good idea that MLS continues to schedule matches during international weekends? This guy thinks not.
The sale of single match tickets in Portland resulted in huge lines with some waiting as long as ten hours to buy tickets.
In more Portland news, the winners of the contest for a Timbers-themed design for an Alaska Airways Boeing 737 have been announced. Also, Ajax will play the Timbers on May 25.
Here's one explanation for why the English find "the concept of MLS so perplexing."
DC United will host Everton on July 23.
More on the Ochocinco malarkey here and here. You can actually sign up to watch live video of the first day of his trial with Sporting KC.
When asked if MLS was supporting Mohamed bin Hammam's bid to unseat Sepp Blatter as president of FIFA, Don Garber jokingly replied, "We're supporting our friend Grant Wahl. I've got a 'Grant Wahl for president' button," before continuing, "No, we're going to stay out of that. Sunil [Gulati] and Chuck Blazer have got us represented. I've had my fill of FIFA politics for a while. I'm going to stay pretty grounded here and focused on the league."
US
The USMNT is in Cary, North Carolina training for their friendlies with Argentina and Paraguay. This article on what's happening at the training camp includes a slide show of photographs.
This analysis of the USMNT roster notes the absence of true wingers and argues that Timothy Chandler ought to get a start.
Elsewhere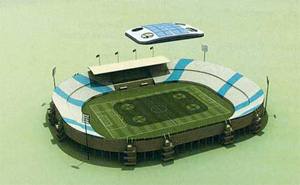 A professor at Qatar University has proposed building "an artificial cloud" to cool the pitch at the 2022 World Cup. Dr Saud Abdul Ghani says "the artificial cloud will move by remote control, made of 100 percent light carbonic materials, fuelled by four solar-powered engines and it will fly high to protect direct and indirect sun rays to control temperatures at the open playgrounds." Yeah, right.
Newly re-elected UEFA president Michel Platini is ready to impose a salary cap.
Red Football Joint Venture, the Glazer-owned company that owns Manchester United, posted losses of £108.9 million for 2010. That's $177 million in American money. Total debt for the company is now at £590.4 million, or $835 million.
The Premier League will oppose moves by the Football Supporters' Federation to reintroduce standing areas at Premiership stadiums.
With Japan's J-League set to resume play on April 23, Bayern Munich have announced they will play a charity match in Japan, "most likely be held between May 17-25."
When you're in Brazil, do as the Brazilian's do, which i just what Barack Obama did.