Aston Villa v. West ham – 10am, FSC
Aston Villa is a team in turmoil. They constantly seemed to be on the brink of breaking into the EPL's elite during Martin O'Neill's tenure, but the leap never materialized. O'Neill's favored 4-3-3 was a vicious animal to contain when his top eleven were healthy, but Emile Heskey is no John Carew, and, strange as it sounds, there is only one Gaby Agbonlahor. Agbonlahor started 35 games last year but netted only 13 times. He will have to improve on that total if Villa are to compete for a Europa League spot this year. There is no depth at the striker position beyond Emile Heskey, and I think that information speaks for itself.
Villa's strength is wing play. Ashley Young and Stewart Downing are both rising stars who will be expected to improve on last season's displays. James Milner can play wide or in the center, but it's more likely that he'll be playing in Manchester than anywhere in the Villa lineup. This is a huge loss for a team that relied heavily on Milner's stellar play last season. Starlet Fabian Delph will be asked to step up early in the year. He started their first match last season before injuries, Milner's emergence, and Downing's return relegated him to the deep part of the bench.If Delph struggles, the burden of ball movement falls on the slight shoulders of Nigel Re0-Coker and Steve Sidwell, a pair of guys who define the phrase, "belongs in the Championship division".
In the back, Aston Villa is a mixed bag. Carlos Cuellar will miss the first game of the year with injury. Richard Dunne is a poor man's Jamie Carragher, a pub favorite who will still make three timely tackles for every bad PK he gives up. Expect Villa's defense to make mistakes, but expect Brad Friedel to save them from embarrassment. He's immortal, after all.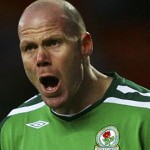 Buy this jersey: Friedel. Because when the apocalypse comes and you kneel before Brad Friedel's feet at the gates of Friedeland, you'll probably want to have his jersey on.
West Ham, guided by former Chelsea and Portsmouth man Avram Grant, will be an interesting team to watch this season, but that doesn't make them an interesting team to write about. I recently heard them described as, "Scott Parker and those guys". Totally accurate. Carlton Cole is still a big galoof who will have dominant games and games where he passes through-balls to the other team's strikers (what? Defoe was open!) Robert Green will play very well in goal but still look like an overgrown leprechaun. Matthew Upson will remain a talented center back who somehow never takes the next step to stardom. Mark Noble will continue to become the next Scott Parker. Kieron Dyer will fund the retirement of another physical therapist.
West Ham has traditionally had great youth development. Junior Stanislas, Zavon Hines and Freddie Sears are the latest players looking to push into the top squad. Stanislas and Sears in particular will look to make an impression, as Avram Grant will be very willing to put young players in tough positions.
Buy this jersey: Scott Parker, and not just because it's the only one you'll find. Parker is what Tottenham's Jermaine Jenas and Aston Villa's Steve Sidwell should be: A player who understands that his team will rise and fall with his energy level. He makes mistakes, he's less talented than many of his opponents, but he works and works. Plus, he could've been a hair double for Michael J. Fox in Back To The Future.