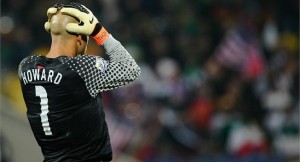 Writing about disappointment and disaster can be cathartic, can't it? Hopefully, reading what is written can do the same. The US was dumped out of the World Cup by Ghana for the second straight time. What is worse is that while this game was called much more fairly, the US looked to have created the better chances.
The US did not finish in front of goal and made a couple of defensive errors that allowed the Ghanians to score. Neither of the errors created gilt-edged opportunities, and the Ghanians showed good skill to make the most of the US errors. Against CONCACAF opposition I suspect that neither of those chances goes in.
The Ghanians played very well on the day and the US did not play their best. The Ghanians were organized in the back and counterattacked well. They stuck to their game plan and it paid off. The US looked out of gas emotionally and physically. The team had spent a lot of energy against Slovenia and Algeria. While Ghana worked hard in their group, their defensive counterattacking style maybe allowed them to avoid expending so much energy.
The US wasted probably the best opportunity that the US will have in my lifetime. Their group opponents were probably the most beatable they will ever get. The bracket to the semifinal was also the weakest they will probably ever see again. Neither Ghana nor Uruguay are teams that the US couldn't beat. Neither is a soccer powerhouse.
The US came back from another early goal, tied the game and took it to over time. The Ghanians got some luck and put away a garbage goal. They punted the ball down the field, and their star striker out ran the US defense to put the ball in the back of the net. They were lucky to get that opportunity. The game was close, and the Ghanians just edged us. We are disappointed, what else can you say?
So, what now. Well, everyone takes an emotional break after a long 4 year build up. From CONCACAF qualifying to the World Cup this US team has been the most fun to watch yet. The entire team has improved since 2006, and the team appears poised to continue its long steady trend of improvement since 1990.
This incarnation of the national team has created more scoring chances than any previous team I can think of. The defense has not been as airtight, but scoring goals is more exciting. The US team has shown much better tight, quick one-touch passing. They have also shown more individual skills and creativity. Of course we aren't close to the level of a Spain, Brazil, or Argentina in that respect, but I feel like the US team is fun to watch. Previous incarnations have been much more defensive and compact like the Ghanians or the Uruguayans. The US appears to play a more open and attacking style than in the past. The major characteristic of the team, though, has been an unbelievable strength of character to fight until the bitter end. As a fan, that has to make you proud. Having a team that never gives up also makes you feel like you always have a chance to win, no matter what the score is.
Even though the outcome against Ghana was a disappointment, there are plenty of positives to take away from our performance in this World Cup. We tied England, we made some amazing comebacks and we topped our group for the first time since 1990. We played some good soccer at times. We created a lot of goal scoring chances. We were entertaining to watch. We lost to a good team by only a hair in overtime. Just getting out of the group stages is an accomplishment in the World Cup. Look at Italy or France to see the quality of teams that can get dumped in the group stages. For a look at unlucky bounces that can lead to an easy goal, look no further than the first German goal against the English.
Although the US might have been able to get further in the tournament, their performance wasn't any worse than some of the top teams in the World. For a tournament that includes every team in the World and spans four years, making it to the final 16 teams is quite an accomplishment. Just making it to the World Cup is an accomplishment. There are plenty of quality teams that don't make it every cycle. Look at the Czech Republic, Russia, and Ireland this time around. The fact that the US has made it to the World Cup from qualifying every cycle since 1990 is an important accomplishment.
In a few more months we can all start thinking about 2014. There are all sorts of questions to ask and possibilities to consider. I will be as happy as a clam considering all the different options and watching future qualifying games. Until then I am left with just a few thoughts on the US team.
The US appeared to be missing two key ingredients in this World Cup cycle. The first major piece was not having a successful and recognized 1st division striker playing in Europe. Charlie Davies appeared to get close to that level while playing in France, but of course he was injured. Jozy Altidore is still too young and inexperienced to fit that bill. He has talent, but he isn't like a 20 year old Wayne Rooney, for instance. In another 4 years he may be a very good or World Class striker. At this point I would say he is just a good player. In 2006 we had Brian McBride, who had been scoring regularly in the English Premier League.
The second major piece lacking was a speedy center-back. In 2002 we still had Eddie Pope, who had the speed and skill to match many World Class strikers. Although Pope spent his whole career in the US, he turned down opportunities to play in England because he didn't want to leave the US. We haven't had a quality speedy center-back in some time. Our current center-backs have good skill, but don't have great speed. Bocanegra and DeMerit are good, and Onyewu on his game is a very good center-back. Maybe Clarence Goodson is good also, but none of them has much speed. Having Onyewu as the strong bruising, aerial expert alongside a speedy center-back like Eddie Pope would be a great combination. So far no one has emerged to take that role.
Although we certainly could use another Claudio Reyna or John O'Brien to marshall the midfield, a speedy center-back would have prevented a lot of goals the US gave up, while a more established and experienced striker would have put away some of the chances the US missed.
As for the coach, I still believe that Bob Bradley is a quality coach. Many people disagree, but he put together a side that created a lot of chances, fought tooth and nail, finished first in qualifying, topped its World Cup group, won the Gold Cup, finished second in the Confederations Cup, and was knocked off in overtime in the round of 16. That is a serious set of accomplishments that can possibly only be matched by Bruce Arena leading up to the 2002 World Cup. I would rate Bradley's accomplishments as higher than Arena's. That being said, it would be nice to see what the US could accomplish with a recognized World Class head coach. Maybe a Guus Hiddink, Fabio Capello, Jurgen Klinsman, etc. could take us even further than Bob Bradley? So what did you think of the US team this World Cup? What do you think of Bob Bradley? What did you see as the weak points of the US team?