When he ended up in the England dressing room after they tied Algeria, Pavlo Joseph felt he had to say something: "That was woeful and not good enough," he told the English team, summoning all the passion he normally reserved for nodding off to sleep during Frasier repeats.
Rob Lunn writes that, "most citizens of the United States consider the World Cup as something akin to visiting the in-laws. You don't do it often and you don't often enjoy it." Oh Robbie-boy, this is gonna be fun! Should we start with World Cup ticket sales? Yeah let's start with ticket sales, because as of May 29, the United States had the highest ticket sales of any country with over 93,000. I guess we could move on to television ratings now, if that's alright. You still with me, Robbie? Ratings for the World Cup have increased 64% thus far, averaging well over 3 million viewers. 12 million people tuned into ABC for the USA/England game. I could go on about how whining about ties are natural when you have a sport with a time limit, because it seems incredibly strange to say that one regular season game should go on longer than another just because the two teams scored the same number of points. Sorta makes the whole time limit thing silly. Why not play the game until someone scores a certain number of points if that's going to be your deciding factor? Oh, right. TV money. Haha, oh American football, you're so pure and true.
Here is Rob's author info. Sounds like he should be writing about a different sport: Rob Lunn graduated from the University of Connecticut, where he was a defensive tackle for the Huskies. He played professional football for the Carinthian Black Lions in Austria. In addition to his contributions to NESN.com, Lunn contributes to The Official Blog of Chris Cooley and Deadspin. Read more of Rob's writing at The Fat White Guy and FwgNFL.com.
Reuters reports that Bob Bradley will switch up his midfield for the third time in three games. Jose Torres' disappointing performance against Slovenia looks to have opened the door for Maurice Edu to step into the center, while Stu Holden could get a run on the left if Dempsey is shuffled up top with Altidore. While I sometimes wish the US had a no-questions-asked starting eleven a la Spain, it's so refreshing to have a number of players on the bench who are wholly capable of stepping into a starting role without the team missing a step. Also, with Findley suspended we are offered another chance to remind everyone in New Jersey to keep an eye out for Giuseppe Rossi. The poor American striker Italian striker World Cup barfly could be sitting next to you right now!
According to the Baltimore Sun, the World Cup is more of a productivity drain than ever due to streaming video. Apparently the Serbian economy loses $28 million every time the national team plays. All of this makes us at PSP wonder how much productivity is lost to headline-loving economists trying to calculate World Cup productivity in dollar amounts?
Derrick Jackson of the Boston Globe thinks Americans have no right to complain about vuvuzela noise until we muzzle our own offensive cheering practices – namely those that stereotype minority groups like the Washington Redskins and the tomahawk chop celebration at Florida State and Atlanta Braves games.
Italian soccer federation President Giancarlo Abete thinks Europe's giant clubs are to blame for the continent's largely disappointing performance in the 2010 World Cup. He thinks the good players are too pampered and the young players are underdeveloped. And he's totally right. I will cheer my democracy-loving a$$ off for the North Koreans from now on after watching them calmly help writhing Portugese players off the ground while down anywhere from 4 to 7 goals. Meanwhile, Brazil's absurd acting against the Ivory Coast made it even more difficult for a bad referee to tell when they had actually been fouled and when they were trying to burrow underground after a light foul.
The New York Times begs us to "forgive the members of the Algerian national team if they don't project too much concern about their ability to handle the moment Wednesday against the United States in Pretoria." Done.
The Dallas Morning News Ed Farnsworth on staff.
An unexpected positive to the World Cup: South Africa's hunting industry is suffering as foreign hunters can't afford flights into the country. On behalf of animals hunted for sport everywhere, allow me to extend a mocking middle claw.
Despite the horrific call that denied the US a win over Slovenia, I think World Cup refs have largely performed well. The Washington Post attempts to explain what makes a good performance from the whistleman.
The Wall Street Journal gives a breakdown of what teams like the US and England need in order to move on to the knockout stages (hint: Wins)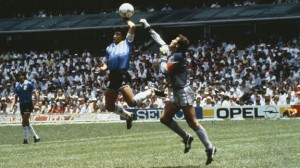 Wrapping up our WC coverage today, we celebrate the day that Maradona's Hand of God sent England to defeat.