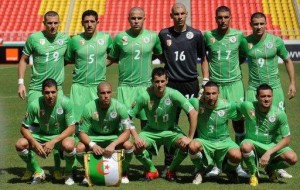 Although the US might not be quite in sync, Algeria and Slovenia don't look all that good either. Algeria just recently got beaten by Ireland 3 to 0, and the Slovenians haven't played together since March. The Slovenians will be playing New Zealand this Sunday. This bodes well for us as they will only have one game together against inferior opposition before they start the World Cup. In addition their second match will be against Algeria, so they won't have much time to get in sync before playing us.
As for Algeria their loss in Ireland can't say too much about their team, but it is good news. Their main defender Madjid Bougherra was still out injured. That is also good news for us because he will still be rusty by the time he plays us.  Algeria didn't play well, but they were playing a very good team that ought to be in the World Cup. Also they were playing the Irish at home.
In terms of their personnel, there aren't many mismatches, so the US should only get outdone by superior tactics or bad luck. The Slovenians also don't have any superstars that will torch the US, but their overall ability and cohesiveness could lead to a tight game. We will probably be able to beat Algeria by a couple of goals, but the Slovenia game may end up as a 0-0 or 1-1 tie. What do you think of the opposition?