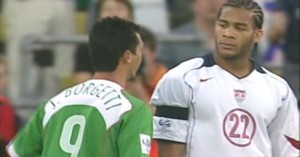 When Oguchi Onyewu is at the top of his game, he is our best centerback option. However, with the knee injury and the rust of not playing regularly since last year, is he ready to be a starter again?
Oguchi Onyewu injured his knee during the Costa Rica CONCACAF qualifying  match in October of 2009. He has been recovering from his patellar tendon tear for quite some time. He only recently returned to training with AC Milan in late March and early April. Since then he hasn't played any minutes.  Of course he has been practicing with the team in addition to being selected in their 23 man game rosters.
Before his injury, Onyewu seemed to show improved ball control and passing from his time training and playing with AC Milan. That added skill boosted his overall ability which was mostly physical. If Onyewu has continued to improve on his skills, then he might be able to step in and be as good if not better than he was.
On the other hand we have seen Onyewu when he hasn't played in a while, and he is not that sharp. After coming off of a previous layoff Onyewu looked slow and a step behind. As a result he gave up a lot of fouls. This was a quality that he also showed during the 2006 World Cup, although the referee during the Ghana match must have been paid off to pick on Onyewu so much.
The first friendly match against the Czech Republic will be a good way to determine which Onyewu we are dealing with. Hopefully, Onyewu will show improved skill, ball control, and passing, which will help to mitigate the rust from not playing. On the other hand, we may see that Onyewu is a step behind and subsequently clumsy in his play.
If we do end up seeing super-Gooch, then the US National Team will be much better off. During the Confederations Cup, Gooch was everywhere and was unbelievable in the air. He improves the National Team defense considerably over players like Clarence Goodson and Jay DeMerit, although they aren't bad options either. If Gooch can't get match fit by the end of the friendly series, then he shouldn't be starting during the World Cup. He will just get called for costly fouls that will lose us games. On the other hand he might handle the opposing teams' strikers like he did Jared Borgetti back in the day. What do you think?