The ball is round. The place is Philly.
Post Tagged with: "Gerard Pique"
Daily news roundups
Conor Casey and Jack McInerney named to Soccer America best striker/forward lists. Latest on Pablo Perez. More lists, more news.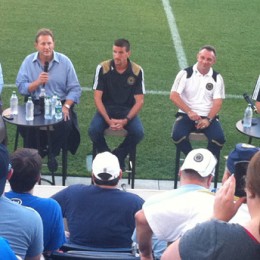 Daily news roundups / Featured
Supporters Summit. Kansas City and Houston replace New York behind the Union with mid-week wins. Independence nab player, sportswoman and coach of the year awards.
Daily news roundups / Featured
Injury concerns for the Union ahead of Saturday's match in LA. Union taking LA very seriously. Donovan expected to play on Saturday. Independence announce 2011 roster. Ochocinco explains what playing soccer is like for an American football audience. FIFA won't tell what it pays itself. UEFA concerned about hooliganism ahead of Euro 2012 and more news.