Photo: Marjorie Elzey
With both Kacper Przybyłko and Sergio Santos departing Philadelphia Union at various points in 2022, the pressure on new signing Mikael Uhre could have grown and grown during the opening stages of the regular season. But a combination of good recruitment, good management, and the Dane's own qualities and demeanor have meant he's been able to hit the ground running.
Only Sébastien Le Toux scored more goals for Union than Przybyłko, so the Pole's departure was especially notable, but with Julian Carranza alongside Uhre in this new-look Union attack, head coach Jim Curtin may now have a front two ideal for his system.
What Uhre offers
Speaking of hitting the ground running, Uhre is pretty good at that. He's swift and bright in attack, getting on the shoulder of opposition defenders in case a teammate can play the ball into space. 
The passes don't necessarily need to be into the path of his run, either. If the ball is into space there is a good chance Uhre wins the footrace to get it.
The opening goal against Houston last weekend was a good example of this, but there was also an earlier example in that game where he managed to retrieve a more difficult ball. Carranza, good in the air for his size, flicks the ball on with his head into space, and though Uhre looks unlikely to reach it ahead of the defender, he eventually manages to do so thanks to his pace, strength, and clever use of his body.
Once an attack reaches the final third Uhre is sharp and alert, finding space in the channels or in the box to pull defenders around or anticipate a cross.
The video below shows his run beyond the defence as part of what will be one of the team goals of the season.
Philadelphia Union players doing what they do for this goal. McGlynn the playmaker, Uhre on the shoulder of the defender, Bedoya to Gazdag… #DOOP pic.twitter.com/EIG7lyFaap

— James Nalton (@JDNalton) July 31, 2022
The responsibility on Uhre's shoulders was potentially great, especially as he arrived as a Designated Player, but joining a team that already has an ingrained way of playing — one where responsibilities and work are shared around and each player knows their tactical role — makes settling in easier.
MLS Designated Players are usually expected to come straight into their team's lineup, but just as Curtin waits for the right moment to introduce youth players into the team, the same can be said for new signings, regardless of their status.
Of course, DPs cannot and should not be on the fringes of the squad for long, but the burden of leading the line and getting the goals is relieved by that overall team ethic, and by the fact Union play two up top. This means much of the work in the forward line has been shared between Uhre and Carranza, and it's a dynamic that works well.
Carranza causing conundrums
Carranza is an avid presser and replaces the off-ball work Santos could have brought. Taking into account minutes played, the Brazilan was the most active final-third presser in MLS prior to his departure but Carranza has emerged as one of the league's best in this area, too.
Julian Carranza is one of the more active pressing forwards in MLS along with the likes of Maxi Urruti, Khiry Shelton, and the Red Bulls strikers. Fits what the Union need and also scores the occasional goal. #doop https://t.co/ftISoqdjhk

— James Nalton (@JDNalton) July 13, 2022
Pressing in the final third from a 4-4-2 diamond formation as used by the Union under Curtin can look different to other pressing teams in MLS who use a similar tactic but from a different formation. Many other teams will use a front three — whether a 4-3-3 or 3-4-3 — so have three leading the press rather than two.
Last week I took a quick look at Vancouver Whitecaps pressing as part of an article on their recruitment. There are echoes of the Union about the way the Whitecaps are beginning to do things, but the forward line in their 3-4-3 formation looks different to Union's.
Rather than ramble on about pressing too much, here are a couple of sets of images to speak a few hundred words. The Tweet below shows Vancouver's pressing in a front three.
There's a bit on Vancouver Whitecaps' pressing in my @AnalyticsFC article on their recruitment. Maybe something to look out for in their games #VWFC https://t.co/li2R0EPcIN pic.twitter.com/hlQpmO5QL0

— James Nalton (@JDNalton) August 4, 2022
The images below show the Union pressing with their front two, leaving the goalkeeper free but limiting their options, while also setting pressing traps. Blue arrows and circles show the Union's pressing and marking, while dotted orange arrows show Houston passes as they try (and fail) to pass their way out.
Attacking midfielder Daniel Gazdag, and wide midfielders Jack McGlynn and Alejandro Bedoya are on hand to help cover opposition players, while Leon Flach, who was playing the defensive midfield position in this game and is always vital to Union's off-the-ball work, ends up intercepting the pass. But it all starts with Carranza's work pressing two Houston players.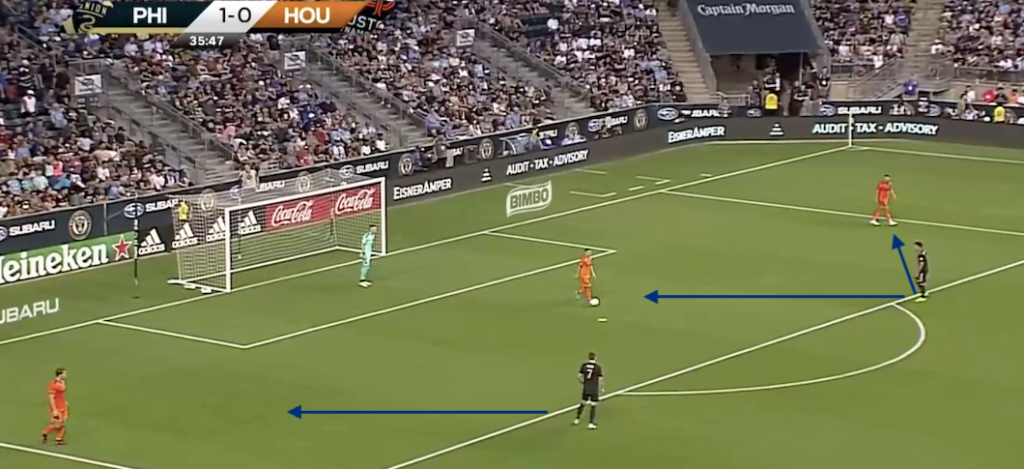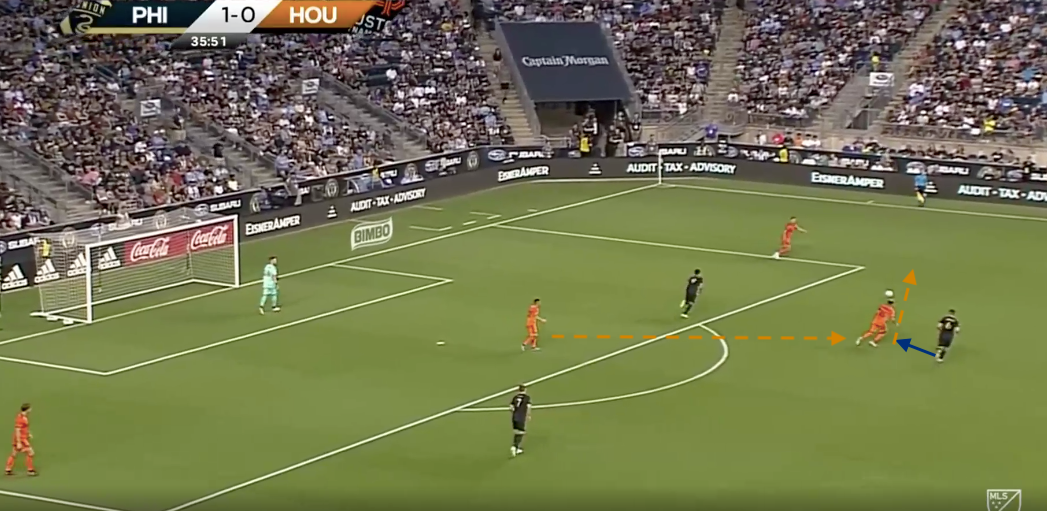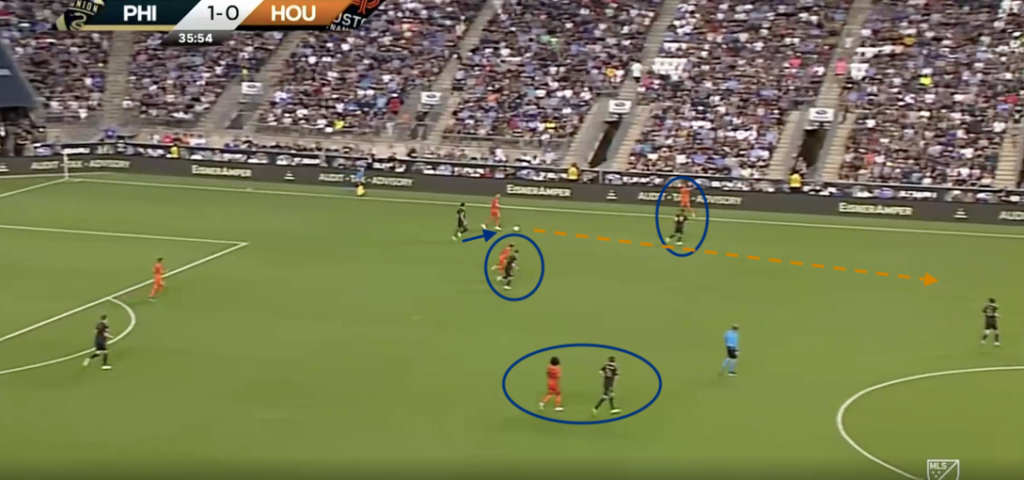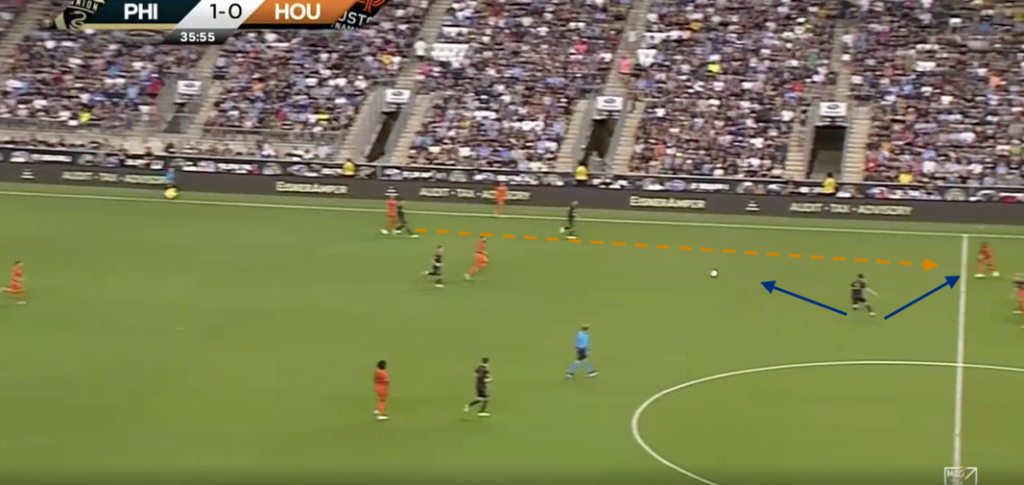 With his role in the press over, for now, Uhre remains alert up top in case of a counter-attack. 
His link-up play can be good, but he's not asked to do too much of it. His game is about attacking movement, stretching the defense, getting on the end of things, and making the key contributions in attacking areas towards the end of attacking moves.
According to statistics site FBref, he averages 27 touches per 90 minutes which is among the lowest in MLS, especially for someone playing fairly regularly. The only players in the Union squad with fewer total touches than Uhre so far this season are attackers such as Paxten Aaronson and Quinn Sullivan who have played far fewer minutes.
The comparison between the concentration of Carranza's touches (left) and Uhre's (right) can be seen below from the SofaScore heatmaps.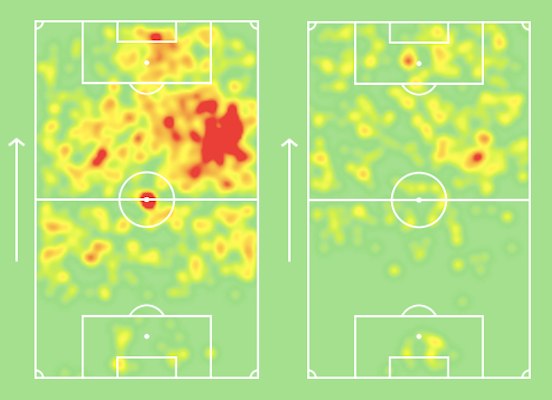 Stay on target
Uhre's cutting-edge attacking play is also evident in the stats. Only DC United's Taxi Fountas (0.89) has more goals per 90 minutes than Uhre's 0.84 using FBref's qualifiers*. 
This is more than the likes of (the now departed) Taty Castellanos (0.80), Brandon Vazquez (0.64) and Sebastián Driussi (0.63). Uhre with a full, injury-free season in this form, leading the line in every game, more than likely ends up being the top scorer in the league.
Given his lack of touches combined with such a goalscoring record, it's perhaps no surprise to learn that he's one of the best players in the league for getting shots on target. 
Only Fountas, Hany Muhktar, and Gustavo Bou average more shots on target per game, and he leads the league for shots on target percentage with 75%**.
From his 16 appearances in a Union shirt, we are already starting to get an idea of what type of player Uhre is and how he fits in Curtin's system. He is forming a good partnership with Carranza, and they are beginning to complement each other well. The underlying stats show he's potentially the best goalscorer in MLS, with a better minutes-per-goal record than any of the league's top scorers.
With five goals in his last five games, those underlying starts are starting to turn into more headline-grabbing ones. Regular minutes and regular games could see Uhre work his way up the MLS goalscoring charts between now and the end of the season, and the 6-0 win against Houston could be a sign of things to come.
*Players need a minimum of 30 minutes played per game played by their team to qualify for the per 90 minutes stats leaders.
**Players need a minimum .395 shots per game played by their team to qualify for the shots o target percentage leaders chart (shots on target do not include penalty kicks).