Did you know that Philadelphia and the surrounding suburbs are home to a thriving local soccer scene, with multiple clubs playing competitively?
While it may not be quite on par with London (okay, not on par at all), there are still multiple chances to support a local club near you in addition to MLS's Philadelphia Union.
This past spring, we introduced a new weekly series to cover all the lower league soccer action in the Philadelphia area (check out the series intro post for a refresher).
Now that all the local teams' spring and summer seasons have concluded, let's circle back to the differences between the leagues and where they fall on the men's US Soccer pyramid.
The current U.S. Soccer structure does not offer promotion and relegation, so the pyramid beyond tier 3 is technically unofficial. We'll do our best to break things down as much as possible so that you can have a general idea of where teams and leagues fit in the overall structure of U.S. Soccer.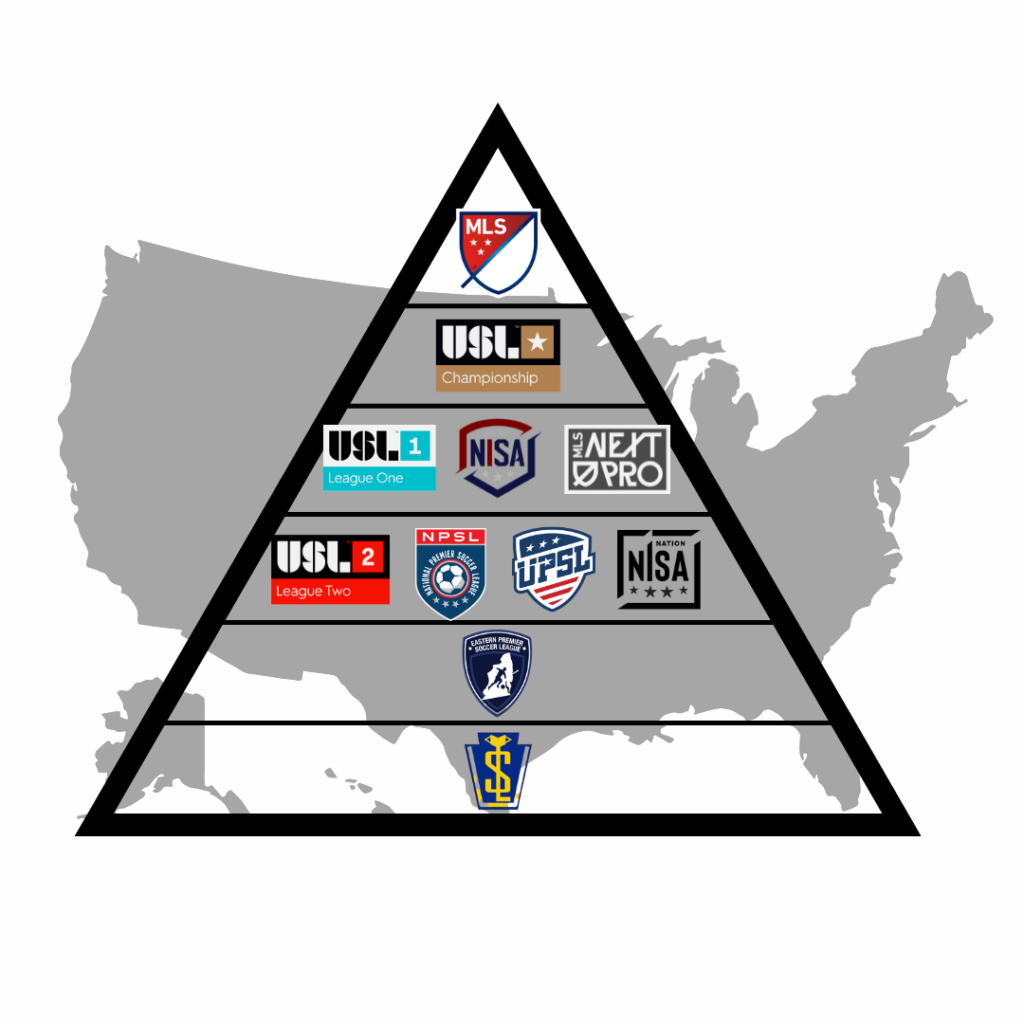 Breaking down the tiers of the U.S. Soccer pyramid
Top
MLS – Professional
USL Championship – Professional
USL League 1, National Independent Soccer Association (NISA), MLS Next Pro – Professional
USL League 2, National Premier Soccer League (NPSL), United Premier Soccer League (UPSL), NISA Nation – Semi-Pro/Elite Amateur
Regional level – Eastern Premier Soccer League (EPSL) – Elite Amateur.  Unlike the nationwide leagues in the tiers above, these are regional leagues.
State level – State Association Leagues of the United States Adult Soccer Association (USASA). In Pennsylvania, we have the Eastern Pennsylvania Soccer Association (EPSA) and the league within this is the United Soccer League of Pennsylvania (USL PA) – Elite Amateur
City level – CASA – The Philly house league – Amateur. This is an unofficial 7th tier designation but included here for the purpose to show CASA Soccer League would fall under USL PA.
Recreation – Rec leagues and intramural leagues such as Heyday provide official organized game opportunities for players as well. This is an unofficial 8 but included here to show rec leagues would fall under CASA.
Bottom 
So, working up, you have your city leagues, then state leagues, then regional Leagues to national leagues. The leagues range from amateur at the bottom, up to semi-pro toward the middle of the pyramid with the professional teams at the top.
Clubs can have teams play in different leagues at the same time as well. With a large pool of players within a club, a club can fill out each of their respective teams with different players. So you can have a club play in multiple leagues at the same time since you use different players for each league. For example, Philadelphia Lone Star F.C. play in UPSL, USL2 and NPSL simultaneously. They have different players for each team in each league as all of their players are a part of the club – Philadelphia Lone Star Football Club.
Supporting a local club, in addition to the professional club is a great way to support the overall growth of the game in America. With multiple competitive options for players, this will only help with development, training opportunities and promotion of the game. For example, many college players will come back to their hometowns in the summer to play in USL League 2, which holds their season within that summer college break timeframe.
Support a local club, grow the game. Soccer for all.