Photo: Marjorie Elzy
There was a soccer game last Friday night between the United States and Mexico. In it, the game's most visible player scored the opening goal. While celebrating, he revealed that under his jersey he was wearing a homemade shirt with words that read, "Man in the mirror."
The gesture was, in the parlance of the times, a "clap back" at a senior player on the other team and his suggestion that the hosts aspired to be like the visitors when they were honest with themselves, when they looked into the mirror. The accuser was wrong of course, but that's a topic for another time.
On Saturday afternoon, there will be a more local "mirror match" in Chester when the Union host the Red Bulls.
Pointin' the fingers, pointin' at youuuu
The Red Bulls are a Red Bull team: high press, little need for possession, lots of chaos.
The Union have also been accused of being a Red Bull team with the same characteristics. These days, that's more of a suggestion than anything else.
The Union press their opponents, but they're not a high pressure team. The Union don't usually win the possession statistics in their matches, but they have proven more than capable of an in-game rondo. The Union thrive on chaos, but don't cause nearly as much of it as they used to. So are the Union a Red Bull team anymore?
Not really.
There's no mirror here, not metaphor of big or little brother, no pointin' of the fingers.
In fact, now that the Union have changed formations and added a body in their crowded midfield, they're more apt to create offense closer to their own goal than that of their opponents. Their tally against Columbus earlier this season is a good example of this: a better representation of where they engage defensively these days, one which is a wholly different approach than that of 2020 – when they were indeed a Red Bull team.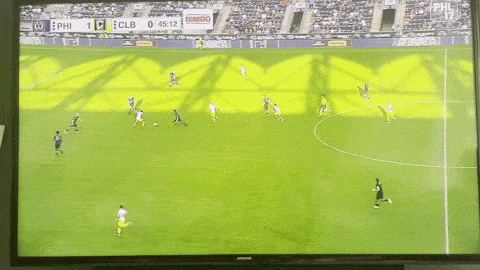 They'll have to figure out how to draw the Red Bulls forward in possession like this in order to make that ensuing transition happen. When it comes to current Red Bull teams, trying to possess the ball through the center of the pitch is not really on the list of attacking options.
Left, right, left, right
Before the Union were a Red Bull team, Jim Curtin did an interview on one of the tactics he would use in order to beat a Red Bull team. Generally speaking, doing so requires being disciplined in tight spaces (or, dealing with the press in the first place) and finding open spaces to attack (or, breaking the press).
If only it were so simple…
One of the tactics he discussed more than once was something called a "blind switch." The blind switch involves hitting a ball across the field without necessarily looking, knowing that the Red Bull's press would be compressed on the ball-side of the field, trying to squeeze the Union – but ultimately leaving the entire other side open.
Hit it where they ain't, as it were.
As it turns out, switching the ball with pinpoint accuracy is something Union center and full backs have been excelling at this season, with or without pressure. In fact, this author already wrote about a similar iteration of this tactic and how it might help the team break down an odd-numbered backline earlier in the year.
It turns out, the Red Bulls might employ that formation too – all the more reason to keep an eye out for the strategy.
Expecting better
There's a great book about pregnancy that was written by now-famous economist Emily Oster called, "Expecting Better: Why the conventional pregnancy wisdom is wrong." It examines the source material for a whole host of now-dogmatic pregnancy dos and don'ts, lays out the research behind why those rules were created in the first place, and helps expectant mothers parse through whether or not the standard recommendations are actually based on good science.
In many cases, being good at researching something isn't the same as being good at practicing it. A good example of this rift comes in the form of this quote:
At some point I came across a well-cited study that indicated that light drinking in pregnancy—perhaps a drink a day—causes aggressive behavior in children. The study wasn't randomized; they just compared women who drank to women who did not. When I looked a little closer, I found that the woman who drank were also much, much more likely to use cocaine.
This is what's called a confounding variable – but how does it relate to soccer?
On the surface, this Union season is an unbridled success and any standard measure would conclude as such: few other teams in league history have had the kind of domestic and international success the Union have had in 2021, particularly after a trophy-winning campaign the year before with one of the league's lowest payrolls. In fact, there are a bunch of teams sitting at home right now and a whole host of others getting on planes and trains for road playoff games that would trade places with the Boys in Blue in a heartbeat.
And yet, this 2021 study of regional soccer success isn't randomized at all – being a Union fan is its own confounding variable.
Union fans know that the team has been successful. They also know that there could have been more, that for every silver lining – there is a cloud.
The 2021 group can't score, absolutely could have advanced to the Champion's League final had they been able to do so, can't keep leads on the road, and will need to figure out both of those issues should they need to go and play the highest point-earning team in Major League Soccer history, New England. They're in great position to succeed, and an absolutely perfect position to fail miserably, and since this is Philadelphia we're talking about…
These latter narratives weigh heavier on the hearts of fans than any of the former that might lift them up. Perhaps that's fair, given how far Union fans have had to come.
Objectively, the season is already a success. A win on Saturday means it continues to have a chance to be historic.