On Wednesday night, the Philadelphia Union took on the Columbus Crew at Subaru Stadium. This was the first time since March 2020 where capacity restrictions were not in place and the 12th man was able to take part in the match. It was Pride day at the Union and the team, along with many fans, sported rainbow watercolor jerseys for the warm-up with "Love Unites" printed on the back. Prior to the game, both teams walked out side by side to take the field. Ashli Rice sang ""Lift Every Voice and Sing" in honor of Juneteenth prior to singing the Nation Anthem. As I looked around, fans were cheering from their seats, press was back to its normal spots, the teams were sitting in their boxes and it felt as close to pre-quarantine as I think it could have felt.
The Union battled through the game and showed respect for the Columbus Crew in the press conference afterwards. During the match, four yellow cards were given, one goal was scored and Andre Blake walked away with his 500th MLS career save. Cory Burke made his 50th appearance while Olivier Mbaizo made his 25th career start and Alvas Powell made his debut on a substitution at the 90th minute. At halftime, Jim Curtain was serenaded with "Happy Birthday" and even had cake after the game. Overall, it was a great night for all who attended.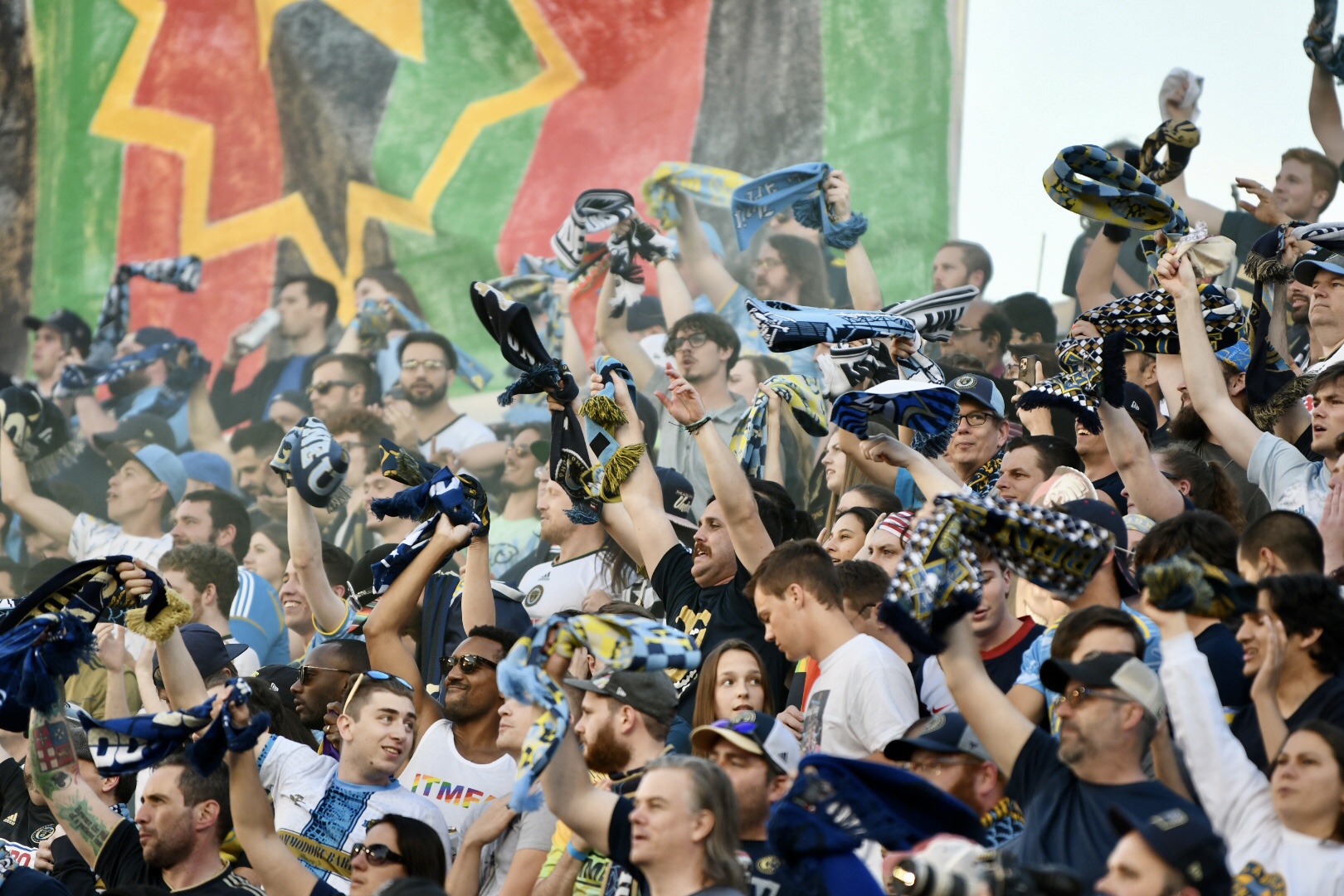 Fans celebrate with "Doop"!
The Union's next game is Saturday night at Soldier Field in Chicago where we will see former Union player Fabian Herbers. Then the Boys in Blue are off to Nashville to take on C.J. Sapong and Nashville SC. The action will be back in Subaru Park on July 17th after our last away game in this stretch against the New York Red Bulls.
Want to see more photos from the game? Follow me on Instagram (pitch.photos), Twitter (@MarjorieElzey), FB (@Pitch.photos).