Photo courtesy of ESPN and Major League Soccer
Danny Higgenbotham's first half commentary on the state of Atlanta United was thoroughly magnanimous.
He described them as more talented than the Union position by position, but missing the cohesion that good teams need to become great. It wasn't veiled criticism so much as a long-tenured player identifying that a talented team was less than the sum of its parts. And make no mistake, Atlanta United is a talented team. They were undone by some managerial mistakes and summarily made a few crucial on-field blunders that gave the visiting Boys a point for their efforts.
On another night it might have been more.
Man-marking and the Princeton solution
Gabriel Heinze's Atlanta United have a style mirroring that of his mentor Marcelo Bielsa in at least one key dimension: when they press, they do so high up the field, man on man, formations be darned.
If it sounds high risk, that's because it is.
The idea is similar to what the Union do: make every player on the opposing team uncomfortable in every one of their touches. Create turnovers. Score quick goals.
The major difference between the strategies is that in the Union's iteration, defensive work is done in packs. When the viewer sees an opponent turn the ball over, usually there are two or three Union players trapping the dribbler in some predetermined space. For Atlanta, every man is an island and every battle is an individual one. The downside of both strategies is, when they fail, there are acres of free space.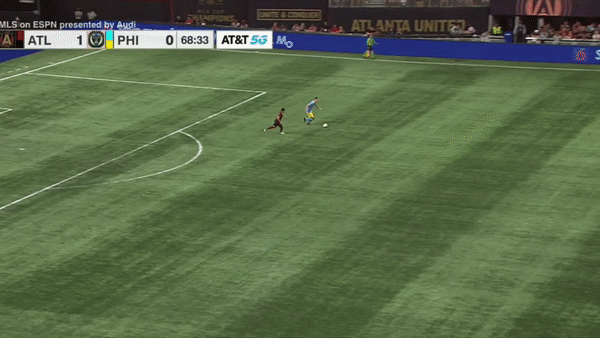 In this two part GIF, the Union break Atlanta's pressure with the dribble first and simple positioning second.
First, Jack Elliott gets in front of his man. That minor victory nearly one hundred yards from goal would normally trigger a second midfielder to step in to help his attacking partner and win the ball. In Atlanta's system, because every defender has an individual man responsibility all the time, no one moves an inch away from his mark. It looks strange because it is, almost like the other defenders don't quite know what to do once the first domino falls.
In the second clip, the Union similarly disconnect Atlanta's defense by having their weak side center back slide into the gap behind Atlanta's foremost attacker. The Union have drawn Atlanta to the left sideline via their thrown-in and possession, and because the Five Stripes added a third center back late in the match, the man who would have been responsible for tracking Glesnes into that space is planted neatly at his own 18 yard box; the only player on the field without a mark.
The effect is confounding to Atlanta, and the looks on the three defenders faces as Glesnes receives the ball with 15 yards of bouncy green turf in front of him are those of perplexity: their instincts tell them to help, but the system says stay put. They look around, they point, they stutter, they gawk.
Who's man is this??
What happened is simple: the Union used the soccer version of basketball's back door pass to unlock a pressing defense. It's a simply move, one that gets taught at the earliest levels on the court, and is the basic strategy that led Princeton over mighty UCLA in the 1996 NCAA tournament. When your opponent over plays his hand high, the easiest solution is to slip low.
By the numbers
Atlanta had a statistical lead over the Union in many categories: possession, shots, corners, and tackles to name a few. As Jason Longshore of 92.9 The Game in Atlanta summarized in he and Mike Conti's postgame show, that doesn't mean much because that's precisely what the Union wanted.
Author's note: for Union fans looking for the measured and informed take on Sunday's game from a southern perspective, this is a really worthwhile listen. Mike and Jason are excellent.
There are caveats to each statistical "victory" that are worth unpacking.
In possession, Atlanta did indeed have more of the ball at the end of the match. Atlanta only won 4 of the game's 18 intervals however, suggesting the Union had plenty of the ball save for five minutes to close out the first half.
In shots, Atlanta also had a numerical advantage. However, few of their shots were worth much in expected goals (a lot like their Champion's League home game), their first goal came off a one-in-a-thousand error by Kacper Pryzbylko, and at almost no point did the data say they should have even had the lead.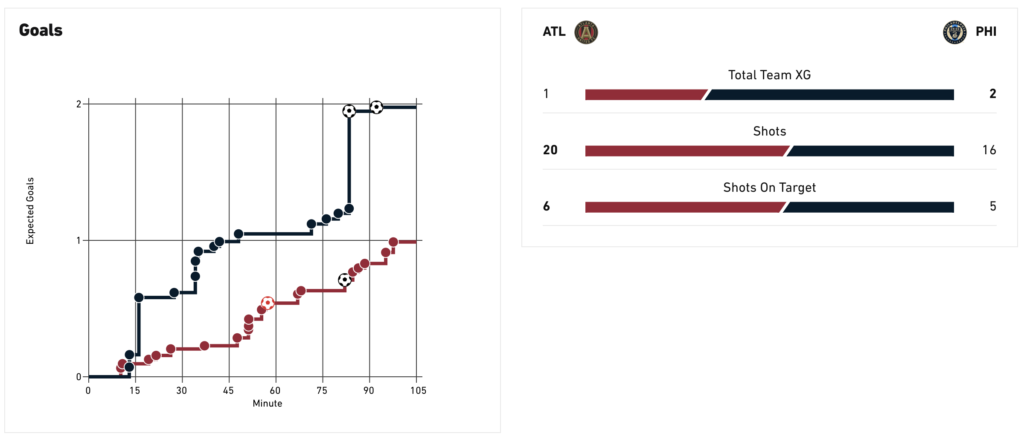 Atlanta scored both of their goals off of corner kicks (or the ensuing second corner) and thus having more corners than the Union should be considered a victory. However, the expected goals chart should suggest to the reader that swinging one in from the side isn't a great strategy for scoring goals (and the data says that a team should expect to score a goal on one of every sixty-four crosses or so) and earlier extrapolations on this site have shown that, on balance, it's better to defend a corner than take one.
Summary
Brooks Lennon, who was very good on the afternoon, said after the match that he and his United teammates thought "their performance was good" and his coach followed that "the team deserved more." The numbers say they're both wrong.
g+ GameFlow: MLS Regular Season @ATLUTD v @PhilaUnion on June 20, 2021. #UniteAndConquer #SomosAtlanta #DOOP #ATLvPHI pic.twitter.com/QUXsy2CQP6

— GameFlow (@GameFlowxPG) June 21, 2021
Tactically, the coach brought in his Designated Player center back, Alan Franco, into the match in the second half to try and see out his team's two-goal lead. Franco's addition made the entire Atlanta side look out of sorts, as Jakob Glesnes's goal illustrates pointedly. It wasn't Heinze's finest decision, in a match where his team couldn't get a decent look at goal and he was issued a yellow card for leaving his area (and might have gotten a red on another night for persistently doing so).
Meanwhile, Jim Curtin's attacking substitution found the team's first goal, his midfield addition was cool as a cucumber in a hostile environment, and his low budget center back scored his second wondergoal in as many years.
As Sam Jones of MLSSoccer.com stated, "it looks like another point for Jim Curtin over Gabriel Heinze."
Indeed.