Photo credit: Paul Rudderow
A preseason Philadelphia Union took all three points from Costa Rican legends Deportivo Saprissa on Wednesday night. After the team's first appearance and first victory in international competition, an analysis of their performance drew two insights to the surface.
Formation – what's in a name?
The Union took the field in their familiar 4-4-2 diamond on Wednesday.
Here's a passing network map from Major League Soccer's stats page to show fans how the formation played out on the pitch.
Author's note: a passing map represents the average position each player took on the field (where the dot is), and the frequency of passes between those players (the thickness of the lines).
The Union remain a heavily right-sided team in possession and attack. The average position of Olivier Mbaizo (15) compared to that of Kai Wagner (27) illustrates this tenet as much as anything else.
Because of this tilt, Mbaizo isn't really a right back. Though his performance on the night earned both raves (How many right backs in Union history could hit crosses with the same mouth-watering vapor trail behind them?) and rants (How many right backs in Union history were so maddening in possession otherwise?), Mbaizo is more wing- than wing-back in this system. With Jose Martinez dropping deep and shuttling, coupled with Kai Wagner's similar role on the left holding possession and keeping his feet firmly planted inward (or frankly back toward Andre Blake's goal), the Union's defensive four often doesn't include the Cameroonian International.
Kacper Pryzbylko certainly looked like a target forward when scored the team's lone goal, but strikers aren't really strikers on this team right now. Pay attention to how deep Pryzbylko drops to find the ball in this visualization (behind nearly half of his team on the night) and how high Bedoya goes to balance the space. This interplay certainly matches skill sets, but makes the individual positional expectations almost invalid as a result.
Speaking of the Union's goal, it incorporates each of these featured observations.
Martinez is deep when he receives the ball, so deep in fact he has enough time to pick up his head and see what's in front of him. Bedoya recognizes that Pyzybylko is checking back to the midfield to give The Warlock an option, and thus he runs into the space being vacated on account of that movement (there are actually five Union players above Pryzbylko when this play starts, as Leon Flach has moved wide and high to offer Kai Wagner a passing connection two links prior, further opening the gap for Pryzbylko).
Though this attack starts from the left, it becomes right-sided very quickly when Anthony Fontana runs behind Bedoya to offer the captain an option for laying the ball off (with Jamiro Montiero in support). Then, who's streaking down the empty wing to complete the team's ball-rotation? None other than wing-back Olivier Mbaizo. While Bedoya and Fontana keep their men tucked neatly into their respective pockets (or perhaps embrace the bear hugs they're receiving from Saprissa's center backs), it's Pryzbylko who is left unmarked. His foray into midfield space confused the defense enough that when he returned to where he was "supposed" to be, there was no person there to receive him.
Just the ball, landing squarely onto his meaty, Polish forehead (copyright, Arlo White).
Author's note: in the 24th minute, Kai Wagner slid a dangerous cross onto the feet of Kacper Pryzbylko. The ball should have gone instead to Anthony Fontana, who was largely unmarked just inside the penalty spot, making the late run as he is so wont to do. Fontana didn't have a standout match, but had Wagner seen him on that play, would have had the opening goal and another notch in his "Goals per 90 minutes" belt.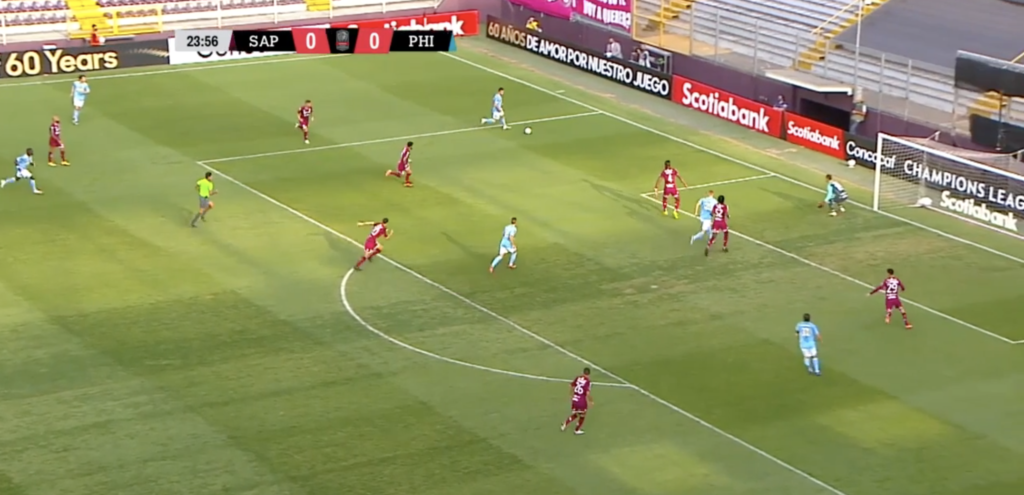 Taking the game to the other team
Go back and look at the Union's passing network map again. Now look at Saprissa's.
Though possession was roughly split down the middle on the night, the Union forced Saprissa to keep much of the ball in their own end and forced them to spread out in search of space when they did it.  The thickest lines here are between midfielders and are decidedly horizontal, while the links from that foursome to the team's front line are thin (compare that with the Union's fluidity and how thick the connections are between the midfield and the front, regardless of who was standing where).
What this means is that the Union didn't bunker in their first international match, they didn't go to Costa Rica in search of a draw. Instead, the defending Shield winners went on the road and decided their system was good enough for a win. They decided that there was more risk in trying to gut out a point than there was in fighting for three.
This should warm the cold hearts of Union fans, especially given the circumstances. Though the Union may not be great yet in 2021, this is the sign of great teams: they do what they do and force their opponents to figure out a way to try and stop them. The Union aren't the 1990's Braves, Wisconsin football, or Manchester City yet, but they're playing with the same kind of swagger.
That's something.
Summary
Tomorrow night brings the second leg of this series, one Union fans should feel confident about with respect to the team's chances of progress.
There are two legs to this round for a reason though, and if the Union were able to grab a point on the road, Saprissa certainly could too.
Better bring that swagger, just to be sure.