Photo by Paul Rudderow

"According to MLS stats guru Rick Lawes," the Union's 5-0 drubbing of league-leaders Toronto FC "was the biggest defeat of the No. 1 team in the overall standings by the No. 2 team in league history." Suffice to say, that's good. But with that in mind, is it worth analyzing this match, or should the good folks at Philly Soccer Page simply allow the readers a few minutes to dance at their respective Work From Home desks?

Let's do both.
First, take five, put on your favorite tracks, and this piece will be here when you return.
***pours a glass of something bubbly, presses play on "Jock Jams, Volume I," and boogies until the neighbors bang on the walls***
Welcome back, that was fun. Now, on to the match, the alleged asterisk, and several noteworthy performances.
The drop off
What's the difference between a team's Starting XI and its reserves? Usually the gap is large, and that holds true in all but the richest leagues in the world.
Union fans know this all too well, remembering when the team subbed in Pedro Ribeiro in a U.S. Open Cup Final while their opponents were subbing in Obafemi Martins.

Toronto FC fans will rightly point out that the Union's performance over the weekend was against a less-than-full-strength opponent. Missing two of the league's most imposing strikers and two anchors of the midfield, commentators and pundits alike were writing their "asterisk" posts before the game even began.
When the wild rumpus started and the Union barrage commenced, this same group were quick to mention their "missing players" talking points.
The problem with these notes is that while they are factual (Toronto did have starters missing), they miss the point entirely:
Philadelphia has a better team than Toronto at nearly every position, starters or not… and there is data to prove it.

Toronto have two players listed in WhoScored.com's Top 60 in average performance over the course of the Major League Soccer season (not including the MLS is Back Tournament), and both played on Saturday (Pozuelo is number one overall and Pablo Piatti is fourteenth). One has to go really digging to find the next three guys for TFC in the rankings, and will likely need an afternoon before he or she can round out a full eleven.
What that means is Toronto FC are a top-heavy team that relies on their great players to be great while hoping their good players are good and the rest of the bunch doesn't screw it up. One could argue this is how most successful teams in MLS function, and for Toronto up until Saturday, the formula was working to perfection.
There is more than one way to skin a cat or win a Shield*, and Toronto's choices are markedly different than how the Union are constructed.
*Speaking of asterisks, do not get me started on the Supporter's Shield nonsense from last week. That post will have to wait until I am substantially clearer-headed.
The Boys in Blue have eight players in that same Top 60 list (most of any team in MLS), and all of them started against the Reds. (Pryzbylko 8th, McKenzie 18th, Martinez 19th, Monteiro 25th, Aaronson 39th, Santos 42th, Glesnes, 49th, Bedoya 59th). The Union are a collective group of elite players who, in the event that one or more of their best miss a match (as has happened quite a bit in 2020), there are a half dozen left to carry the load. No one has to be perfect for the team to win, and when one of them is, as Sergio Santos was Saturday, they're nearly unbeatable.
For reference regarding backups and their respective drop in quality, Union backup Anthony Fontana is higher ranked than Toronto starter Jozy Altidore, Jack Elliott higher than Justin Morrow. This is the best Union team of all-time, hands down.
Toronto had to replace players ranked in the hundreds with those ranked in the two hundreds and deeper, so of course there was a drop in quality. The actual story is that the Union are better, player by player, whether Toronto's starters play or not.
Performances of note
Sergio Santos had the Union's first hat trick in several years, showing his unique blend of positioning, power, and pace before being substituted. He now leads the team in scoring, which speaks to the team's scoring balance given Santos's up and down campaign.
Don't worry about Kacper Pryzbylko. Really, don't. He's the most valuable striker in Major League Soccer right now even with his current drop in form, and that's not an exaggeration: had he found the back of the net just twice during his recent lull, he'd be the top rated player in the entire league, not Pozuelo. Oh, and he costs the Union about 10% as much as the Spaniard.
Jose Martinez had arguably the greatest defensive midfield shift in Union history on Saturday, completely blanketing the aforementioned Alejandro Pozuelo (who, for his frustrated fouling, should have seen several yellow cards in his nearly full match shift). Below are Pozuelo's offensive actions on the night, with basically nothing of note in the final third and nearly nothing going toward the Union's goal. That's because of Martinez.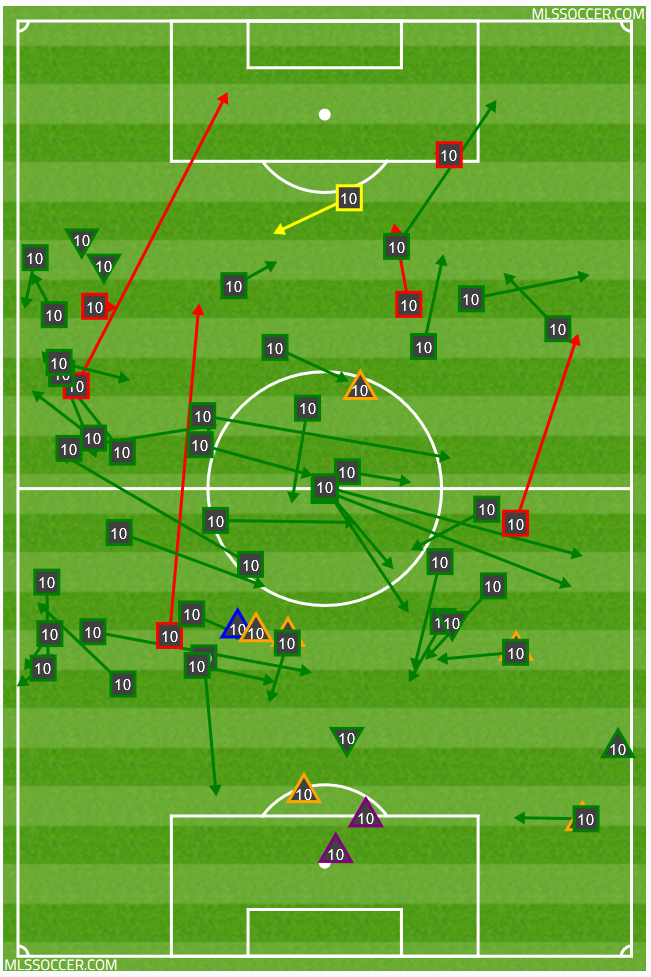 Ray Gaddis, who further cemented his spot at right back for the Union with his lock down defending and countless meandering runs through the sieve that was Toronto's left side, warrants a mention as well. In very few matches do all of the players on an opposition's side of the field get replaced, but Gaddis helped force every left-sided player on Toronto get a view from the bench before the night was over, and the first sub was made before the first half ended.
When Zlatan Ibrahimovic scored the winner in the Milan Derby over the weekend, the jokes about Serie A being a retirement league came fast and furious from MLS circles. The retort was that the kind of service Ibra receives there only exists on the right side of the Atlantic and thus even good defending doesn't make a difference; a great pass undoes all else. Frankly Ibra's goal and Sergio Santos's first of the night look like carbon copies of one another, and with regard to the final ball, Kai Wagner would like the Eurosnobs and haters to see Quality Service in America, Exhibit A:
What's next?
Each Union player deserves a bullet point after that match, but word counts exist for a reason.
The Chicago Fire come to Chester tomorrow night, an uneven team looking to catch one of the last playoff spots. The Union should easily dispatch the Fighting Fabian Herbers's, but a midweek encounter after that team's most impressive performance of all time has "Trap Game" written all over it.
But this being 2020… maybe the Boys will put six goals past the visitors this time, just to be sure.