Photos and graphics courtesy CASA Soccer League
During the coronavirus pandemic, professional sports leagues have been placed under a bright microscope in regards to handling the safety of their players and fans. Sports have been regarded nearly every day in the United States as essential, societal establishments that have long been engrained into the nation's culture. As data comes together and curves fluctuate across the country, league and community leaders have had to adjust and adapt in order to continue participating in their respective sports.
Professional sports leagues have found themselves scrambling on a day's notice for a single inconclusive COVID-19 test that can easily derail an entire season if not handled properly. Now imagine operating a league with nearly quintuple the amount of teams, with no possible way of playing in a "bubble" environment, and re-obtaining field contracts in a city still attempting to fully reopen for its 10,000+ players…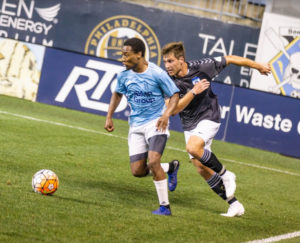 Does your head hurt yet?
Welcome to the CASA Soccer League.
Working through a pandemic
Originating in 2005, CASA saw substantial growth in their inaugural decade playing soccer across Philadelphia. By 2015, the league grew to 48 teams and had to split into 4 separate divisions. Most would consider those numbers in a new and budding league more than successful on paper. Fortunately, the leadership in CASA would not be classified as "most people," which led them on an ambitious effort to extend their reach not just within the city, but across the nation.
Fast forward to 2020. CASA now hosts over 120 teams across six divisions alongside the establishment of women's, coed, over-30 and 7v7/8v8 play. Still operating in the greater Philly area, CASA is the largest independent amateur soccer league in the United States and is also a 501(c)(3), volunteer-led non-profit organization that prides itself on inclusivity, camaraderie, and cooperation. Their efforts have resulted in the Philadelphia Union teaming up with CASA as their adult league affiliate which gives players a chance to compete in Subaru Park should their team make it to the top division final for the Kelly Cup.
A sports league that relies so heavily on the passionate individuals who organize and lead for reasons beside a paycheck can only do so much in the face of a global pandemic. CASA's board of directors, led by president Nolan Bair, has made an immense effort to accommodate every player involved in their vast soccer community during these unprecedented times.
"This will be the most difficult season in CASA history to run; even taking into account that there are no large scale events/watch parties to plan. Most people want to play… We're communicating to captains/players that since so much is up in the air, we are understanding if they don't return until Spring 2021, or the following Fall. We've always put our players first – their safety is no different. We are willing to accommodate those who feel comfortable playing, but are equally supportive of those who can't or don't feel comfortable. We're working on creating other opportunities for those sidelined this fall."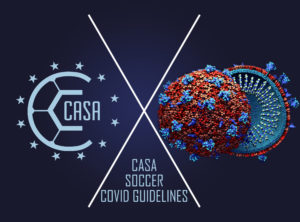 Tackling logistical challenges
Clearly keeping a consistent line of communication between thousands of players and volunteers becomes difficult enough with varying information and regulations changing by the week. They've implemented direct lines of communication for anyone feeling ill or testing positive so that preventative measures can be taken immediately to prevent any spread and keeping schedules stable. Needless to say, the thought of collecting 10,000 waivers sounds daunting for any organization.
That's not to mention calling and securing the venues to host these matches; specifically, venues that can handle the sheer volume of teams while adhering to social distancing guidelines and providing a playing surface that doesn't resemble the aftermath of Spain's famous running of the bulls. Surprisingly enough, the situation they find themselves in could have been a lot worse if not for some quick decision making and some lucky timing back in the beginning of summer, explains Bair:
"We were optimistic the league would go on as of June 29th. We had 55 teams ready to play in our 11v11 new look Champions League tournament and all the fields setup after a month of hard work. We found out that afternoon that the city had postponed the green phase and unfortunately had to roll out cancellations and postponement to fall. Not 15 minutes after sending out the cancel notice, we got an update saying outdoor recreation was on for Philly. It was devastating, but we had already cancelled the field contracts so there was no turning back. We set our sights on the fall and it turned out to be the right move because the other leagues in Philadelphia that tried to start in early July and rely on city sites ending up pushing back matches and are still not playing this fall. As of right now, we are going to be the only option for amateur soccer leagues in the city this fall."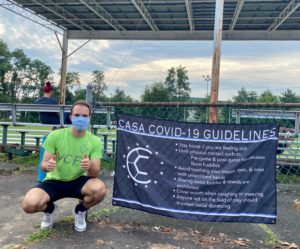 With fortune slightly in their favor and a hunger to get back to action, the CASA board has been taking immense precautions to monitor their teams and create a safe environment for these players to compete on a weekly basis. Flags with CASA/COVID safety protocols are hung up around each complex, free CASA masks are being given to players in coordination with the league's jersey sponsor ICARUS FC, and captains are responsible for sanitizing their bench area after games; which usually never ends up being a one person job.
Staggered kickoff times prevent lingering in the parking lot areas, mask implementation seems to be taken very seriously on the sidelines and amongst the fans, and officials have been given the authority to card individuals for "extreme COVID protocol violations" in order to reinforce their message of safe practices and actions in the name of keeping soccer in people's daily lives.
Creating a community
While CASA's board remains ambitious in their attempt to expand their reach to even more communities and walks of life, 2020 has proven to be a year of "getting by" and "riding out the storm" on so many levels that certain advancements will arise when it is absolutely safe to do so. Still the goal seems crystal clear to those who keep this massive league up and running that CASA will continue to grow as a staple in the Philadelphia community and a connection to the sport of soccer that comes with joining a CASA team at any skill level.
The recent establishment of the Recreativo division allows for CASA to bridge the gap between a large, organized soccer league and an individual who isn't 100% sold on just throwing on a jersey and being thrust into a competitive environment. While CASA provides a platform for motivated athletes to hone their skills and compete for gold, Bair believes that creating a more inclusive organization can only do good for the league and the players:
"Past boards have done such a good job of marketing CASA as the ideal league for the competitive player. Our population has evolved from over the hill 40-year olds to having players join fresh out of Division 1 colleges. But we've never really catered to the true "recreation player"; the player who wants to go out, run around, kick a ball, drink a beer, and go home to not think about soccer for the rest of the week. This is the gap in our player base: the last frontier. We want to be more inclusive and have leagues for all skill levels, not just the cream of the crop/soccer-obsessed population."
If you're reading this on Philly Soccer Page, clearly the sport has had an effect on you in some way. In a time where people are losing work, missing their families and adjusting to the new way in which we live, soccer has established itself globally as a fundamental part of people's lives. This connection to something that could range from thinking about it on a daily basis to having something to do on a Saturday afternoon makes the CASA league so unique and imperative to the flourishing soccer community in Philadelphia right now.
The value of watching competitive action on a weekly basis has up until recently been something most people didn't take for granted. Aside from the impressive build-up play, tightly contested battles, and late game drama (in one weekend), you're becoming part of a community that values teamwork, opportunity and growth in a structured league being run by individuals who see the value in its existence every single day. Young, old, black, white, flat-footed, superstar baller; no matter what "category" you fall into, CASA has put in the work to create a safe place for you to play.
In the face of unprecedented adversity and constant speedbumps, CASA has successfully established itself as a place for humans to reestablish social connections, develop their game at an appropriate level, and distract themselves; even if it's just until the final whistle.
For more information about where to find games, how to get involved, or even make your own team for next season, you can visit http://www.phillysoccer.org and follow @casasoccer on Twitter & Instagram.