Photo courtesy Major League Soccer
Have you ever had deja vu?
I have.
This one time, my friends Cypher, Switch, and I were in this big warehouse, trying to find a landline phone. Then we saw this black cat, which was weird because I was pretty sure I had already seen that same black cat like two seconds ago. So I said, "Whoa… deja vu."
Author's note: PSP editor Peter Andrews informs me that this is actually part of the movie, "The Matrix," and not something that happened to me personally. That's disappointing, because later in this memory of first-person experiences it turns out that I'm actually fast enough to dodge real-life bullets. The moment seems so real to me and has become one of formative parts of my life story, I hope Peter is wrong.
Why do I bring up deja vu?
Because Union fans had a case of it during the team's semifinal loss to the Portland Timbers on Wednesday night.
Are the Union bad at set pieces?
The Union allowed the mighty green saw-men to bombard their goalmouth with shots Wednesday, allowing a total of 15 attempts over 90 minutes. That doesn't sound like a lot, but because of how little possession the Timbers had (more on that later), these attempts came at a rate of nearly one every other minute Portland had the ball (compared with the Union's shot rate of one every three and a quarter minutes of possession).
Andre Blake was his tournament-best self again on the night, and over six matches he saved the Union nearly three full goals. This was despite the defensively-minded team giving up a tournament-worst 53 shots on goal. Last year, much of the blame fell on Blake, who also faced an inordinate number of shots per game in 2019 but coupled that by letting in an even more inordinate number of said attempts.
On Wednesday, despite the net-minder's heroics, the Union were undone by one thing that has long been the team's Achilles heel: set piece marking. The Timbers scored both of their goals directly from a corner kick, both times finding the left side of the Union's defense lacking and leaving an otherwise well-positioned goalkeeper helpless.
That outcome, two goals directly from a corner, is an unlikely one because, in soccer in general, only 7% of corner kicks result in a shot on goal in the first place and fewer than 2% result in an actual goal directly from the kick. This is unlikely specifically because just two of the Timbers's previous 19 goals were scored from headers at all. This is further unlikely in the tertiary because headers are very unlikely to result in goals at any distance.
So, triple unlikely.
Given these unlikely outcomes, perhaps no one should have seen this coming, Timbers goals representing a quasi-Spanish inquisition of the Union defense. But then, and here comes this feeling of deja vu again, haven't we talked about set piece marking before?
Like two black cats, indeed we have.
Barely a year prior, I wrote a piece entitled "Are the Union bad at set pieces?"
If that's not enough, fellow contributor Shayan Waseh wrote even earlier in 2019 a piece entitled "Philadelphia and the set piece."
Both pieces concluded that the Union were, at best, an average set piece team in defense and a poor one in attack. After last night, it's hard to argue much has changed in that regard.
Deja vu all over again.
But speaking of being bad at set pieces, are the Union also bad at penalty kicks?
6 – @PhilaUnion have missed 6 of their last 10 penalty attempts in @MLS (4 saved, 2 off target). Spotty.#MLSisBack

— OptaJack⚽️ (@OptaJack) August 6, 2020
Don't be mad at Sergio Santos, the argument for letting him kick is that he was the hottest player on the team. The argument against is reasonable as well, but sooner or later a professional striker is going to take a spot kick.
More than anything the Brazilian did or didn't do, the Union were bad at the easiest shot in the game long before his soaring attempt last week.
The blind switch
The Union dominated in possession Wednesday, owning two thirds of the ball and only allowing Portland to carry 3 of 18 five-minute possession intervals (this kind of winning margin held true for successful dribbles and aerial duels too, a pretty thorough statistical win with the ball). However, the team were similarly undone in confrontations and fouls committed, losing 50/50 balls and needing to foul to make up for it at a nearly three-to-one clip.
What does that mean?
It means Portland let the Union kick the ball without purpose for long stretches, and when they dribbled into tough spaces, pounced on them. When the Boys in Blue finally ceded possession, the strategy was to draw the narrow but aggressive Union in on one side of the pitch, then quickly switch the field with a diagonal ball. As the Union rotated over the full width of the pitch to regain shape, a Timbers player stayed home to receive the team's second quick switch and suddenly the Union were pinned deep and out of sorts defensively, with defenders chasing and facing their own goal.
It's a devastating game plan and one the Timbers used with obvious success.
This particular strategy might sound familiar too because New York City FC did exactly the same thing to the Union several weeks ago, over and over again. Here's the clip we shared from that game's match analysis.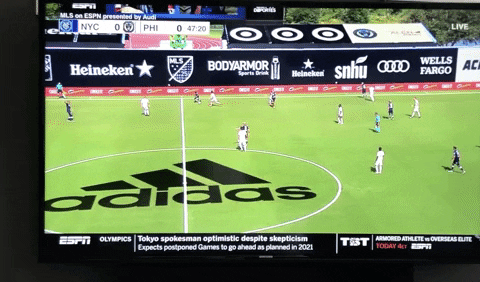 Draw the defense in, switch the ball. Draw the defense in again on the new side, switch it again to the original ball side where (in this case) Ronald Matarrita has barely moved. Suddenly the opponents are in on goal with a great chance.
Portland did the same thing, only better.
"When opposition teams give them openings, the Union have been excellent at exploiting those openings with fast buildups and slick crosses. But when teams stay back and have up to eight players playing defense, it's a whole different story. Portland did a great job at closing down the Union offense and midfield, forcing them to play the ball back and rely on players like Ray Gaddis for offensive creativity — something that didn't happen."
Sound familiar? This isn't from last week's match, this is from this site's Match Analysis of last year's Union v. Timbers match, a 3-1 defeat to the bad guys.
Here's the thing: that teams have a bead on the Union's strategy doesn't mean it's a bad one.
After all, the two greatest American coaches of all time, Bruce Arena and Bob Bradley, didn't think much of the Union's chops prior to their side's matches against the Boys in Blue. Knowing all they knew, they still both went home without a win. However, another good team who stays compact and gets a bit lucky has the playbook for beating this Union side, so the commentary here won't be the last place this story is told.
Deja who? Deja VU.
Keep your shape?
There aren't a ton of American soccer commentators who are as tactically insightful as the likes of Adam Cann or Bobby Warshaw.
They see the angles and can identify in real time how one team is forcing the other, or being forced.
Sometimes all this formation commentary is nonsense too, and there are a handful of people who think formations don't matter at all. On Wednesday however, the Portland Timbers proved the tacticians right, using a midfield numbers advantage that, with respect to space, looked like this.
The Union were their trademark "Right-sided, muscle-y armed Trogdor," and the Timbers dared the Union to break them down. This was difficult because the Timbers were about as balanced as a five-man midfield can be, positionally sound to an almost comical degree:
You stand here, you here, you here,…
The combination of these two formations meant that there were too many defenders in the middle of the field when the Union wanted to play vertically, which is their first choice. So, to compensate, the Union went wide. Fans know from these heat maps in matches past that the Union are wont to do that anyway, specifically to the right.
The problem? Those centrally positioned defenders also made that obvious alternative to Route 1, the cross, less effective too (the team connecting on only five of 18 attempted crosses). Considering crosses are already among the worst ways to find a goal on the soccer field (a recent study found that "the net effect of crossing is negative for all the teams in all studied competitions"), that the team kept settling for this subpar option is where fan frustration likely set in.
The deja vu part comes in 3, 2, 1…
Crosses FTW. https://t.co/OQQJvWUBVz

— All3Points (@all3points) August 2, 2015
This tweet is from 2015, because crosses are the OG of Union fan deja vus.
Summary
A missed penalty and a goal ruled offside by 1 inch are the two things that stand between the Union and a birth in the MLS is Back Tournament Finals. In fact, the data says the Union should have won this match by a decent margin and that none of Portland's chances were particularly good ones.
g+ GameFlow: MLS is Back Knockout Round @PhilaUnion v @TimbersFC on 08/05/2020. #DOOP #RCTID #PHIvPOR pic.twitter.com/zIyk0uUOlQ

— GameFlow (@GameFlowxPG) August 6, 2020
Deja vu: a goal post and a missed penalty are the two things that stand between the Union and some U.S. Open Cup trophies.
They're becoming the darlings of the league right now, namely because it's fun to watch them and their young players are proving their potential.
Deja vu: the aforementioned Bobby Warshaw called the 2018 Union "one of the most enjoyable teams to watch" in MLS while young men Keegan Rosenberry and Austin Trusty were anchoring the team's back line.
But, after last night's otherwise flat showing and a tournament full of unbeaten games but only brief moments of clarity, are the Union actually good yet this year?
This table suggests, in a small, eight game sample size, that the Union are scoring more than they should (taking their chances, as the saying goes), giving up a lot of shots (again), and given the expected goals per game of each match (translated into wins and losses), earning nearly twice as many points as one might expect.
Another way of saying that is, minus the two teams who were kicked out of the MLS is Back Tournament before it started, the Union have the fewest expected Points of any team in Major League Soccer. Cue the Negadelphians in 3, 2, 1…
In summary: there are things that the Union are good at doing and they're winning matches because of it. They're also lucky so far. But as the saying goes, it's always better to be lucky than good.
So maybe that's not deja vu for Union fans,…  and luckily that's a good thing.