Photo: Earl Gardner
The Union had a chance to win Group A in a SWELTERING swamp in Florida last night.
In the end, they didn't play well and will settle for second place instead, still having gone unbeaten under the HOT Disney World lights.
It wasn't much of a showing in the end, the team "WILTING instead of blooming," to paraphrase last night's announcer, Jon Champion.
Can you tell the theme of this analysis is HEAT? It is Orlando in July after all.
Heat: as in Maps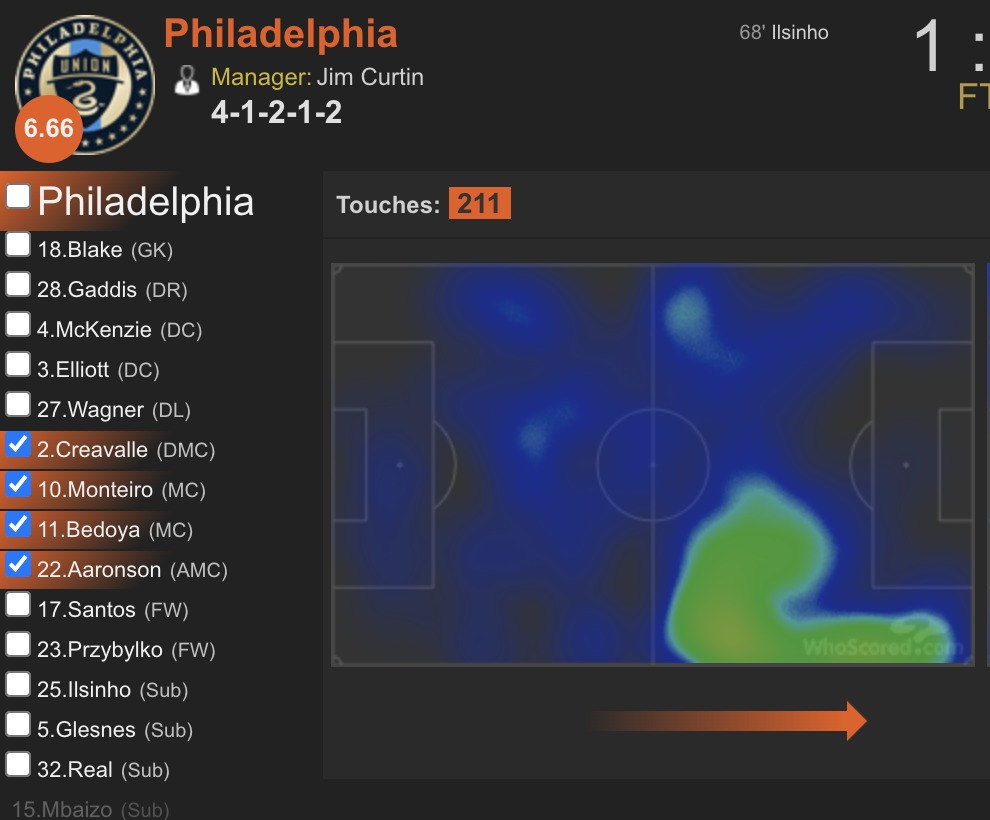 This is a HEAT map of the positions of the Union's four starting midfielders from last night's match, courtesy of WhoScored.com.
So, what does the Union midfield look like going forward?
A bicep, maybe a Sphinx? Ooh, maybe an enormous HOT wing? This isn't a Rorschach test, but it's safe to say the entire group leans a bit to the right.
Specifically Alejandro Bedoya ends up on the wing, Brendan Aaronsen ends up in the channel/running behind the left center back, and the other midfielders come over to help out.
This isn't new.
The "conservative lean," if you will, works particularly well for a player like Aaronsen, as his go-to move right now is a post up on this favored side of the 18-yard box and more often than not results in a clever turn and a dangerous ball across the face of goal (see: his assist to Kai Wagner against Inter Miami). For better or worse, it also heavily involves right back Ray Gaddis, who himself delivered his daily display of decent of defense and a delectable daisy-cutter of a cross in the second half from the same dangerous spot.
Even better, the best thing about the HOT POCKETS of positioning above is how much time the Union midfield spent camped out in Orlando's end. That means the team were doing their best at pressing the Lions high and, when in possession, were poised enough to keep the ball in dangerous spots.
There is a cloud to this silver lining though, because the bad thing about this heat map is how little the Union got for this positioning: a total of 4 shots on goal over the course of the match and, again according to WhoScored.com's summary, the team "favored long shots" and "crossing the ball" and otherwise "ha[d] no significant strengths."
Now that's a HOT take.
Worse though is how rarely involved this kind of shape allowed the team's 3rd leading assist man from 2019 to be, the aforementioned Wagner.
Wagner got himself 67 touches, almost all of which occurred on his vertically aligned foosball rod, and completed nearly 90% of his 38 passes. That he missed on all 7 of his crosses means he was lacking support in both the build up to his trademark service and the finishing on it.
The Union need to figure out how to move left out of preference instead of necessity, and not just for the sake of balance.
The goal last night, like Bedoya's in the opener against New York City FC and Sergio Santos's tally against LA FC during Earth's last ICE AGE nine thousand years ago before the pandemic began, came from the left side of the field first and ended up in goals from the right side because of some clever movement with and without the ball and a timely switch.
Because, if you're going to have a huge HOT wing on one side of your plate, that means there's probably going to be room for some crispy fries on the other.
And people love crispy fries.
Heat: as in "the heat is on"
Speaking of the Union midfield, the most significant change to the team's lineup from the previous 11 was the inclusion of Warren Creavalle.
Forced into service because of Jose Martinez's retroactive suspension for kicking out against an encroaching Inter Miami attacker, Creavalle made his second start of the year. In 72 minutes of work, he was the team's third most highly rated player, at his best when he was clogging passing lanes and helping the team switch fields.
However, his high marks came mostly from a 15 minute span where he was nearly perfect. The other 57 minutes, or most of Creavalle's night, was spent chasing a ball that had past him in the midfield, as the clip below shows.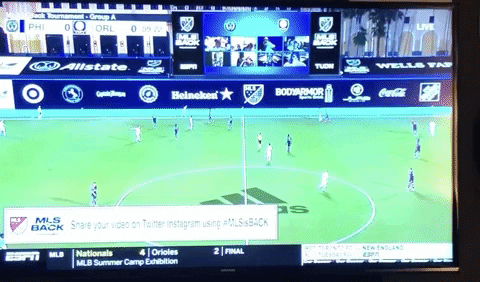 This sequence starts with Creavealle dead center on the screen. A little interplay off of the throw-in beats the Union's triple team and, as he is drawn out into the midfield, Orlando uses its numbers and easily bypasses Creavalle's assertive step.
This kind of thing happened over and again last night and it certainly wasn't all Creavalle's fault. But he's not linking with the rest of the midfield and it shows.
That these miscues didn't result in more than one goal is strictly due to the talents and otherworldliness of Andre Blake (who not only made some outrageous saves, but was halfway decent with his feet as well) and some downright LUKEWARM finishing by Orlando's attackers.
Union's depth chart at No. 6
1. Jose Martinez
2. Warren Creavalle
3. Jack Elliott
4. Matej Oravec and/or Cole Turner

— Matthew De George (@sportsdoctormd) July 21, 2020
Creavalle is unquestionably a veteran presence on the field and a leader in the locker room, and when he's "on" he glides across the pitch like a right footed Keon Daniel who actually plays defense.
Here's the (HOT and spicy dry) rub: Creavalle was the team's best player in their opening day loss at FC Dallas and in the legendary 2-1 loss at Atlanta United two years ago. In fact, his best performances are almost always in matches the team loses, where his quick first step is crucial in keeping the kettle just BOILING and not completely overflowing. He isn't the solution for the Union at his spot unfortunately, because what he offers is both sufficient on both sides of the ball but not enough on either. In replacing Haris Medunjanin (as Matt De George's list above shows) the Union have left the cupboard full of plates but without any china, an obvious starter not having yet materialized (this includes Jack Elliott in his cameo appearance as a number six last night, who didn't BURN any bridges in his stint there but also didn't LIGHT THE WORLD ON FIRE).
Martinez will return to the first team in the knockout round, and unless his competition begins HEATING up in some way, the spot it his to lose.
Summary
The Union looked rusty and disjointed for almost the entirety of their group play, and that stayed true through the match against Orlando City. That the team were unbeaten through that stretch is a testament to what their ceiling might be.
Whomever ends up being their Saturday night opponent, fans should expect [INSERT HEAT METAPHOR HERE].