Screenshot courtesy Paul Catrino, Jr.
With the rising advances of technology across the globe, the landscape of organized competition has changed dramatically from generation to generation. Sports have become a social experience; and soccer is no exception here in the United States.
The revolution of social media has created a web of connections readily available and accessible to anyone; especially those willing to put up with Philadelphia Union Twitter for more than ten minutes. Tailgate culture, supporter groups and local watch parties have created a sense of camaraderie between individuals who may have never met in the first place if not for the power of online interaction. Organizing events has become streamlined with the technology available on digital platforms such as Facebook, Twitter and Discord. Normally these gatherings provide individuals the social opportunity to meet new people with similar passions and create potentially long lasting friendships in the process.
But what happens when we enter a climate where a handshake and a hug can lead to hospitalization and heartbreak?
The crippling effects of COVID-19 have changed the landscape of socialization for the foreseeable future. It goes without saying that those who have suffered at the hands of this terrible virus and the brave souls fighting to contain it are the ones who need strength the most right now. Still, we cannot discredit the real mental and emotional consequences the pandemic has had on every human being; especially those committed to a sport community.
Separation anxiety is a disorder most commonly studied among children who have experienced traumatic events early in life. These occurrences result in a stunting of growth from a cognitive and emotional standpoint that require "rewiring" at the direction of a mental health professional.
But it is not uncommon to see the adult classification of separation anxiety pop up among those who wouldn't be classified as having experiences relative to the childhood categorization. That's because it is categorized with a far less intense, but equally imperative social activity: interacting with loved ones.
For sports fans, it could be the couple that always parks across from you in Lot A and bring the best mobile grill setup you have ever seen in your life. It could be the guy with season tickets that wore the exact same jersey as you six games in a row, which clearly meant you had to become best friends. It could even be the only person at your local bar with a Philadelphia Union jacket draped over their barstool; knowing full and well that they are only here at this bar, at this time, for the same reason you're there.
Now imagine the pain of having the 2020 season begin, after a thrilling 2019 campaign and a productive offseason, only to be unprecedentedly halted days before the first home game. The frustration of an opening match loss on the road, to an inspiring performance against LAFC, all leading up to the reunion in Chester, PA fans had been waiting for since last October.
Unfortunately, what came instead was a global pandemic, and the Philadelphia Union community were forced to search for an outlet to fill the void of cheering in Subaru Park again as a soccer family.
Enter "Union Happy Hour": a Zoom group chat with any and every DOOP fan willing to turn on their webcam and enjoy a cold beverage from the comfort of their own home.
The concept was created to be an open forum of soccer based conversations and general complaints about life during this truly unique period of history. It has become the weekly meeting place for a huge number of Philly faithful since quarantine began and has surprised viewers on numerous occasions with truly special guest appearances.
Those guest appearances range from current players such as Alejandro Bedoya, Mark McKenzie, and Kacper Przybylko, to national personalities like Alexi Lalas, Jimmy Conrad, and The Cooligans. Even Chester folk heroes Fred (just Fred) and Union Hulk (an anonymous figurehead of the DOOP community) were happy to jump on, entertain the questions of dozens of fans, and make tuning into these online chat rooms worth your time every Friday night.
Originally introduced by Sons of Ben drummer Jared Nisly, this small idea for a gathering to air grievances of a lost season began to gain steam after the idea of Zoom calls was put forward by SoB travel director Heather Reppert. While the individuals at the forefront of this idea were headed by members of a supporter's group, the message of total inclusion for every Union fan was made clear from the very beginning. The chats have even hosted fans representing other MLS teams simply due to the lack of any similar idea among other fan bases.
"Being able to plan something that people want to come to on a weekly basis has been super fun," Nisly said about the motivation of pushing these group calls since mid-March. "While it doesn't fully fill the void of game day, it's been helpful to have somewhat of a gathering."
Even Matt Gendaszek, president of the Sons of Ben, has seen the advantages and positive outcomes associated with online video calls. Heading a group that thrives heavily on creating an immersive game day experience for its members can certainly be stressful for anyone in a position of power. Be that as it may, these Zoom calls "have allowed me to talk to so many more people than if we were at a tailgate" Gendaszek mentioned to PSP. "On these calls, there are no fires to put out. So I have a lot more time to interact with everyone."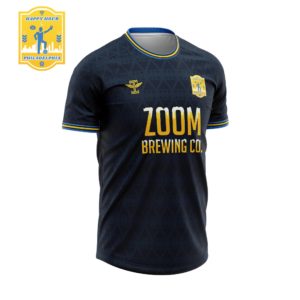 The Union Happy Hour calls have grown immensely in size since their inception and has taken on a life of its own throughout the Philadelphia soccer community. Allowing every person to speak their mind and vent for a little while has provided a positive outlet for those who may not have people they can call every Friday. It not only speaks volumes to the commitment of the common sports fan but also to the human mind that longs for social interaction in a time where that simply isn't a safe option. The group even came together in an attempt to stand by the Black Lives Matter movement, raising over $830 for the Philly Bail Fund by selling custom ICARUS Happy Hour jerseys (co-designed by yours truly).
Regardless of the numerous effects these calls have had on the people taking part in them, it's undeniable that they have been a flicker of light in an otherwise dark time that has plagued the entire sports world. As MLS kicks back into gear, the usual Happy Hour suspects plan on hosting match day watch parties for every Union game in the Orlando tournament and eventual regular season return.
For the first game of the MLS is Back Tournament, Thursday morning's pregame to postgame video chat was hosted by Jared Nisly and allowed for a number of fans to connect and react live to the action. Nisly and company have also begun collaborating with members of the Union organization to expand the use of the Zoom platform with the help of the Happy Hour team.
Whatever the future holds for Union Happy Hour, one thing remains certain: its presence as a platform for soccer fans from all walks of life is a positive one that remains open for anyone who may need it.
Anyone wishing the get in on the next Union Happy Hour should reach out to @HourUnion on Twitter to receive all the information you should need.