Photo: Paul Rudderow
In an infinite multiverse, even the most impossible outcomes are real.
For example, the author of this piece could in fact be a unicorn with the facial features of the late David Bowie, typing his thoughts with one squid "hand" and another appendage made solely from the combustion engine of a 1960 Aston Margin DB4 GT Zagato. His keystrokes would be uneven and there would be substantial editing required. This scenario is unlikely, of course, but in the case of infinite versions of the current universe, mathematically possible.
The same theory of mathematical possibilities can be applied to the unlikely but real outcome of the Union's 2-0 defeat to the lowly Chicago Fire.
Though the cause of Big Bang and the subsequent frothy span of creation is unknown, Saturday's result really boils down to one big change. Or maybe three of them.
Jim Curtin picked the wrong XI
Jim Curtin was the league's fourth best coach in 2018. In 2019, he's built one of MLS's most successful sides with significantly less money than his competition and many of his best players spending time on the sideline injured or otherwise. His lineups in 2018 were all but identical for 34 weeks and the playoffs, while in 2019 he's been a bit more creative in his weekly construction.
Perhaps worried about the Fire's ability to hammer better teams in their home field (see: Atlanta United 1 – 5 Chicago Fire from July of this year), or simply trying to apply some pragmatism in a domestic league that frowns on the success of road teams, Curtin took a swing on a triad of changes and missed on all three.
(1) Warren Creavalle certainly earned a spot with his work in the place of an injured Jamiro Monteiro, and particularly against DC his play was inspired. However, his stat line Saturday of only one tackle and one recovery in a half's worth of work wasn't good enough. In a formation where Curtin also put (2) Marco Fabian up top as a second striker, much of Creavalle's job was likely to cover for the Mexican maestro's defensive limitations.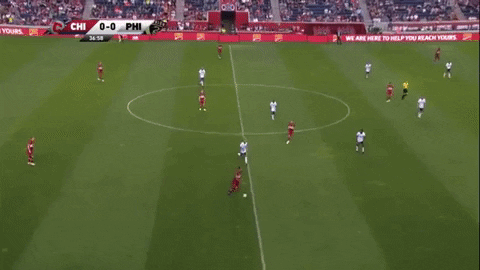 On the Fire's first goal (above) though, both were exposed: Fabian failed to follow his man with any sort of verve and Creavalle was either late to see that (likely not, considering he's staring directly at the play developing) or late to react to Przemyslaw Frankowski's run. In the end, Kai Wagner and (3) Aurelien Collin were left hung out to dry as the Fire scythed through the Union's left side like the proverbial hot knife through butter.
Author's note: there is a universe amidst the soap bubbles where the butter is actually responsible for cutting through the hot knife. Many things are obviously different there and, ironically, this is also the only iteration of existence in which Ray Gaddis has a goal in league play and Jordan Harvey still starts for the Union.
In terms of contributing to his team's possession or attack, Fabian found three shots and created another chance: fine numbers for an average player, not good enough for a Designated one. As for Creavalle, he only found 21 touches on the night, fewer than half as many as his next midfield mate (adjusted for time on the field).
Those numbers suggest there wasn't much defense or much offense from those players, both certainly a second choice in their respective spots.
However it was Collin's night that was perhaps the worst of the bunch.
Following a series of underwhelming performances from homegrown youngster Auston Trusty, many in the Union commentary sphere were calling for a reprieve at left center back. Collin stepped in and played serviceable shifts against both DC United and Houston Dynamo, earning another start over the weekend while Trusty didn't even make the trip.
Though a very seasoned veteran, Collin has more than a bit of a reputation in the league. When he was signed, it was this reputation that preceded him and truly worried Union fans. He had performed reasonably in several matches, but the honeymoon had to end at some point. Finally on Saturday it did, and Union fan's worst fears came to light: Collin became the occasionally careless and often too physical defender he was known to be, and it cost the team a match.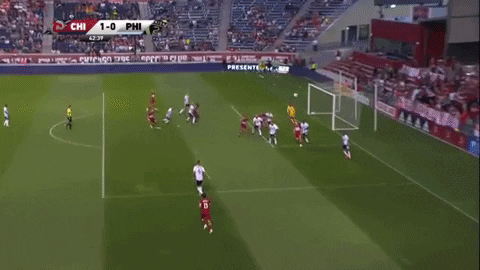 Considering C.J. Sapong again finds himself near the bottom of the league's Expected Goals ranking and missed at least two opportunities on the weekend, that Collin thought it crucial to tackle the former Union striker in the box on an otherwise innocent corner was both foolish and untimely.
Without Collin's tackle, Sapong either runs by Blake altogether knowing the Jamaican has the cross covered or crashes into him and earns a foul, snuffing out the chance altogether. Instead a corner kick that has a roughly 2% chance of turning into a goal becomes a penalty, a moment in a match that tallies at a 75% rate.
Collin's first start of 2019 was in April's 3-0 victory against Montreal, he earned a 7.56 rating from WhoScored.com on the day. Since then, his scores have trended considerably downward: 6.72, 6.79, 6.56, and finally 5.82.  If Curtin is one to ride a hot hand, le main n'est pas Collin.
One more thing
Though there should be room in this piece for the team's spacing and creativity problems (and they were substantial) and perhaps another paragraph focused on Andre Blake (who has allowed nearly as many goals (31) as he has made saves (38) on the year), the week's one final point is another about hot hands: it's time for Ray Gaddis to have a night off. If Trusty earned it, so too has the Union stalwart.
On Saturday, these were his stats…
Ray Gaddis in his 56 minutes of action:

2 tackles
0 interceptions
0 clearances
0 blocks
17/22 passes completed

His 77.3% completion percentage was second-lowest of any Union outfield player. Kacper Przybylko was last.

— Jonathan Tannenwald (@thegoalkeeper) August 18, 2019
…but more importantly, he did this little work on a night in which half of his opponent's attacks (the orange arrows below) came down his side.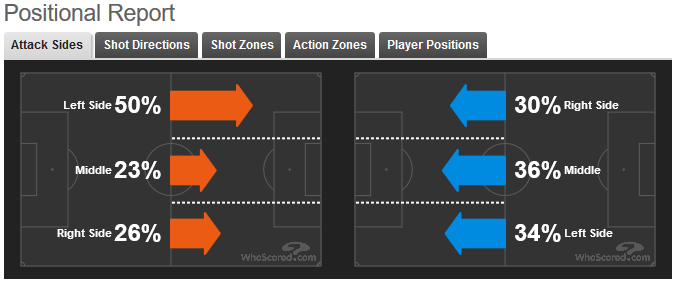 Whether his replacement is the now fit Olivier Mbaizo, the certainly capable and shape-shifting Alejandro Bedoya (who has played right back for the team already this season in shifts and would create a spot in the midfield for Anthony Fontana or Brendan Aaronson), or some wing-backed version of Fafa Picault (who is tireless and chippy, in addition to being an actual attacking threat on the right side), something's got to give.
Gaddis is the team's 17th ranked player and hasn't played a great match (in this case defined as one standard deviation above his mean average rating) since May 5th against New England.
Summary
Atlanta United jumped the Union for first place in the East over the weekend. They have a rivalry match at Orlando on Friday followed by the U.S. Open Cup Final on Tuesday before coming to Talen Energy Stadium on August 31. To say nothing of New York City FC or the rest of the crowded conference, every match is important for the team between now and the end of the season.
DC United is the next one, coming off a short week, and they'll certainly be eager to right some wrongs. At the very least, Derby County's Wayne Rooney will find something to complain about.
Gutted about result last night. We deserved more. Looking forward to a 12 hour travel day which could be done in 6 but hey this is mls. We will get ready for red bulls Wednesday. #Charterflights #msl

— Wayne Rooney (@WayneRooney) August 18, 2019