Photo: Marjorie Elzey
For the third time in eight months, the Philadelphia Union were trounced on the road by New York City FC. Though the Union scored two memorable goals this time out and led twice, they were roundly dominated overall, mustering just 67% passing accuracy and putting only two shots on frame.
Offensive defense

The reader is likely incensed that an otherwise strong Union defense had to effectively play a man down for 90 minutes on Saturday, protecting their goal from Pigeons and zebras alike. All manner of striped horse will be discussed below, but under the category of "Things We Can Control" Jim Curtin's unit has a lot of work to do.
The first goal the Union conceded was a Rube Goldberg machine of inexplicable events, each one impossibly leading to the next. Maximilliano Moralez simply put his head down and smashed a clearance from near his own box in the 21st minute. That the subsequently lofted ball dodged Jack Elliott's attempted bicycle clearance or that Austin Trusty's lunge at a predictable cutback (Valentin Castellanos is right footed, after all) ended up in failure are both nearly moot points considering a clearance nearly 100 yards from goal was enough to completely unlock the Union's back line.
The remaining goals can all be attributed to a midfield defending space instead of players.
The second included a bevy of Union defenders watching themselves get picked apart, made infuriating by a lack of urgency to repossess the ball once an errant pass had been made and the reemergence of Haris Medunjanin's infamous "point" signifying as much.
The third will fall hard on Ray Gaddis, late to track Castellanos across the top of the box. Whether that's fair is debatable, considering another City player lying in wait over Gaddis's back shoulder. His culpability is certainly shared with Jamiro Monteiro who couldn't stop Keaton Parks in the midfield, Austin Trusty who only half-heartedly stepped to Maxi Moralez, and Jack Elliott who was (perhaps understandably, given the confines) playing center field instead of keeping a tight line, thus offering Castellanos the space in which to even consider a shot.
The fourth was simply a textbook example of a defense that had decided their previously Herculean task had become Sisyphean instead.
The Greeks are known for tragedies, as it were.
This isn't a section about The Iliad though, nor is it necessarily one about squad rotation. In fairness there's only one poet Homer (in the supporter's end atonal of Guantanamera) and there are only really two starting spots up for grabs in Union camp: strikers. On defense and in the midfield, no amount of poor play or recurring errors are enough to see players ride pine, but perhaps that should change.
Mark McKenzie and Aurellien Collin are waiting (to say nothing of Olivier Mbaizo or Matt Real).
Possession is 9/10ths of the law
The Union have openly stated they're not as interested in possessing the ball as they are in winning matches in 2019. Beyond that, their system instructs chaos more than calm as the mechanism that will create goals. In New York on Saturday, the creative side of the Doop Hoops came out in full display on both tallies.
That's what happened in 2018 too and it failed when the going got too tough. 2019 was supposed to be the year in which a certain je ne sais quoi was added to the mix, something to protect a lead, win 50/50 balls, and otherwise stymie opponents into submission.
The Union couldn't keep a lick of possession after going back in front in the 30th minute. This kind of situation is when the grit is supposed to arrive, but for the Union it never showed. That three goals were scored in this period by the home team is perhaps evidence that City was more gritty than the Grittys on the night. Goals seemed to be inevitable for the bad guys, and the Union couldn't string two passes together to build out of the back nor could they find their strikers for a long outlet.
Je ne sais quoi? Je ne sais pas du tout.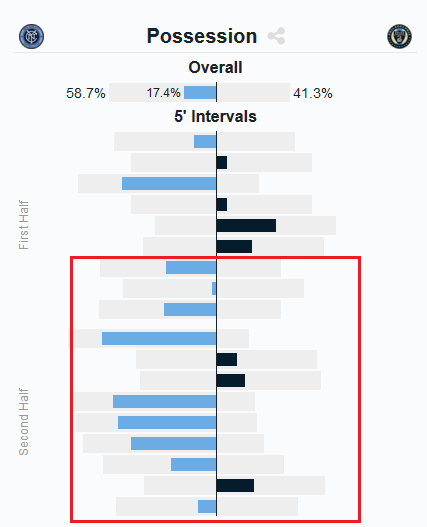 VAR, yeah, good God, what is it good for? Absolutely nothing, sing it again y'all.
In this summer's Women's World Cup, the application of the Video Assistant Referee has been a maddening slog of re-officiated nonsense. Every call seems to be reviewable and thus entire match outcomes (and the equally nonsensical Olympic qualification spots that are linked to tournament progress) have changed because of previously commonplace minutae. Those wishing VAR would go away and the pure human element of officiating be returned to the pitch need look no further than The Bronx, NY for a reminder of how that might unfold.
Whether it be the first video, a foul awarded without review on Saturday, or the second, a penalty not given and also not reviewed during last season's playoffs, both are pointed examples of the purity of unassisted human officiating. Putting club affiliations aside, this is perhaps not the purity for which fans are pining.
pic.twitter.com/tKPQbF4Hd4 @PROreferees seem to have quite the vendetta against Ale while playing at the 7v7 field that is Yankee Stadium

— Noah (@Noah_Lang10) June 30, 2019
The announcers on New York City FC's local stream thought both of Saturday's penalties were dubious, and thus it's worth openly wondering what the threshold for review might be in Major League Soccer. Given City's clear and obvious strategy to dive at the mere suggestion of contact from a Union player, one would surmise that a group of professional officials might take one or several grains of salt each time they saw a pike, a tuck, or any other form of premeditated leap. Instead, the crew were quick with the whistle and disinterested in fourth-party confirmation.
As a broader commentary, the Union were not the league's most aggrieved on Saturday. That claim goes to Toronto who saw this Eric Cantona-esque assault go unpunished.
https://twitter.com/Eric_Giacometti/status/1145175668554158081?s=20
Fans won't ever agree on the "right" set of rules, whether they be ones about fouls, hand balls, off sides, or otherwise. What they request is a consistent application of said rules and this match failed the test.
Summary
As a staunch adherent to the mantra that wins and losses are not the fault of officials, this author believes that the better side won on Saturday. Every statistical category bears that out. As a commentary on the season's progress, it represents just a single match in a truly unique stadium and one that sees the Union remain in first place on points in spite of their own undoing.
Much hand-wringing was done at the match's conclusion, and even the author's own in-the-moment comments seem uncouth in the light of the morning.
— Philly Soccer Page (@phillysoccerpg) June 30, 2019
Regarding effort manifested as possession though, perhaps Sisyphus is the correct metaphor for the Union when they travel through the boroughs: each time the Boys pushed the ball up the hill, a smiling face draped in yellow was there to gently nudge it back down for them.
Laborious. Futile. Sisyphean.
On to Orlando.