Photo by Earl Gardner

Who: Philadelphia Union (1st place, 31 points, 9-4-4) vs New York City FC (6th place, 23 points, 5-8-1)
What: 2019 regular season game
Where: Yankee Stadium, New York City, NY
When: Saturday, June 29 at 7:00 pm
Watch: PHL 17, ESPN+
Whistle: Alex Chilowicz (REF), Richard Gamache (AR), Gjovalin Bori (AR), Marcos DeOliveria (4th), Kevin Klinger (VAR)
Philadelphia makes their first trip to the Bronx in 2019, the next stop on a midsummer march through Eastern Conference stadia against the Pigeons of New York City FC. After their Gold Cup break and a lumpy draw against New England on Wednesday, the Union finally get a chance to exorcise the demons of 2018's early exit from the postseason. A new-look City side welcome them, poised for a crucial conference six-pointer.
Scouting report: New York City FC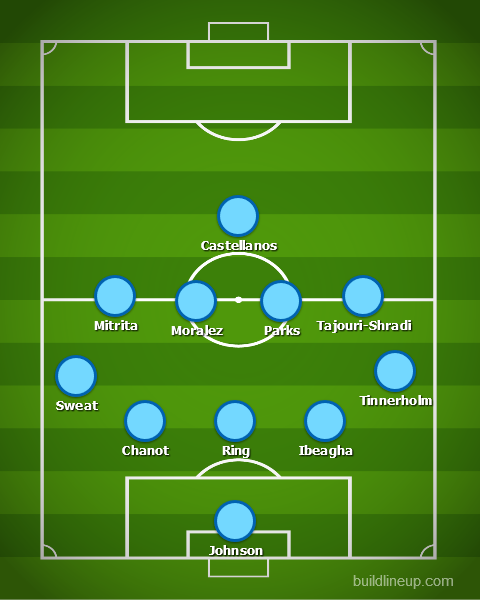 Sporting three formations in their last four matches (U.S. Open Cup included), the pigeon-headed hydra in sky blue that is New York City FC haven't lost a match since March 29. The major caveat to that eye-popping statistic however is that the Junior Cityzens have drawn eight matches, making it twice as likely that they finish 90 minutes without a win in 2019 than with one. Nine points adrift in the conference, but with four matches in hand, this fixture is hugely important for their progress up the table.
Domenec Torrent's side don't look much like the one that stamped the Union out of the playoffs in October 2018. Though the coach's lineup tinkering remains, 10 players left after last season, including talisman David Villa, with another nine in to replace them. The most important of that group of newcomers are likely Brazilian striker Heber and Romanian midfielder Alexandru Mitrita (in addition to midfielder Gary Mackay-Steven who will arrive when the summer window opens in July). Paired with Libyan attacker Ismael Tajouri-Shradi, this group has accounted for sixteen goals shared nearly equally. Add Union-killer Maximilliano Morales behind them (he of the playoff stat line "one goal and two assists") and this team is dangerous all over the pitch.
The Union can count themselves lucky that Heber has been ruled out for the weekend's match after an injury suffered against DC United last week.
When City plays against weaker sides, they tend to be a bit more forward in their construction. At home against FC Cincinnati, it was a 4-3-3 that led to a 5-2 win, while on the road against Crew it was a 3-4-3 that earned them a 2-2 draw. The Union are not weak and are certainly motivated. As such, expect a City side that will want to win midfield battles and force the Union into hopeless crosses, built to defend for a point first before searching for a game-winner.
Injury report

OUT: James Sands (M), Joseph Scally (D), Heber (F)
QUESTIONABLE: Jesus Medina (M), Tony Rocha (M),
Suspension report: None
Scouting report: Philadelphia Union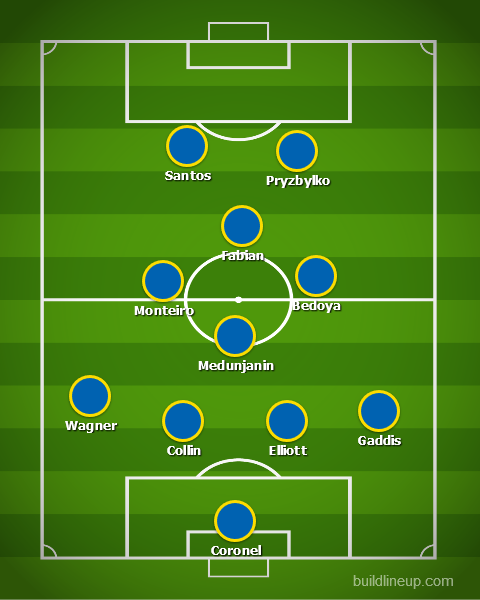 If City are a pigeon-headed hydra, then the Union are becoming their own eponym: a side with genuine skill on the ball and in possession (see: 2018), but adding on to that now a team that wins many matches because of a lot of "dirty running." It's a lunch-pail side, blue collar, #riseandgrind, and every other "Philly tough" catch phrase that can be used… except it's true. The Union didn't draw New England on Wednesday because they played good soccer. They did so because they got stuck in at every opportunity (with the bookings to show for it) and when a moment of brilliance was needed someone gave one. The same could be said of results against Red Bulls (enter Ilsinho), Minnesota (Austin Trusty at center forward!), Vancouver, Toronto (Piacult, Pryzbylko, and Monteiro, take a bow), and Dallas (Bedoya and his unmentionable celebration).
There is an old saying about how people fail in business: it's either a "will" issue or a "skill" issue. The Union had the skill in 2018 but sometimes lost the will, in 2019 they have both.
Jim Curtin has rotated his side more because of injury and absence this season than because he particularly likes squad rotation. However, this match represents the group's second out of four matches in eleven days in the heat of late June. Considering the next fixture is in the Florida swamps, there is a chance some fresh faces will get a look before one of the best XI melts into a puddle.
Yankee Stadium is small so possession matters more than width. Thus, perhaps Aurellien Collin makes sense to eliminate the threat of crosses, Carlos Miguel Coronel because he's better with his feet than Matt Freese, and Marco Fabian because the match will come down to one of two moments of brilliance… and Fabian is due.
Injury report
OUT: Andre Blake (Int'l, G), Olivier M'Baizo (D), Warren Creavalle (M)
QUESTIONABLE: Marco Fabian (M)
Suspension report: None
Key matchup: Attack v. Defense

Major League Soccer knows how to stop the Philadelphia Union: park the bus. Four times in the last five weeks that strategy has been enough to take points off the conference leaders. While Marco Fabian stays injured and Andrew Wooten can't yet play, the Union's primary weakness is that most of their creativity comes from one right-footed Brazilian. Given the size of the City pitch, isolation for any player is unlikely: two steps is enough to rotate an entire back line. City may throw the kitchen sink at the Union, but more likely is they sit back, absorb pressure, and try and spring a counter attack. If that's the case, someone will need to open things up on the Union offense.
Player to watch: Ray Gaddis

The Union are playing the second half of matches (or any time they play a 4-2-3-1) with Ray Gaddis as a midfielder. (No, really. Go watch Wednesday's second half.) With a goal of isolating Ilsinho on the right (and all of the nice things that come with Jogo de Woao), Gaddis pinches up and in and Alejandro Bedoya steps back to help distribute. As a result, Gaddis is getting his chances in front of goal. After making sure the left side of City's attack is neutralized, perhaps this week will be the one in which "…we riot."
Prediction: Philadelphia Union 1 – 1 New York Red Bulls
This match feels just as unpredictable as the one against New England. The Union played rusty and disorganized for too long in that match and were undone by the Rev's abomination of a pitch more than once. Expect some of the rust to fall off as the team get back from break, but expect the pitch to be unspeakable in a whole different way. A draw here is its own version of a win, particularly if the Union can stay healthy and take three points in Orlando afterward.