Sometimes when I tweet photos early in games, I hear from fans that the stadium will fill in later.

There's a lot of filling in to do today if that's to happen. #PHIvMTL pic.twitter.com/MqTNRwUryG

— Jonathan Tannenwald (@thegoalkeeper) April 20, 2019
Photo: 215Pix
We've all seen or heard about the Philadelphia Union's ongoing match attendance issues. This isn't just a Union problem, the New York Red Bulls have had to tarp off sections of Red Bull Arena. The Chicago Fire are supposedly undergoing a rebrand and leaving Bridgeview for Soldier Field to increase attendance and interest. Union CBO Tim McDermott recently held a "social-media roundtable" where attendance was a main topic, with the idea of the Union playing a match at UPenn's Franklin Field or Lincoln Financial Field in the near future. But would a match in Philadelphia, not Chester, even attract the casual sports or soccer fan who hasn't made the trip down to Chester? There is one group that would go, and one the Union should target: College students. To learn more, and for an unbiased view, I conducted a small scale survey at my university, West Virginia (shoutout to Jack Elliott and Ray Gaddis).
Interest and Ticket Prices
The first, and most obvious, question is if there is actually interest in attending a sporting event, especially one where not many follow, like a MLS game. So, if a college student had the choice between watching at home or going to a sporting event (in this case, a Union match) the vast majority choose to go. Out of the 65 participants, 55 (85%) would go, compared to 10 (15%) that would watch from home. While this percentage is unsustainable in a larger population, it shows that if more college students are aware of the Union, they'll make more of an effort to go to a match. Becoming more aware of the Union will also increase the interest, and use of the Union's new "Student Rush" program. The program offers college students a free ride from the city on the "U-Ride" bus as well as a ticket to the match for $10, not including a $2.75 fee. Tickets can be bought for either the video-board endline as well as the River End. The thing that concerns me the most about the program now is that currently, there is no warning on the website that the River End is the supporters section and what is expected of fans in that section, such as standing and singing the entire match. With a student rush program, 63 (97%) said that they would make use of it.
Student Rush Program Results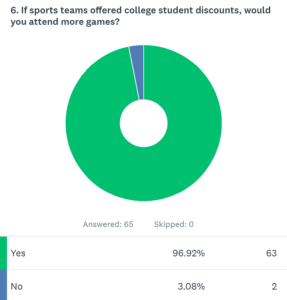 The student rush program also helps in addressing the issue of ticket prices to a match. On the Union website, the cheapest tickets are available for $27, not including fees. Normally I pay around $18, again not including fees, for seats in section 117 on resale sites like SeatGeek and Stubhub. In the survey, there was more of a mix in answers to what a college student would pay for a ticket. With options of $10-20, $20-30 and rising to $50+ for a ticket, it should not be surprising that the cheaper options had the most selections. $10-20 and $20-30 both received 18 selections (28%), followed by $30-40 with 11 (17%), and then both $40-50 and $50+ with 9 (14%). With $10 tickets from the student rush program, as well as the Union's ongoing buy a match get a match promotion for the month of May, the front office is actively trying to fill the stands.
Ticket Price Results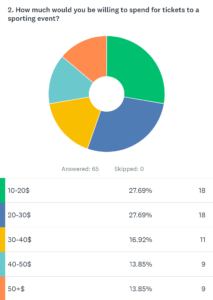 Clearly there is interest among college students for a program that offers cheap tickets and free transportation, why wouldn't there be? But would a move into Philadelphia help increase attendance even more?
Location, location, location 
It's no secret that MLS prefers its teams, current and expansion-candidates alike, to have a stadium located in a city center or downtown area. But does location really affect turn out that much? Do the benefits of a more accessible location via public transportation outweigh the cons of higher land costs and city council politics (David Beckham's Miami), as well as additional space for training fields and parking. College students face this issue much differently than MLS obviously, but the majority still agree that a stadium should be located in the city. Conversely, when posed with a stadium 30 minutes outside of the city, much like the Union's current situation, the vast majority would have no issue attending a match.
Downtown Location?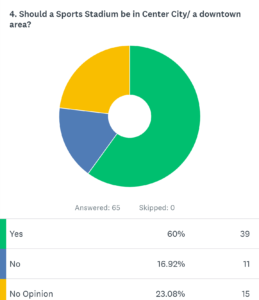 Stadium 30 minutes away
The specific problem that the Union struggle with in their location is the lack of public transportation available to and from matches. While the club has been making strides, the U-Ride program is a good start, there are still some issues with it. The U-Ride busses only pickup from 2 locations: Brauhaus Schmitz and Smith's Restaurant & Bar, and the ride isn't free, costing $15 for a round trip. That's only $5 cheaper than parking at most lots at Talen Energy Stadium, some unofficial lots are even cheaper. With struggling attendance, the U-Ride program should be cheaper, or even free, not as another source of revenue. Fans should be spending money at the stadium or Union Shop (its free marketing), not spending it on getting to the stadium. Back in 2015 I went to a game at Red Bull Arena (with fellow PSP contributor Rob Simmons), taking the train up to Harrison. It's quite a hike from the Harrison train station to RBA, so there were busses to transport fans who had a ticket, free of charge. The Union are now running an almost identical operation, with free shuttles picking up fans from Chester Transportation Center. To their credit, SEPTA has also added trains at 10pm and 10:30pm for fans to be able to take public transport after the game. While public transport is not much of an issue for college students, the U-Ride is free with the student rush program, students still agree that shuttle services should be offered, something the Union have only recently offered.
Shuttle Services 
Bottom Line
The Union have been struggling with attendance, but so have other teams in the league. But, the team is winning and currently sits in first place of the eastern conference in early May. Fans often complain about the lack of name recognition on the field, Marco Fabian should help with that, and we all saw the buzz the Mario Balotelli rumors created. The Union may never have a Zlatan or Nani wearing their shirt, which doesn't seem to bother college students. For them its not about superstars or winning, its about having a good time. Stadium atmosphere is one of the things the Union have actually done very well, the pregame drumline and hearing the Sons of Ben make a Union match the most unique pro sports experience in the city, something they should be proud to boast about.
Why you go to a game
The Union have made good strides so far this season in attempting to solve attendance issues. Are college students the only solution to increased attendance? Absolutely not. But, the Union have the pieces, being a great atmosphere and great soccer, at a cheap price, that can turn college students into lifelong supporters. Only time will be able to tell if the Union's efforts have truly paid off.