Photo courtesy of the Philadelphia Union
During a commercial break in the Union's weekend loss at Kansas City, PHL17 ran the team's official commercial for their 10th Anniversary jersey. It's a well done bit of marketing: Clean and crisp with fast cuts and lots of action.
(If you haven't seen the video, here it is.)
https://twitter.com/PhilaUnion/status/1089900986758582272
However, this isn't a commentary on the quality of this content, or even one about jerseys.
This is a conversation about who appears in the video, a team still sorely lacking an identity, and the process of failing to find a player (or lacking a player altogether) to be the face of the franchise.
Imagining the Eagles as the Union
Because Philadelphia will always be an American football city, consider a corollary.
In anticipation of the 2019 season, the Philadelphia Eagles create a hype video that showcases some subtle updates to their jersey. It's still a green shirt, the naysayers will add, but it's marketing content and a bit of buzz. There are four preseason games worth of tickets to sell, of course.
The first face in the frame? Retired quarterback Donovan McNabb. The next? Wide receiver Shelton Gibson, followed by linebacker Paul Worrilow, then defensive ends Bruce Hector and T.Y. McGill, and finally a close up of McNabb again.
No Carson Wentz (or Nick Foles for that matter, may that man who is a Golden God live forever). No Jason Kelce. No Brandon Graham. No Alshon Jeffrey. No Zach Ertz.
Heck, no Brian Dawkins.
If you're scratching your head in confusion, that's the point.
These players were chosen because (in order of appearance):
One is a former and occasionally polarizing star, long since retired
Two is an offensive weapon who was so unused that he ranked 5th from last in minutes played for the Birds in 2018
Three is an off-season signing, potentially impactful but without a minute of playing time here to prove it
Four and five are other little-used players, comfortably snuggled near the bottom of their respective minutes per match rankings
Each of these Eagles players has featured for the team in roughly the same measure as the chosen players in the Union video (relative percentage of appearances). For context, here are the Boys in Blue's numbers from 2018.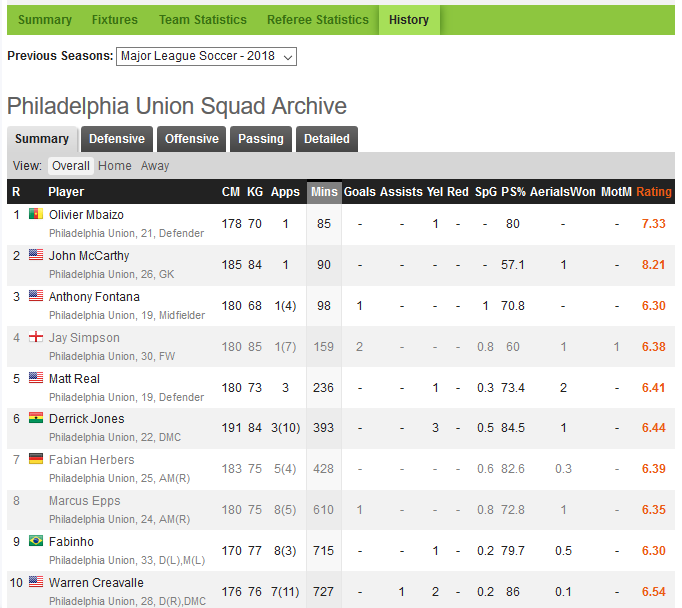 This video would never leave the media desk at Lincoln Financial Field for one obvious reason: it doesn't feature the players who are the heart and soul of the team.
The reason it left the Union's media desk?
Neither in Chester nor wherever the reader finds this article, no one has identified who the heart and soul of the Union are.
Who is the chosen one?
Sebastien Le Toux became a Union legend for three important reasons: a hat-trick in the team's first match, his unrelenting work rate thereafter (Philly Tough, and all that), and his disarming humility while in constant service to the Greater Philadelphia community.
That he married a local girl and stayed is notable too.
He's one of us!
He was the perfect player at the perfect time for the Union and he capitalized on that serendipity to become the only person whose name is enshrined above Talen Energy Stadium's field.
Since retiring as a player in 2016, the role he played as leader and figurehead is still unfilled and the void he left has continued to grow. Many players have checked some of the requisite boxes to take the Frenchman's place, but none of have done so completely or with the effortless poise Le Toux exhibited.
Maurice Edu was close, but the injuries that cut his career short left him unable to produce enough moments on the field to memorialize his name above it.
Tranquillo Barnetta and Borek Dockal weren't here long enough, despite their fire and quality.
CJ Sapong didn't score quite enough, or perhaps not quite consistently enough (his team records notwithstanding).
Ray Gaddis was who he was and is who he is, and that will never be enough for many fans.
Current Captain Alejandro Bedoya will always be under-appreciated and unjustifiably maligned as a do-everything glue-guy. He is also the kind of player who doesn't produce enough statistics upon which to easily hang a marketing hat — and frankly doesn't seem interested in using a certain je ne sais quoi a true team-community liaison must have — and thus keeps him on the periphery.
In the end, there are only two real choices left.
Youth, or Marco Fabian.
Youth is a mirage, Marco is an unknown
Only a handful of teams gave more minutes to homegrown players in 2018 than did the Union. This figure is a bit misleading though. Once the cameos of Matt Real and Anthony Fontana are subtracted out (guys who put on the Union shirt briefly and then were firmly stuck in Bethlehem for the rest of the season), the team earned those minutes by frankly running two young defenders into the ground. One of these defenders, Austin Trusty, didn't miss a minute of league action all year, despite his unit allowing more goals than all but one other playoff team.
In 2019, the same trend line has already begun. Against Sporting Kansas City, promoted Academy players like Brendan Aaronson, Derrick Jones, and Olivier Mbaizo all made the trip to the Blue Cauldron. Only one made as much as a substitute appearance in a match begging for midfield creativity and security, and one clearly lacking verve down the right side.
Each of these three players offer their own solution to these problems, however cannot do so while wearing only a warm-up pinny.
The face of the team is not yet youth.
Marco Fabian had a less-than-memorable moment in the Midwest too. Earning a yellow card, missing a penalty, and then earning a straight red is a hat trick that only a Philadelphia sports fan could love and loathe.
The Mexican international clearly offers something on the field that few Union players can replicate. Given his mercurial start, it's unclear what that "something" will be so far. Moreover, because of his booking Union fans will have to wait even longer to find out.
Part of the narrative for acquiring Fabian was his potential to be the kind of player that could link a club to a community: More fans at games, more merchandise sales, and more goodwill across all different platforms and demographics.
Perhaps all of those things will come to pass.
This screen capture from the moment before the first kick of the team's season opening loss to Toronto FC suggests such a day has not yet arrived.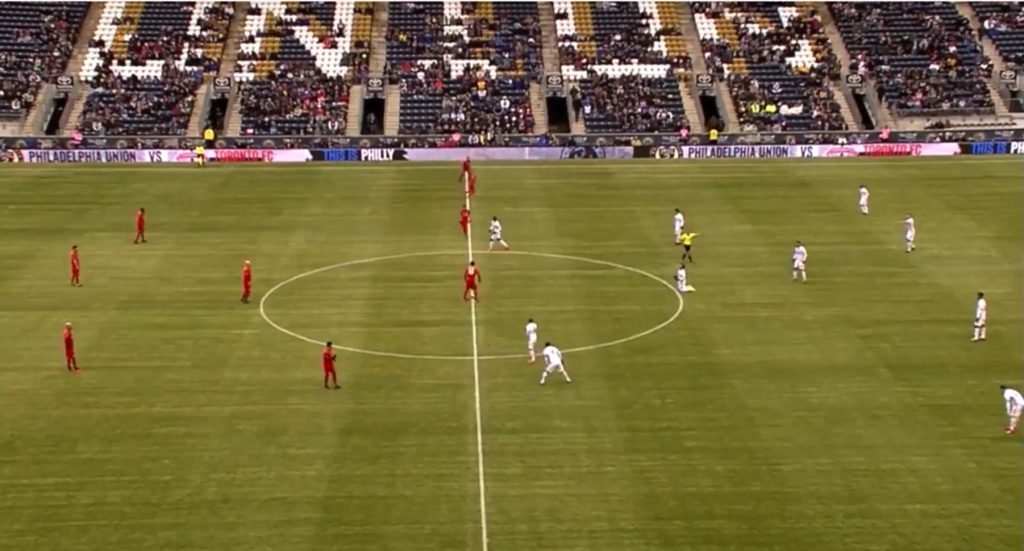 Juxtaposed against the crowd from the Union's season opener in 2012, there is real reason to believe that day is a much longer way away than any team supporter might want to believe.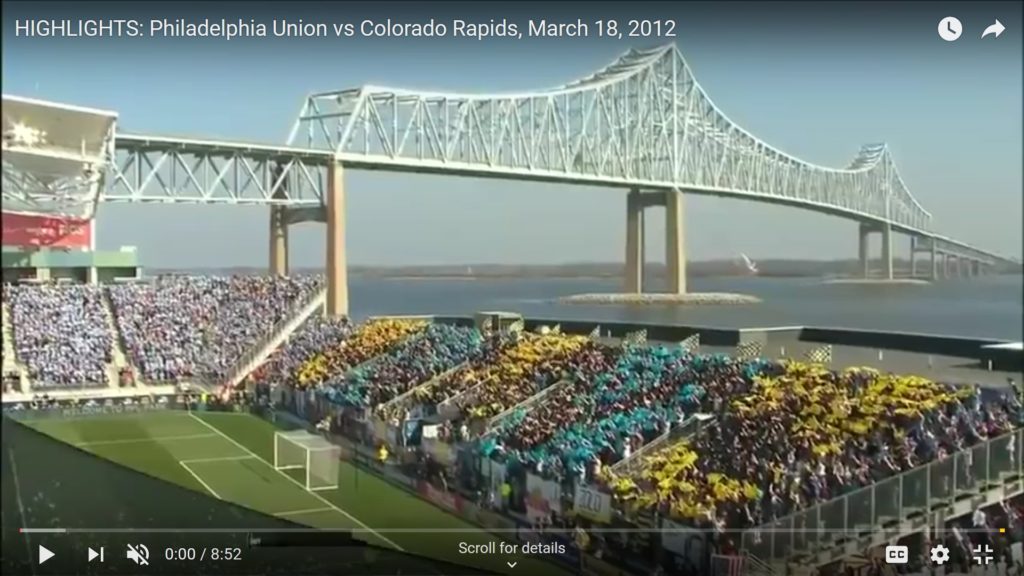 Summary
The Union have a lot of soul-searching to do.
They have the same problems scoring goals that they had last year, an obvious need to rediscover their identity as a soccer team, and in the process find their passion on the field. The Union look lost and angry, consistently out of position and spinning around to cover for their equally lost teammates, squandering goal-scoring opportunities at a league-worst rate, and making life harder on themselves with their unforced errors at seemingly every turn.
They need a leader to help them affect this change. Two matches into the season despite a roster with relatively little turnover, no one seems ready to step into that role.
The Union will have to keep searching.