Photo Credit: Paul Rudderow

Last week, the women's Athletic Bilbao vs. Atletico Madrid match drew the highest attendance for a women's club-level match in Europe at 48,121. The men's Athletic Bilbao club only averaged 46,860 this season at home. It's been a slow climb for women's professional soccer around the world, and it's still has a ways to go. In the US, one of the best ways to grow women's soccer has been men's soccer, somewhat ironically.
Here's the map of teams in the MLS this season.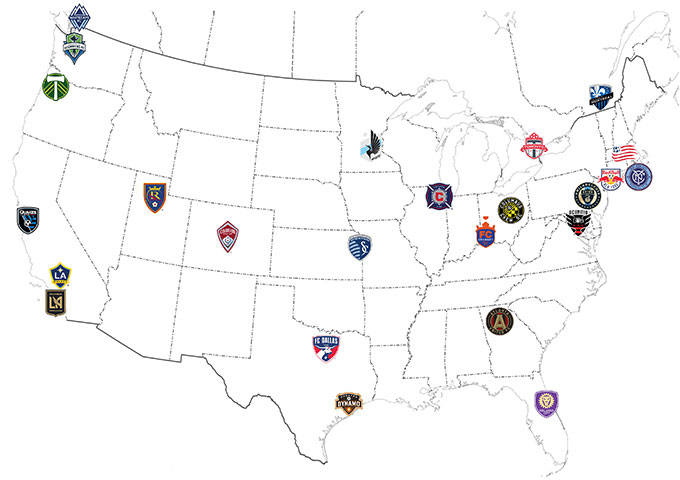 And here's the map of teams in the NWSL this season.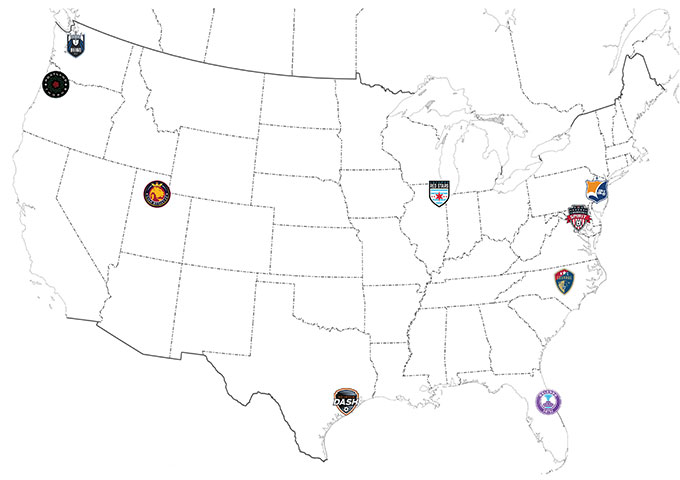 Twenty-four men's teams, nine women's teams.
Why has women's soccer been so underrepresented?
There are the common reasons that many women's soccer teams around the world face:
Lack of funding and a small operating budget.
Lack of media coverage and general exposure.
The mindset that female athletes aren't as fast, physical, athletic, etc. as men, so the game isn't as interesting.
Then there are the more local issues that women's soccer teams can face in specific areas:
Competition with a men's team for media coverage and exposure.
Lack of a proper venue or restrictions because of venue.
Women's professional soccer in Philly
Philadelphia has seen its fair share of women's teams in various women's soccer leagues come and go over the last 20-or-so years. The Philadelphia Charge of the Women's United Soccer Association played from 2000 to 2003 in Villanova Stadium (they were a personal favorite in my youth soccer days). The Philadelphia Independence of Women's Professional Soccer played from 2010 to 2012 in West Chester University's stadium. The Philadelphia Fever of the Women's Premier Soccer League (second tier) played in 2013 and 2016, and then played in the Women's Arena Soccer League (opposite the men's Arena Soccer League) in 2017. Low funding and lots of financial problems spelled the downfall of these women's teams and leagues in our area.
Now, the NWSL appears to be doing better than previous women's soccer leagues, with attendance beginning to trend upwards and stronger ownership groups backing teams. Five of the current NWSL clubs are owned by men's teams, Portland, Orlando, North Carolina, Utah and Houston. It's the first time men's teams have managed women's teams, and it's the key to the NWSL's success as it enters into its seventh year. By partnering with an MLS team, NWSL teams no longer have as limited budgets, limited exposure or lack of a venue.
What the Union can do for women's soccer in Philly
Honestly, the NWSL expanding to Philadelphia is a bit of a long shot. Women's soccer in Philadelphia has been drawing in crowds since the Charge, but it's not the city's disinterest that prevents the NSWL's expansion. It's the lack of willing ownership. The obvious solution (and title of the column) is that the Union back a women's team. Realistically, that is a long ways away, if it's even a thought in Tim McDermott's mind. The Union are going to spend their money on the Union first and foremost, which we can all agree needs to happen to improve the team.
While the expansion of women's soccer in America does not rest solely on the Union or even Philadelphia, the idea of an MLS-owned NWSL team is an interesting thought. Glance back up at those two maps and you'll see a lot of overlapping cities amongst the MLS and NWSL clubs, but you'll also see major cities in the northeast, California and Canada devoid of any women's professional teams, but full of men's professional teams. Thirteen more MLS teams, including the Union that can help grow women's soccer in America.