Photo by Earl Gardner
Juxtaposition: "The fact of two things being seen or placed close together with contrasting effect."
Rain-soaked Chester, PA last Saturday evening was the site of the Union's latest "Knife to a Gunfight" juxtaposition. Head coach Jim Curtin often talks of his team being undermanned, from the U.S. Open Cup Final against Seattle Sounders in 2014 when the visitors were able to bring on subs like Obefemi Martins and the home side countered with players like Pedro Ribeiro, to this past weekend's match when the Union's first sub was a USL striker and the Galaxy countered with a Designated Player from Ligue 1 in France.
There are several key examples of what this difference in quality might mean for results on the field. Soccer, like the old adage of it's American football counterpart, is a game of inches: teams who are well-prepared can be competitive on any given night. The difference on the score sheet is usually an inch here or an inch there, and thus Philly Soccer Page is ready with our rulers to highlight these inches for our readers.
The best place to start is perhaps the most obvious, with the Galaxy's talisman and the reason why Talen Energy Stadium had any people in it at all during a monsoon, Zlatan Ibrahimovic.
Zlatan's goal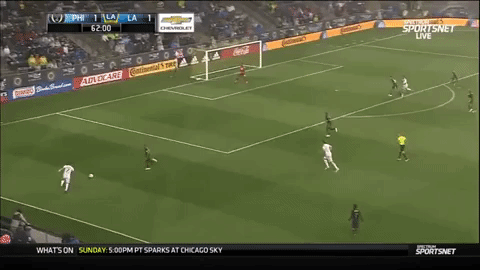 Jim Curtin unquestionably started the Union with a winning strategy in this match. Sigi Schmidt, however, made a tactical change at halftime that all but undid that winning methodology. Romain Alessandrini's addition on the left wing forced Marcus Epps (and then later David Accam) to play committed defense in order to protect Ray Gaddis. It's clear in this clip that the latter forgot about that commitment in a crucial moment.
The problem wasn't the temporary lapse, those kinds of things happen all the time in soccer (ask England's center backs what switching off for one second does to the outcome of a match). The problem was that, with any temporary lapse, one of the greatest soccer players of this generation was then afforded a yard of space. That's about 36 inches too much when one "Dares to Zlatan," and he made the Union pay.
Burke's miss Juxtapose that inch of space and the subsequent goal with the Union's next clear opportunity. The scenario is similar: The Boys in Blue pick on the right side of their opponent's defense and cut the ball back to their striker who has held his run to create space for himself. Then, with the defenders facing their own goal and in the worst possible defending stance, the striker can finish the job.
Factually, when the Sons of Ben in the back row of Section 136 have a chance to catch an errant shot, the job has not been finished.
Two roughly equivalent chances, two wildly disparate outcomes.
Zlatan's assist The Galaxy's Lion isn't just a goal-scorer, as Tony Meola and J.P. Dellacamera wisely pointed out on this week's broadcast. He's also one of the better passers on the Galaxy side. In this case, Ibrahimovic's passing ability is a direct result of his scoring acumen: Defenders afford him space rather than get close to him and risk being made into a meme. It's a rational decision perhaps, but one that cost the Union dearly.
There is plenty of blame to go around on this play, from Bedoya's poorly hit pass and late recognition of the midfield run to McTrusty's indecision and deference to Galaxy royalty. The Galaxy's counter is quick and deadly, and all of the blame on the Union notwithstanding, Ibrahimovic's assist on this goal is among the best passes of the night.
Another half chance turned into a goal by the visitors.
Dockal's pass Speaking of half chance juxtapositions, this one might have been the Union's best. Advancing the ball calmly and deliberately from the back put Borek Dockal's skill on display. After starting the break off a pass from Alejandro Bedoya, playing a little give-and-go with midfield mate Haris Medunjanin, then beating his man (who was the last defender on the Galaxy's left side), the Union's playmaker had his streaking winger, Marcus Epps, with a clean path to goal.
Dockal's pass left a lot to be desired and left his winger out to dry. A better weighted touch puts Epps on goal, and perhaps the Union on their way to another three points. Instead, the Union's four v. two breakaway yields nothing.
Half a chance for the home team, but nothing to show for it.
Ciani's goal Did the reader know the name Michael Ciani before Saturday night? One can be afford the mulligan, but Ciani is an experienced center back who has spent time in Serie A, La Liga, and Ligue 1. Not only that, his odometer is low on matches-played miles, affording him the late-in-life leg strength to leap high above an otherwise disinterested Union defense to hammer home the game's proverbial nail.
Blame falls on Cory Burke for losing his man, and a free header in front of the goal is more than a half a chance.
One chance, one goal. That's all it took.
McKenzie's miss Juxtapose Ciani's chance against his positional "Spy v. Spy" opposite, Mark McKenzie. Unmarked on a corner, about ten yards from goal, with a chance to put a header in the back of the net (or at least on frame) and tilt the match in his team's direction.
McKenzie will rue the missed chance, because in this match he only had one.
One chance, one miss.
Summary
The reader will forgive the absence of hand-wringing about C.J. Sapong's series of misses before his goal, or Andre Blake's series of great saves before his defenders finally let him all the way down. These two data points are "known knowns," as they say. Perhaps these juxtapositions should fall in that category, too, but they were so clear over the weekend as to merit their own commentary.
Should the Union keep bringing their knife to these metaphorical gun fights, they should expect to be mowed down more often than not. In the rain on Saturday, they certainly were.