This is a dead horse.
As idioms go, to unrelentingly beat a dead horse is "to continue a particular endeavor [that] is a waste of time as the outcome has already been decided."
This data, this argument, this discussion… All of it is a dead horse, but worth beating again following some comments from Union Head Coach Jim Curtin during his press conference yesterday.
After acknowledgments of the passing of American soccer legend Walter Bahr and Union Ring of Honor honoree Sebastien Le Toux, Coach Curtin said this:
But who'll start on Saturday? Curtin gives credit to Burke for taking his opportunities against NYRB, but also says "it's not something that puts pressure on C.J." Sounds like we're more likely to see Sapong on the weekend.

— Philly Soccer Page (@phillysoccerpg) June 20, 2018
The Twitter comments were predictable.
"Ridiculous"
"This is absurd"
"Jay Simpson lost his starting spot after one half. I think Burke has earned the right to start"
"Death, taxes, and Sapong starting if he's breathing"
The trendline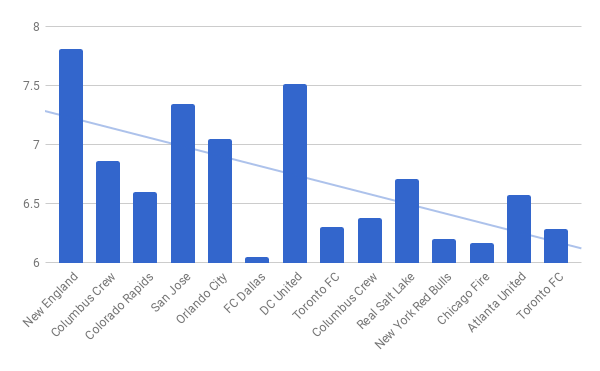 Whoscored.com captures detailed data from every player in every Major League Soccer game (in addition to games all over the world). Just like this publication, they assign scores out of 10 for each player in each match. By simply plotting the data points week by week and solving for a trend line, a narrative emerges (one that shouldn't surprise any Union fan who has been applying their own version of the "Eye Test" to Sapong this season).
Sapong's production has trended downward since the season's opening match against New England. The win against the Revs was Sapong's highest rated performance in 2018 (and one in which he still missed a half dozen above average scoring opportunities). On the Union, Sapong is only the team's 10th best player. Knowing that a striker who's rating is so low might be troubling for a team who struggles to score goals (and that a bear does it's business in the woods, as is common knowledge), consider that in WhoScored's overall rankings, Sapong is the 210th ranked player out of 323 players in the league.
Woof, as the internet says.
What now?
Jim Curtin has to defend his players and their ability to find their feet and save their own respective seasons. He's not alone in the Union coaching annals in this pursuit, either: The Doops Hoops have a long history of riding players long after their form has dipped, particularly Curtin's predecessor, John Hackworth.
While creative and inspired Boys in Blue like Roger Torres and Kleberson were marooned somewhere outside the team's regular 18, maddeningly limited players like Keon Daniel, Aaron Wheeler, and Antoine Hoppenot found regular places on game day. None of the latter ever played themselves into any form beyond their obvious skills, and waiting for them to do so cost the Union dearly and eventually cost Hackworth his job.
So far, this strategy has proven the former to be true: the Union are a limited team, and sticking with limited players who are also out of form is a recipe for disaster. Whether the latter proves to be true without Coach Curtin's primary supporter, Earnie Stewart, is something only time will tell.
As for Sapong, it's time to leave him out of the XI and perhaps out of the 18 for a week or two. Corey Burke might not be the Union's long term answer at striker (and it's clear Jay Simpson isn't either). However, he is the only obvious choice for today, tomorrow, and Saturday against Vancouver.
The sooner the Union make that decision, the better off they will be.