This is an analysis column.
Focusing on the Philadelphia Union, the purpose of this column is to outline how the Boys in Blue attacked and defended, one match at a time. This week, playing with two fewer players than their opposition for more than 70 minutes, the Union employed a rarely-seen 4-3-1 that was gutsy, a bit lucky, and extremely effective.
Early on, the Union looked poised in possession and comfortable moving their press line back, allowing Atlanta more space in their own end and less as they attacked. As United's playmakers tried to move themselves into their team's possession, Union defenders were right behind them giving chase. Specfically, Alejandro Bedoya seemed to have a man-marking assignment on Miguel Almiron and Union fullbacks could be found in the back pockets of Darlington Nagbe and Josef Martinez.
When the Union had the ball, they attempted to eliminate Atlanta's midfield numbers advantage by spreading their wings wide and getting their fullbacks more involved.
The strategy was common to the Union at home, but not often confidently employed on the road. It spoke to the team's burgeoning confidence and would have been worth seeing through a 90 minute sample. Unfortunately, the game was too short to find out if it would have actually worked.
Therefore, because this is a tactics column, the tactical focus will be on how the Union reacted in real time and then what happens next.
It's not about what happens to you, but your reaction to it that matters – Epictetus
A tale of two stories – Anger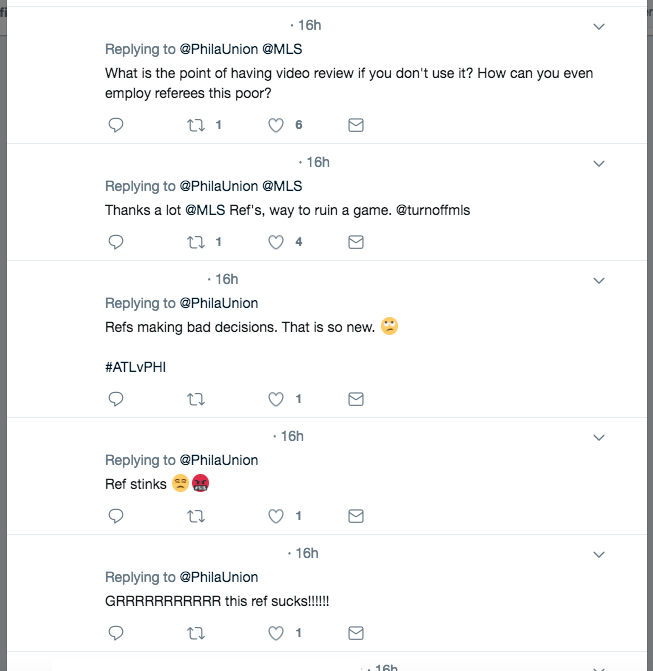 When the Union's official Twitter account updated fans on the goings on in the 19th minute of Saturday's match, the replies were as expected. A double-red card after a dubious penalty will do that.
The anger is understandable and the basis for it comes from a narrative that goes something like this:
Major League Soccer is full of terrible officials. Sorin Stoica, the referee in question, is especially terrible. He was poor even beyond his own standards in this match, though not unexpectedly so. Why? This piece of brilliant depth from the PTFC Collective about Stoica's idiosyncrasies might be required reading for Union fans today. Two important bullet points include:
Stoica calls a penalty in matches more than only 2 other officials in MLS
He's as likely to hand out 2 red cards in a match where a sending-off happens as he is to issue 1
Stoica was wrong not to at least make a cursory review of the penalty using VAR. That momentary lapse was the catalyst for an avalanche that resulted in two players sent off, angry because they believed that yet another official decided to make the game about himself.
Then, worst of all, Stoica was poorly out of position to make the most important call of his night. Because he's expecting the Union to advance when the turnover happens, he's nowhere to be found as the play unfolds and can't possibly have a good enough angle to make such a meaningful call.
For fans of any team feeling as though they've been hard done, this is the more compelling story. It is not the only one, though.
A tale of two stories – Accountability
In the early stages of 2018, the narrative around Philadelphia Union's performance could be summarized thusly:
Young players are making their mark on the back line, playing well and gelling together. Meanwhile, a midfield full of veterans and national team players can't seem to find enough chemistry to score a goal and its costing the team its season.
On Saturday, two young players who led the first half of that narrative made mistakes. Mark McKenzie took his eye off a clever square ball from Haris Medunjanin and saw the orb skip over his boot directly onto enemy feet. The quick counter that resulted left Austin Trusty having to chase arguably the league's most dangerous player into the box, where he committed a foul and conceded a penalty.
Rookie mistakes, and unfortunate ones given the stage.
The veteran captain of the side, he of World Cup and European experience; and the team's most level-headed player, he of equivalent pedigree, had an opportunity to speak their minds to the official, organize their teammates, and make a concession of their own: That no amount of complaining has ever, in the history of soccer, changed an official's mind.
The veterans chose the first of those options and ignored the second and third. Thus, their sending off was a result of a hot-headed and selfish decision. Rather than rally and fight back, they fought with an official and it cost their team points.
This is the less appealing storyline, but might be equally valid.
Summary
Regardless of which narrative the reader adheres to, the important thing is not what has happened to the Union. The important thing is what they do with that experience.
This website asked whether there was any heart left in the local side. This author opined that it might be time for someone to lose their cool and see if that shook up the team's lethargy. After the Union's best four-game stretch in nearly a year, neither option seemed particularly necessary.
Then Saturday happened, the kind of match that can define a season.
The Union might have lost every inch of momentum they so admirably earned. Alejandro Bedoya and Haris Medunjanin might miss more than just one game as they deal with the results of the Wheel of Unpredictability that is the Major League Soccer Disciplinary Committee. One bad match might have ripple effects that last more than a month and the season might go down in flames.
Or the Union might have just played the most important match in their recent history, a match so galvanizing and identity-defining that it propels them forward with the kind of momentum that no winning streak could ever provide. The Union might have finally coalesced into a real team, with adversity as the catalyst.
There is no way of knowing today which of these outcomes will be the actual one. The important thing is what happens next.