Photos courtesy of Louisville City FC and Bethlehem Steel
In 2018 Bethlehem Steel need to rebuild the defense's center back core. This has been known since last November's roster decisions and this February's de facto roster promotions. It has been thrown into stark relief by the organization-wide rash of defensive player injuries.
Steel off-season signings were deepest at outside back, central channel midfield, and striker. There was only one center back.
The five center backs signed to the first team, together with the youngest one's lack of USL game minutes, suggested that Bethlehem intended to have the inexperienced youngster as its every-game RCB. Concretely, Mark McKenzie was probably planned to replace Auston Trusty, as Brandon Aubrey was for Hugh Roberts.
But veteran right back Matt Mahoney has served much more than anticipated as the right center back next to Aubrey, because McKenzie has been on both bench and pitch for the first team, covering for Richie Marquez's sports hernia surgery and the groin strain that temporarily incapacitated Jack Elliott.
While statistics often lose more information than they provide, this one illustrates the point about the defense: Bethlehem has kept no clean sheets through its first six games in 2018. Last year there were two clean sheets in the first six matches; in 2016 there were three, though they came against lesser competition.
Aaaargh!
A few weeks ago head coach Brendan Burke anticipated central midfielder Omar Holness's return to the pitch following successful recovery from a torn ACL last summer. He had mentioned the recent game away to Louisville as the target date for Holness being in the gameday 18, and possibly debuting on the pitch for 20 minutes or so.
Instead, three days before that Louisville game, the club announced that the  Jamaican would undergo knee surgery the day before the opening whistle at Slugger Field. Burke clarified following the announcement that the new injury had not been a ligament, and that Holness will return to the pitch this season.
Fans of both the Steel and the Union had anticipated seeing what Real Salt Lake's decision to move on from the 2016 super draft's fifth overall choice would mean for greater Philly professional soccer. Imagination and human sympathy suggests their frustrations cannot hold a candle to those of the player.
The news was hard to credit given the nearly flawless physical health Holness had consistently displayed on the practice field. To the pickiest of eyes, he did not yet show superb explosiveness when engaged in repetitive bounding exercises, only adequate. Otherwise he seemed beyond ready. But the joint's internal structures have indicated otherwise.
Déjà vu all over again
The team's roster reveals an esoteric point about Keystone Sports & Entertainment's player pool this year.
As they did last season, the Union have loaned Jake McGuire to the Steel without the ability to recall him. In the phrases of the link's chart, he is "unavailable" because he is "on loan" to "USL." There has been no other announcement.
But this is MLS, so unavailable means available through a loophole.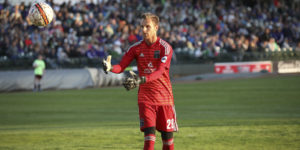 Towards the end of the "2018 Roster Rules and Regulations" as presented on the MLS website, one finds a heading that reads "Extreme Hardship Call-ups," right after "USL Short-Term Agreements." These contain McGuire's loophole.
If a team has fewer than two goalkeepers available, it can make a goalkeeper extreme hardship short-term signing, or call-up as would be McGuire's case since he is already signed. In the extreme hardship situation for four days a player can be eligible for duty in an MLS regular season game.
Normally, a team can use the short-term call-up only for CONCACAF CCL, the U.S. Open Cup, exhibition friendlies, or other such ancillary matches. Only the extreme hardship trigger allows use for the MLS regular season. (There is a corresponding provision for field players with a corresponding extreme hardship condition, but its triggering condition – less than 14 — is less likely to occur barring a team-wide outbreak of contagious disease.)
The esoterica just described explains why when you click the link and go to Philadelphia's roster on the MLS Website, the "30-man roster"  lists 31 players, and why Jake McGuire will still be available to back up John McCarthy when Andre Blake is away with Jamaica.