Philadelphia Union
Union sign Olivier Mbaizo, Cameroon-born defender, from Bethlehem Steel.
Union U-15 duo heading to Italy for tournament with U.S. U-16 team.
ICYMI: PSP's Adam Cann landed a job with the Union.
Local
Penn FC's home opener to be broadcast live on WGCB, a local TV station based in Red Lion, PA.
Late goal lifts La Salle to comeback win over Temple.
MLS
Lee Nguyen speaks.
Atlanta's subway soccer fields.
D.C. United ownership group likely to include investors in Swansea of Premier League.
USL
USL happy with debut on ESPN+. They mention the Steel in this press release.
US Soccer
John Hackworth's U-17's defeated Norway at the Sportchain Cup.
Around the globe
Chivas beat Toronto, 2-1.
Dortmund headline the International Champions Cup's U.S. schedule. The closest Pulisic gets to Philly is Pittsburgh on July 25th. Roadtrip!
Tottenham and Brighton each got a point with a 1-1 result. Harry Kane's goal have the Spurs in 4th place in the Premier League table.
Bundesliga players called back to pitch for penalty in half-time amid VAR chaos.
Zlatan says he's going to the World Cup.
Highlight of the day
So I vacationed for two weeks in Germany, mainly to catch some Bundesliga matches. It was awesome being in Dortmund, seeing Pulisic's sick goal (go to 1:30 in this video). And here's a shot of Dortmund's Yellow Wall: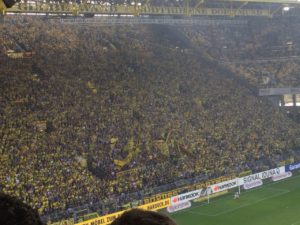 Berlin was cool too. Here are Hertha BSC's supporters: