Photo: Paul Rudderow
Who: Philadelphia Union (5th, 1-1-0) vs. Colorado Rapids (10th, 0-1-1)
What: Week 4, Regular Season
Where: Dick's Sporting Goods Park, Commerce City, CO
When: Saturday, March 31st, 9pm
Watch: Live Well Network, MLS Live
Whistle: Robert Sibiga, Eric Weisbrod, Jeffrey Greeson, Fotiz Bazakos, Kevin Terry Jr.
With two bye weeks already in the rear-view mirror, Philadelphia Union are hitting the road for the first time in the 2018 campaign on Saturday evening to face a rebuilt Colorado Rapids. A dream-like start to Philly's season was followed by a lackluster 0-0 draw on March 17, but not many fans are complaining about an unbeaten start.
Colorado's last match against the Union came last season at Talen Energy Stadium, where C.J. Sapong and Haris Medunjanin led the way to a 2-1 comeback win. The Rapids lead the head-to-head series overall, but have not defeated Philadelphia since 2012. The Boys in Blue have also been surprisingly solid on the road at Dick's Sporting Goods Park, managing a win and two draws in their last three trips.
Scouting report: Colorado Rapids
The Rapids, another victim of Major League Soccer's unorthodox scheduling, have also only played two matches thus far, falling to New England in the opener and drawing 2-2 with Sporting Kansas City last week.
After a breakout 2016 season culminating in a 2nd place finish in the Western Conference and a run to the conference finals, Colorado took a hard turn for the worse last year, ending in 10th place on just 33 points. At least on paper, 2018 doesn't look like one for contention. The Rapids were picked to finish dead last in the conference by multiple reporters from ProSoccerTalk and, to the casual fan, veteran American keeper Tim Howard is probably the lone familiar name.
Expect the hosts to line up in a 3-5-2 formation, with defenders Tommy Smith, Danny Wilson, and Deklan Wynne sitting in front of Howard. The setup has been solid enough as a whole, but the defense has given up back-to-back goals in the the 90'+ minute, forfeiting points in each. In last week's tilt with Sporting KC, a two-goal lead in the opening eight minutes was eventually erased.
Dominique Badji and Joe Mason scored those goals and will be the two strikers on Saturday.
Injury report: Kortne Ford (OUT), Shkelzen Gashi (OUT)
Suspended: None
 Scouting report: Philadelphia Union
Despite a spotlight on the No. 10 role, it's been the defense making headlines for the Union. They are the only team in MLS yet to concede a goal this season, and Auston Trusty (19 years old) and Jack Elliott (22) have formed a nearly unbreakable wall in front of Andre Blake. Elliott gained valuable experience last season, but played alongside multiple central defensive partners. If Trusty, a Union Academy product with just two MLS matches under his belt, can continue to cement himself in left center back role, it will be a huge relief for coach Jim Curtin.
Left back Fabinho was subbed off just after halftime against Columbus and could be out a couple weeks with an MCL sprain, so expect Ray Gaddis to start in his place, with Keegan Rosenberry manning the right flank.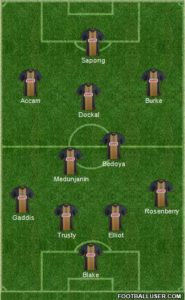 The 0-0 draw against the Crew was a disappointing match for many Union players, but none more than Borek Dockal. Playing in the No. 10 role, the Czech international's first start under Curtin saw him post an 81 percent pass-success rate and take two shots in 77 minutes before being subbed off. His 5/10 rating isn't what anyone had in mind. Luckily for Dockal, his coach has been known to shake off underwhelming performances, and the veteran playmaker may very well get the nod again on Saturday.
New winger David Accam and third year man Fabian Herbers also had nights to forget on the outside and, even with Fafa Picault serving the final game of his suspension, we may see a switch on the right. Cory Burke, who spent last season as a striker with Bethlehem Steel, replaced the struggling Herbers in the 63rd minute. After providing an assist to Sapong off the bench in the season opener, Burke was again more influential on the wing and created a couple chances. Whether it be in the starting Xl or off the bench again, he should see time in this one.
Injury report: Fabinho (OUT), Richie Marquez (OUT), Ilsinho (questionable)
Suspended: Fafa Picault (Language)
Key matchup: Union wingers v. Rapids backline
Whoever is on the wing for the Union could potentially be in more space on the outside with three defenders for Colorado. Whether Accam and Burke (or Herbers) use that space to create chances individually or drag defenders wide and leave Sapong one-on-one in the middle, Philadelphia should try to exploit the backline.
Best players in space = chances. Put Howard under pressure with as many early looks as possible.
Player To Watch: Borek Dockal
Dockal may be the player to watch for a while.
The bottom line is this: He's played in the Champions League, and he's played in big matches at the international level. Saying you can do better on the microphone is great, but expectations are high. The Rapids are way down on the list of toughest opponents Dockal has faced in his career. Time to step up.
Prediction: Philadelphia 2-0
The Union undoubtedly have some room for improvement offensively, but Colorado simply haven't shown much this season. If Blake and company hold up at the back, chances up top should come. There won't be many matchups this season where Philadelphia have a clear-cut edge on paper, but this is one of them. Given current form and fire power, the visitors should expect nothing short of three points.
Viewing Reminder
As part of MLS' broadcast deal, all MLS games will be available to watch on the yet-t0-be-launched ESPN+ streaming platform. Until that service launches however, all non-nationally televised MLS games will be available FOR FREE on MLSsoccer.com or through MLS apps on your smartphone, Apple TV, or Roku.
In addition, keep an eye on PSP Twitter for game coverage including pre- and post-game coverage.