Photo: Earl Gardner
Heather Rep
pert, born in Norristown, Pennsylvania, attended Spring Ford school district. She spent two years at Temple University studying political science, but dropped out to fight "the good fight," as she put it; worked for 4 years in national grass roots politics. After obtaining a degree in Business Administration she found a job as a paralegal in a center city law firm. She shares her life with Matt, an Army combat veteran husband, and with a rescue pitbull named Frankie and three cats. 
Every sports has its own appeal. What in soccer attracts you most?
The way soccer brings people together is the ultimate appeal to me. When traveling to other countries, you can easily strike up a conversation with someone about the game. Also, through the Union I have met people from many different countries. This has allowed me to not only enrich my understanding of the game, but to also to get a deeper understanding of other cultures. For me it is one of the best ice breakers.
In your definition, what does it mean to be a fan?
I'm a Philadelphia sports fan. While I love my teams with all my heart, sometimes you need to give tough love and criticism. Criticism means I care enough about the team to actually want it to succeed by seeing it improve. They are my team and I'll never abandon them; but it doesn't mean I need to be happy with them all of the time. On the flip side, being a fan also means making connections and friendships with folks that you'd never meet otherwise.  Through being with the team since 2010, my husband and I have made friendships with people whom we now consider family;  we even had two tables of Union fans at our wedding!
How do soccer fans stand out?
Soccer fans in the United States are an extremely close knit group. We realize that we are fans of a game that isn't part of the "big" sports in this country. Even though we have intersport rivalries, when something tragic happens to one fan base, it happens to us all, and we will mourn with them.  Conversely, when something amazing happens for the league, we will cheer with them. One need only look at the current status of MLS teams in the CONCACAF Champions League to see how we cheer on the league as a whole as it strives to improve its image in the world of public opinion. I can also say that I'll never cease to give a little nod to those wearing a Union scarf or hat when out on the street.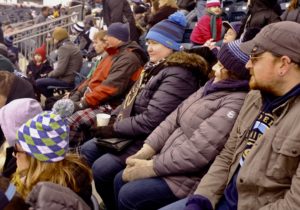 Heather (center) with to her left  Evelyn Galban and John Gebhart, chilling during the "exciting" CREW game.
What makes you come back to the Union?
Love is what makes me come back. While I understand why some of my friends didn't renew this year due to the team's consistent underperformance, when thinking about doing the same, I became very sad. Going to the games and seeing my family is simply too much a part of my life not to. I know the team will get better… eventually. I want to be there through thick and thin.
What was your most memorable game?
The first game at the Linc. At the time, I had only been dating my boyfriend (now husband) for a few months. He became interested in soccer while serving overseas. At the time, I did not like soccer. I had a stereotypical American attitude that soccer is something the rest of the world watches, but we do not. However, like many of those Americans, I never gave it chance, so I really didn't know what I was talking about. My husband informed me that Philly now had a team and that he got two tickets and asked if I'd liked to go. I thought, sure, I like Philly sports and it'll make him happy. Needless to say, I was hooked. The Sons of Ben chanting and the overall atmosphere of the stadium just blew me away. It was easily the most fun I'd had at a live professional sporting event. The rest is history.
That experience sealed the deal between the two of you?
I credit the team for partially getting us married because it became the first thing we both loved together and as our relationship developed, so did our experiences with the team.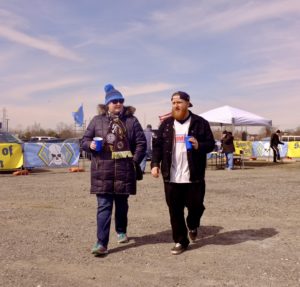 You can find Heather at the SOB tailgate, here with Jon Light.