Photo: Matt McClain
A frigid and snow-filled weekend in early December was the setting once again for the NCAA Men's College Cup along the Delaware River in Chester at Talen Energy Stadium.
Akron, Indiana, North Carolina, and Stanford were the final four teams left to battle it out for the national championship. On Friday night, Akron took on Stanford to kick things off. Immediately following Stanford's victory, Indiana and North Carolina took the field to warm-up and kick off at 8:45 p.m. The cold was, how you say, noticeable. An open-air press box left media workers needing layers just like the athletes, coaches, and fans. Friday night wrapped up with Stanford and Indiana surviving to begin an incredible weekend of soccer and events.
Thursday: Arrival day
The number five seed Akron Zips were the first team to arrive in Chester Thursday morning. They were full of energy as they 'zipped' around the perfectly manicured outdoor training fields located a short walk away from the stadium. The outdoor training helped all four teams become good friends with the bitter cold.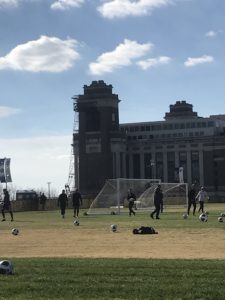 Next on the training fields were the undefeated (at the time) second ranked Indiana Hoosiers – whom were largely viewed as the favorite to take the Cup. Indiana players and coaches were wearing beanie caps that resembled Santa hats from a distance. Very festive indeed.
The ninth ranked Stanford Cardinal trained at 1PM and the number three seed North Carolina Tar Heels practiced last that afternoon at 2:30PM.
Each coach praised the facilities that serve as the home of the Philadelphia Union. Akron head coach Jared Embick highlighted the "terrific facilities" with the following, "We were on the training field today and they did a real nice set up out there with the two fields, and the stadium looks very nice. We walked it. The surface looks ready to play. And for us, it's that type of experience that we really like when we get to the final four."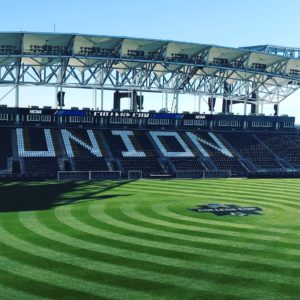 Stanford seniors Corey Baird and Nico Corti, two players that proved to be instrumental in the Cardinal's championship talked about their training session prior to the press conference. "It's a little colder than we're used to but I think everything looks great," said Baird. Corti seemed ready to play right then and there with his answer. "The field looks like it's in great condition like they've [Baird and Coach Jeremy Gunn] said. We're just excited to get on it," Corti said.
The cold was on the mind of North Carolina players as well. When asked if the cold weather is an extra factor, Cam Lindley and Alan Winn were quick to give their thoughts. "I'm from Indiana and I played in Chicago growing up my whole career so it's nothing to me. I'll just throw a pair of gloves on and I'll be good," said Lindley. Winn took a different approach on his answer, "I'm from Texas, so cold is the devil."
Friday's semifinal doubleheader showdown
Stanford's press proved to be too much for Akron in the first match.Stanford has a way of swarming opposing teams and the Cardinal were all over the Zips like white on rice from the opening kick. The constant pressure made it seem as if there were more red and black striped Cardinal jerseys than Akron whites on the pitch.
The devastation from the 2-0 loss was clear on the faces of Akron seniors Sam Gainford and Stuart Holthusen. "We couldn't get going until the second half and by then we had dug ourselves a hole that we couldn't get out of. It was too little too late," said Gainford. Both seniors, Holthusen from New Zealand and Gainford from Liverpool Academy, should have bright futures.
Indiana continued their undefeated season with a 1-0 shutout victory over North Carolina in the latter half of the double header.
"I look at the stats tonight and both UNC and Indiana are in about the top 10 in every attacking category," said Indiana head coach Todd Yeagley. "There wasn't tons of flow. You can say what you want about being ready but there is anxiety that you can't replicate in training or a round prior," Yeagley explained.
Indiana's 50th minute restart was the lone goal. Gutman said post-game "Trevor [Swartz] and I kind of mess around at practice. He does the corner kicks and I do the crazy finishes with them."
"I'm proud of this team and sad to see this season come to an end not because we lost but because I'm going to have to say goodbye to some of these guys," said UNC head coach Carlos Samoana as he looked down the table at his players and slapped Cam Lindley on the back.
Friday night produced the two best teams of the tournament. Sunday's matchup was shaping up to be a hard-fought battle. "We will be going out there and doing our best to try and win another championship," said Stanford head coach Gunn.
SNOW STORM
The snow stopped falling around 9PM in Chester on Saturday. Around that same time John Torres, Head Groundskeeper at Talen Energy stadium, pulled up. His job for the night involved much more work than a typical day down at the kickball stadium.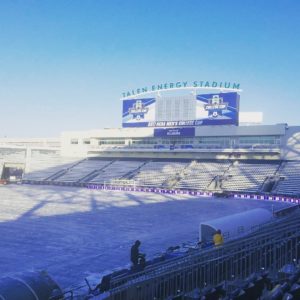 He began plowing every parking lot and road surrounding the stadium including Toyota Plaza and the rest of the outdoor concourse.
Enter an Ocean's Eleven type of crew consisting of practically every department within the stadium. All together there was the operations team, facilities team, grounds crew, guest services, ticket services, accounting, finance, interns, and the freaking COO clearing the field and seats by hand. Most departments arrived at the stadium around 6:00 a.m. Sunday morning.
Jason Blumenfeld, General Manager of Talen Energy Stadium said, "I think we have the best groundskeeper [Torres] not only in soccer but in the whole industry." Torres eventually did catch some shut eye. He fell asleep during the third quarter of the Eagles game after falling victim to a comfy couch.
"By the time the NCAA were here it worked like clockwork. We just let it roll," said Blumenfeld.
Sunday's final showdown – Hoosiers v. Cardinal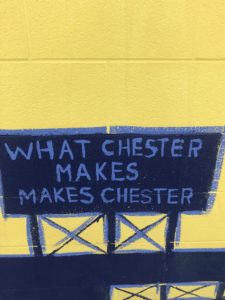 Stanford won their third straight national championship defeating Indiana in 1-0 in extra time. The game lasted 103 minutes and ended with a Cardinal goal snapping Indiana's unbeaten streak and making history in the same minute. Stanford University became the first university to have both their men's and women's soccer programs win national championships in the same year.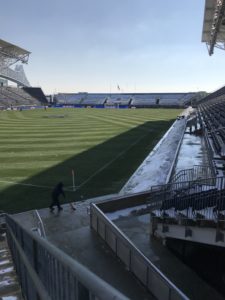 Stanford Head Coach Gunn said postgame, "You know in this type of job we spend so much of our lives with people. You get to see the outcomes at the end of a game. And we've been fortunate enough through our hard work to be celebrating and standing at the end of the season three times."
"To be a coach and to be sometime in the middle with them and sometimes the fly on the wall watching them have fun."
Following an award ceremony ended the fans departed Chester feeling satisfied after an incredible game of soccer between two very impressive teams. Talen Energy Stadium once more played host to a wonderful event and continues to be a wonderful venue along the Delaware.