Photo Bethlehem Steel FC; image PSP Archive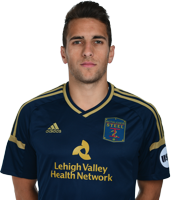 The United Soccer League has announced that Steel rookie left offensive midfielder Santi Moar is one of three finalists for the league's 2017 Rookie of the Year Award.
Moar led the Steel in appearances with 30, 20 were starts.  He scored six goals with six assists.  His contributions, especially in combination with Adam Najem at attacking center mid, were instrumental in improving Bethlehem's offense in the team's second season.
As is required in Bethlehem's tactical system, he is a competent wing defender.  But he is a RoY finalist because of his offense.
End-of-season USL awards are determined by a vote by team management and a league-wide media panel that includes representation from every USL market.
The 24-year-old Spaniard was a fourth round selection in the MLS super draft and signed with the Steel January 30.
Prior to turning pro, he played with the Charlotte Eagles of the PDL and NCAA Division 2 Pfieffer University, for which he helped win a national championship as a junior.  Last January Brendan Burke said it was with Charlotte and then Pfeiffer that he and his staff first became aware of Moar.