Photo: Paul Rudderow
As part of the ongoing PSP postseason review, this article evaluates the surviving Bethlehem and Academy players ready to make the jump to MLS and their progression in 2017.
Needed explanations
Anthony Fontana did not see the pitch at Bethlehem nearly as much as expected after his unprecedented preseason. And after Fontana's late spring return, he disappeared again in the summer. 2017 saw much less growth and development on the pitch than Fontana's winter showing in Florida anticipated.
Fontana is a central channel midfielder, primarily an 8 or a 10. He is not an amazing ball-control specialist in the manner of Ronaldinho or Pele. His game is anticipatory positioning to give and receive triangular passes, and to make runs without the ball that opens spaces for others, i.e., he plays what seems to be the Union's style for the No. 8 role. Come Jan. 1, he will officially sign and practice with the Union, but he'll likely play his 2018 games with the Steel.
Center back Mark McKenzie enrolled in summer school at Wake Forest University, making 11 appearances for their team, currently ranked No. 1 in the nation. The college experience, a university degree, a future career in medicine, and the possibility of playing for an NCAA champion are all among the imaginable reasons why the academically able, ambitious but humble young man went to Wake. The Union will hope to maintain their homegrown player rights to him, because he has real promise as a professional center back.
The "we want more" comment about Derrick Jones from Union head coach Jim Curtin in a summer press conference leads us to conclude that Jones was sent to the Steel in the last third of the season to develop greater offensive creativity. The development is needed if Jones is to become a top-flight No. 8.
Jones is still inclined to try beat his markers on the dribble and is not yet Nacho Piatti. But every once in a while, he has seen a defense-unlocking pass and has tried for it. Early last season in MLS he overtly avoided such attempts.  He completed 38 of 49 passes in the Steel's playoff loss to Louisville and was one of only two Bethlehem players credited with a key pass in the match.
It seems unlikely the organization intends to switch him from an 8 to a 6.
Already with MLS for practices
Right back Aaron Jones will not return for the Union.  He started 29 times for Bethlehem and led them in minutes played. Still, after watching him practice for a year, the organization must not consider him an elite prospect.
Goalkeeper Jake McGuire has solid physical tools and good technique. He needs the confidence born of experience and the communication skills that come from multiple repetitions with a defense. McGuire and John McCarthy are comparable physically and technically. Neither will ever be Andre Blake, but both are capable, growing keepers. The first team is bringing both back for 2018 and McGuire will probably see a lot of time for the Steel if LAFC passes on him in the expansion draft.
Auston Trusty spent 2017 acquiring experience, including with the U.S. U-20s in CONCACAF qualifying and at the subsequent U-20 World Cup.  His position requires mistake-free play defensively, but he still made plenty this season.  Insert your preferred cliché about paying dues here.
Trusty, however, has improved the versatility of his offensive distribution. His killer passes have been few enough for each to stand out in memory, but they have happened. That is an improvement over last season's caution. Another change is Trusty's willingness to move forward into the attack when appropriate. His speed and decisiveness are elite level assets, and his ball skills are beginning to support those forays.
Another year of game experience with Bethlehem would be no bad thing for Trusty as he backs up Richie Marquez on the first team.
Adam Najem is the most immediately intriguing name on this part of the list because of his position as a central attacking midfielder.
The organization has asked Najem to convert to a No. 10 from the 8 he played at Akron. He has played the 10 in the style the organization seems to want: Not a dribbling maestro, but an anticipatory passer and runner. There have been moments of dribbling mastery facing pressure, but that isn't Najem's style.  He partners well and productively with Santi Moar. Najem now holds the Steel single season record for assists.
At times, Najem has played very, very well. His breakout game was against his old team, New York Red Bulls II, in north Jersey, where he had the advantage of knowing everyone on the pitch in detail. There have been a few other games where the opposition has focused on making him less effective, most recently against Louisville in the playoffs where he had no key passes.
I like PSP colleague Nick Fishman's thought that Najem is ready to understudy a top-flight international No. 10. He is not yet ready to assume the role for himself at MLS level, but can be trained towards that goal.
Are they ready for MLS?
This month, the surviving members of the Steel will practice with the Union, filling in the slots left vacant by recent first team roster moves.
Josh Heard, Amoy Brown,  Chris Wingate, Charlie Reymann, Hugh Roberts, Yosef Samuel and  Seku Conneh are not returning.
James Chambers,  Matt Mahoney, and Chris Nanco will practice with the first team this month but do not have realistic chances of playing in MLS next season. Even though Chambers is serious competition for Haris Medunjanin as the best offensive distributor from deep-lying center midfield in the organization, he does not have MLS-level pace.
Last February, then 17-year-old Matt Real was on the bench behind Charlie Reymann at left back, buried both by a hamstring injury and by performance. In observed scrimmages, Real felt like a long-term development project, both from his play and the way coaches handled him.
Very much to Real's credit, he decisively changed that.
Real is not yet ready to be a Union starter and, with just 18 games as a pro under his belt, will likely stay with the Steel for experience in 2018. His role will be governed by what develops with Fabinho. At the moment, he is the only left back signed with either team, so the Fabinho sun rocket seems unlikely to fly. But at the very least, the 18-year-old Real should be one of the three players on the Steel roster for whom the Union hold right of first refusal.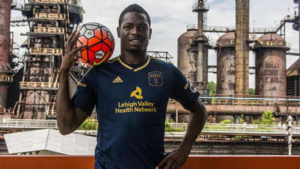 Returning striker and winger Cory Burke is at the other end of the developmental spectrum from Real at 25. He made the strides one would expect from starting a season healthy, being familiar with the team and league, and facing stiff competition for minutes within his own side.
Burke's poise in the box remains inconsistent, though his nine goals in 2017 show improvement. His play at the No. 9 when Seku Conneh was injured and suspended was critical to Steel making the playoffs.
Burke might be competing for the third striker slot on the Union roster this coming month.
If there is one player on the Steel roster who should be given every chance to join the Union first team, it's potential USL Rookie of the Year Santi Moar.
Moar has the vision, ball skills, and poise to be an offensive weapon in MLS, just as he has been in USL. Moar led the Steel in appearances with 30, 20 of those being starts. (Note that early in the season Marcus Epps and Fabian Herbers were starting Steel games ahead of him.) Moar had six goals on 37 shots, 20 of them on target, to go along with six assists.
Moar should be with the Union in Florida come February.
P. S.
Shrewd readers have already noticed that the only Union Academy player in this discussion was Mark McKenzie. The three other academy players at Bethlehem, Brenden Aaronson, Michael Pellegrino and Tomas Romero, were only 16 years-old when the final whistle sounded in Louisville on October 20.
Aaronson, Pellegrino, and Romero are not candidates for MLS in 2018 but are serious candidates for the Steel. Aaronson is a No. 10, Pellegrino an 8, and Romero a keeper.
Remember to add Anthony Fontana to that mix, and Aaronson would probably move to the flank.
Fontana and Pellegrino in front of Chambers as the 2018 Steel's central midfield core is an interesting thought.  A chance remark from the captain suggests he likes "Pells," as he called him.