Photos courtesy USL and Steel Communications
Bethlehem Steel FC's 2017 season came to a close Friday night when they lost 4-0 in the first round of the USL playoffs against top seed Louisville.
The more experienced Louisville side controlled the game against Bethlehem, who were missing one of their top players in Santi Moar, who was injured Thursday in practice.
"We got beat by a better team tonight," Bethlehem head coach Brendan Burke said after the game. "Louisville were excellent, and they should be really proud for where they are at as a club and a city. They are certainly on the map. They have a lot of experience throughout the team and it showed tonight. I think the occasion was big for us but that starts and ends with me. We tried to press and make the game fast and they were more than able to meet the challenge so full credit to Louisville because they could go all the way."
Burke's "all the way" remark is even more cogent than when he made it.  The regular season league champion, western conference top seed Real Monarchs, was eliminated late last night on penalty kicks in the other #1 v #8 game.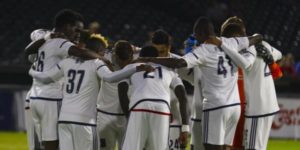 The third game between the two sides avoids classification as an out-and-out blowout only because Jake McGuire kept it close in the first half with 5 saves. He added 2 more after halftime.
Louisville started their top-quality midfield against the Steel. Superior cohesion, anticipation, tight defensive spacing and experience, together with Moar's absence, allowed them to dominate.
Louisville fullback Tarek Morad opened the scoring beautifully in the 14th minute. Oscar Jimenez served a head ball to Paco Craig who nodded down to the feet of an unmarked Morad, who had come running in behind Jimenez and buried the first goal.
Morad scored again in the 31st minute when consecutive Steel attempts to clear misfired. A Louisville shot struck the crossbar beyond McGuire's diving reach and fell to Morad with the net wide open before him. He didn't miss.
Only after Louisville secured a two-goal lead did Bethlehem have stretches of possessing the ball in spaces past midfield, and they did not have a meaningful threat on goal until first half stoppage time.
The Steel came out more aggressively after halftime, but the aggression allowed Louisville to showcase its skills as a dangerous counterattacking side. Perfectly weighted through balls put Louisville attackers behind the Bethlehem center backs for plenty of threats and two more goals.
In the 70th Oscar Jimenez sent Luke Spencer behind the center backs to beat the Steel keeper, and in the 79th Spencer did the same for Brian Ownby.
James Chambers and Derrick Jones in the central channel were often well up field trying to spark the attack for Bethlehem, which meant the center backs were left isolated against the counters.
In contrast, the Kentuckians' defense recovered back very quickly, was quite compact around the ball, and swarmed it. Bethlehem attempts to short-pass through it were consistently frustrated and converted into attacks the other way.
Louisville showed the polish of a group that has trained together and played together all season. While Bethlehem's continuity in 2017 has been light years ahead of 2016, it was not comparable to Louisville's. This game exposed the limits of Bethlehem's system.
Three points
Once again, bush league refs: Referee Marcos de Oliveira called a very tight game against the Steel, liberally dispensing yellow cards in the second half, all of which were plausible. By contrast, he called a very forgiving game against the home side, most prominently when Adam Najem was flattened in the penalty box by an elbow to the back of the head and was taken off shortly thereafter, presumably to be evaluated for a concussion. Oliveira's whistle on the occasion was in the pit of his stomach, along with his courage.
Had a Steel player done it, judging by the strictness of the other cards, a yellow would have been guaranteed, and a red would not have been a surprise. The United Soccer League deserves to retain the qualifier "provisional" for its division 2 status until referee quality improves.
Another Union Academy first: Brenden Aaronson is the first Philadelphia Union Academy player to play in a professional playoff game. He came on for Najem in the 76th minute. Who knows how the winter will change things, but Aaronsen is currently the leading Academy candidate for play with the Steel next season. He turns 17 on Sunday.
Perspective: Any playoff system means every team save one ends its season with a bummer. The 2017 team earned a lot more points, 16, than its predecessor, and scored a lot more goals, 14. They won away from home much more frequently. They were a better side.
Lineups
Bethlehem: Jake McGuire*; Aaron Jones*, Hugh Roberts, Auston Trusty*, Matt Real; James Chambers, Derrick Jones*; Chris Nanco (Yosef Samuel 66'), Adam Najem* (Brenden Aaronson**), Cory Burke (Josh Heard); Seku Conneh. Unused Substitutes: Tomas Romero**; Charlie Reymann, Matt Mahoney, Michael Pellegrino**. *Union loanee, **Academy player
Louisville: Greg Ranjitsingh; Kyle Smith, Sean Totsch, Tarek Morad, Paco Craig; Paolo Del Piccolo, Oscar Jimenez; Speedy Williams, Mark-Anthony Kaye (Brian Ownby 55'), George Davis IV (Richard Ballard 73'); Luke Spencer (Ilya Ilic 86'). Unused Substitutes: Tim Dobrowolski; Niall McCabe, Guy Abend, Sean Reynolds.
Scoring summary
Louisville: 15th minute ,Tarek Morad (Paco Craig, Oscar Jimenez)
Louisville: 31st minute, Tarek Morad
Louisville: 70th minute, Luke Spencer (Oscar Jimenez)
Louisville: 79th minute, Brian Ownby (Luke Spencer)
Disciplinary summary
Bethlehem: Yellow card, 57th minute — Matt Real (foul)
Bethlehem: Yellow card, 64th minute — Cory Burke (foul)
Bethlehem: Yellow card, 74th minute — Seku Conneh (foul)
Bethlehem: Yellow card, 86th minute — Derrick Jones (foul)
Referee: Marcos de Oliveira