When Bobby Warshaw retired from professional soccer after six years, few noticed. He played his last season at the age of 27, captaining his hometown Harrisburg City Islanders in America's third division after a journeyman career that took him from the U.S. to Scandinavia and back again. By his own account, it was just another career, nothing special.
In the end, it's his account that is special, and it amplifies his career as a result. 
His book, When the Dream Became Reality, published this summer, enters into American soccer's historical record a uniquely insightful view on the life of the sport's everyman through the lens of the Bobby Warshaw case study. It's the tale of a boy who grew to be one of the best his country had to offer, but for Warshaw himself, it was never good enough.
When the Dream Became Reality chronicles Warshaw's journey from his schoolboy days in Mechanicsburg, Pa., where he was a two-time Pennsylvania Player of the Year, through his amateur years at Stanford and with U.S. youth national teams, and on to his professional days.
In and of itself, that might not interest you. After all, it's not like Warshaw is a household name whose career you've followed for years.
But it's the way that Warshaw tells the story and the perspective he offers that draws in the reader, lending a certain universality to it.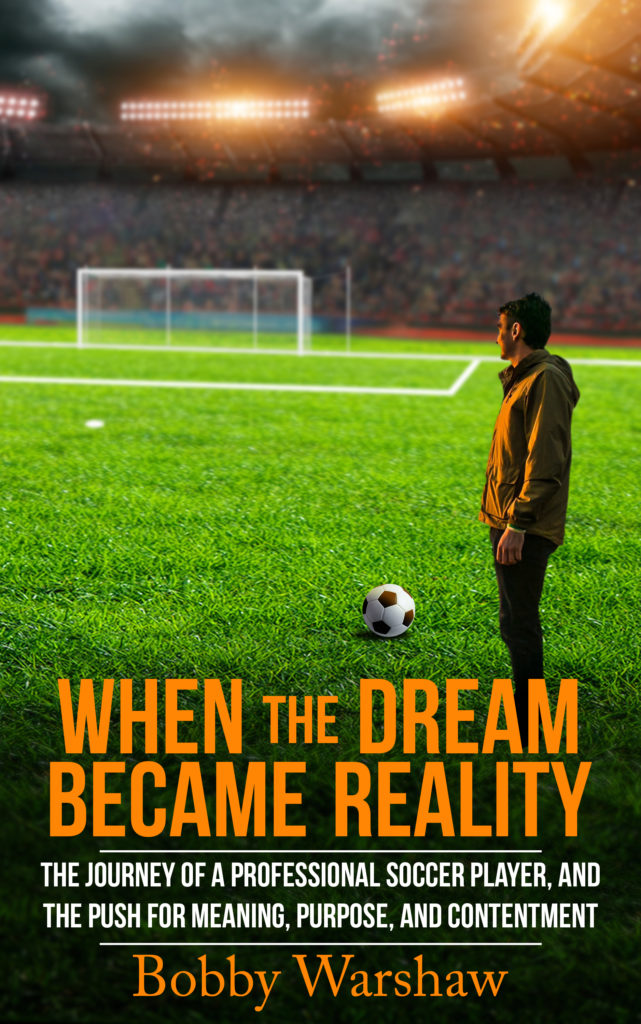 After a cracking and surprisingly intense opening chapter that introduces you to the raw, honest, hypercompetitive, and often self-destructive character that is Warshaw, we move chronologically through his career. His amateur days are illustrative for the larger story but rarely as interesting as the tales from his pro career, which resume at page 60. From there, the book absolutely flies by, a brisk read that entertains, informs, and alternately prompts laughs and cringes at Warshaw's tales.
Have you ever wondered what it's like to play overseas for your country? Warshaw shares his escapades in Belo Horizonte, Brazil, where he left the field with a mouthful of blood but without a few teeth that were knocked out.
Were you curious about what it's like to play professionally in America? Warshaw tells his account, replete with the maddening frustration that came with being a player under a coach in Dallas who clearly never wanted him and deployed him in the most bizarre ways.
Want to understand what it's like to be a player at the mercy of your club, because they own your rights? Warshaw's story of how he forced his way out of Dallas and on to Scandinavia, where he briefly flourished but struggled with the lonely existence of an expatriate, is a must-read. 
When the Dream Became Reality shows the reader just how capricious fortunes can be in pro soccer. The difference between stardom and failure can be one choice or one person, and that one person may not be the actual player, but rather a coach, agent, or teammate who can either help create the situation in which a player can rise to new heights or keep him tethered to the ground.
In no situation is that ever as clear as his time with Swedish side Ängelholms. In the span of weeks, Warshaw went from a bench-warming defensive midfielder for Dallas to a star attacking midfielder for Ängelholms, scoring eight goals in nine games. The player hadn't changed but the situation had.
But here, we see just how important a single decision can be for a career, as Warshaw makes the wrong one and never matches those exploits again, while his teammate and friend, American goalkeeper Matt Pyzdrowski, makes the right one and ends up starting for a Champions League team.
You may or may not know how the story ends, but you find yourself rooting for Warshaw the whole way, even though at times you just want to yell at him to chill out, smell the roses, and appreciate what he has. That's largely because you see how much he cares, how much it drives him, how introspective and ethical he is, and how, even at times when he acts like an awful person, he judges himself more harshly than anyone else. 
Also, it helps that his stories are occasionally hilariously insightful and self-deprecatory, whether it's explaining the irony of getting drafted by his least favorite team in Major League Soccer or digressing into the prospect of homosexuality in the locker room.
In the end, this is a book more about Warshaw than the people he encounters, and Warshaw spares those players at times, not mentioning the names of guys in Scandinavia who were clearly just paycheck players more concerned with their next transfer than with their team or fans. Warshaw's decision not to name all names is a flaw in the book, but it brings home its core point. This is not so much Jim Bouton's groundbreaking book, Ball Four, which controversially tossed off the white bread facade of professional sports, as much as it is Open by Andre Agassi, which introduced the world to the man behind the facade.
In telling his own story, Warshaw is trying to tell every American soccer player's story, without any facades. It's a story worth reading.