All photos PSP 
The Union's 2017 MLS season will end on October 22, so it is time to focus on the future.
Dumping salaries in a salary cap league can direct more resources toward player acquisition. Meanwhile, Earnie Stewart and company are tight-lipped, so we are speculating about the organization's future plans.
Guesswork
Are there players on the Bethlehem Steel who might perhaps be ready to assume the roles played by more expensive members of the Union's 2017 roster? How much money could be saved? What might be done with the savings?
The Steel reduced the roster from 14 in 2016 to 13 this season. An Earnie Stewart response at a 2016 summer Q & A could mean the Steel salary budget is inflexible and fixed. Further comments made by the squad's head coach further strengthened PSP's beliefs.
In the offseason, Bethlehem resigned two veterans and added a third. The new signing was an easy decision – a quality player named Hugh Roberts. The resignings of James Chambers and Cory Burke took a little more time. PSP guesses, shamelessly and wildly, that the total cost of the three might be as high as $225K-$300K. Each possibly might be on a one-year contract with a club option, since USL does not allow contracts longer than two years with a further one-year club option.
We guess the club paid in part for its three Steel veterans with the 14th salary from 2016.
The first-team's third striker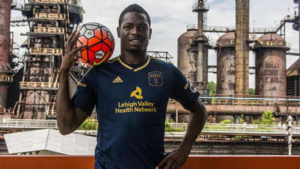 Cory Burke might replace Charlie Davies. Davies is a practice player with only 4 total appearances between both teams, 90 minutes with the Steel once and 25 with the Union. Davies earns $109K and is 30 years old. The 25-year old Cory Burke might earn $75-100K because strikers are pricey.
The move would increase Seku Conneh's Steel responsibilities and make the Union bench younger. It would save $10K-$35K. The Jamaican national teamer would need an additional international slot.
Reserve center back
Hugh Roberts might replace Richie Marquez. Marquez's "plus/minus" numbers in Chris Sherman's SEBA projections are poor. By the eye test, Roberts' play with the Steel is at least comparable to Marquez's and perhaps superior – especially looking at the Louisville games. The 25-year old Marquez earns $133K while the 24-year old Roberts might earn $75K-$100 because he was a finalist for 2016 USL defender of the year. Thus, Roberts replacing Marquez would save $33K-$58K.
Left flank midfielder/left winger
Steel starter Santi Moar might replace Chris Pontius, were Fafa Picault become the full-time first-team starter. Of the three, Moar is the most talented attacker, and has spent this season becoming a very effective USL player. The 30 year-old Pontius earns $400K and we assume the Union would sign the Spaniard Moar to a supplemental roster spot at $65K, given his age and the possible reserve roster move described below. Moar was a Union 2017 draft pick and is old for an end-of-season rookie at 24.
Replacing Pontius with Moar would save $335K, improve offensive creativity, and provide the Union with much needed youth. But he would provide the first team with less defensive physicality and aerial prowess and Moar would need a new international slot.
Right flank midfielder/right winger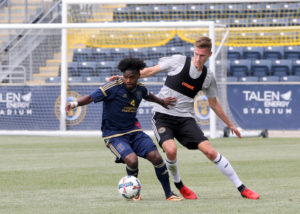 Chris Nanco might replace Ilsinho, which would help Marcus Epps break into the first-team's top three flank mids with Picault and Fabian Herbers. Nanco was a Union 2017 draft pick. His initial adjustment to professional soccer was slow, but he has appeared in the last 15 consecutive Steel games, starting 10 and subbing 5. Whether the Union would sign him to the reserve roster at $52K or the supplemental at $65K would depend on the open slots in each category. Officially, the two rosters hold four spots each, although there are loopholes as the 2017 roster illustrates.
The 31-year old Brazilian Ilsinho earns $470K and replacing him with the Canadian Nanco would save $405K-$418K – in addition to bringing youth to the Union.
Reserve left back
This idea is the greatest stretch.
Matt Real, one of Coach Burke's mid-season candidates for his most improved player, might replace the 32-year old Fabinho.  18 year-old Real was signed to the Steel out of the academy. He would be signed to the reserve roster as a homegrown player for $52K (Meanwhile, Fabinho earns $160K).
Replacing Fabinho with Real would be bold. Left backs are scarce and Real has only appeared in 14 professional matches, all starts. Jettisoning Fabinho would save $108K and significantly reduce the first team's age.
Potential results
Moar for Pontius and Nanco for Ilsinho would save $740K-$757K, historically a Maurice Edu or a Tranquillo Barnetta salary.
Were all five moves made, and our wild guesses for Roberts and Burke anywhere close to the truth, the savings might range from anyone between $891K-$954K,a bit under an Alejandro Bedoya salary.
And making some, or all, of these moves might signal an organizational commitment to a player-management principle called "up or out." As yet, we have little evidence whether that might be Stewart's management approach.