Cover photo courtesy of USL. All other photos by PSP
Much of PSP's focus on Bethlehem Steel this summer has emphasized young, new faces – totally appropriate when covering a player development side.
However, in Bethlehem's on-the-pitch universe, three veteran constants have always been present in practice and almost as often in games. It is time to discuss James Chambers, Cory Burke and Hugh Roberts, especially since one of them has just been nominated for USL Player of the Month for August.
Tropical predator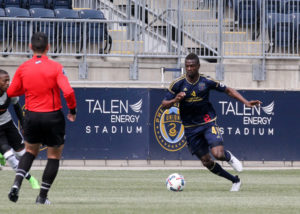 Cory Burke is the nominee. He notched three goals and two assists last month. He faces stiff competition from Charlotte's Enzo Martinez and Louisville's Luke Spencer, but the recognition is deserved.
This season, he has started in 16 of his 18 appearances. He came on as a winger/flank midfielder in the second half of the season opener against Rochester, helping spark the second-half comeback against the Rhinos that was negated by a late Rochester winner. With excellent cooperation from Jamaica's national team, he appeared in the second half of the Steel's win against New York Red Bulls II at Montclair State University after flying back from Peru directly to nearby Newark.
More recently, Burke has stepped in at striker for Seku Conneh when the young Liberian suffered a knee sprain and has displayed improved play from last year. He has stronger individual ball control when checking back in hold-up play. He has provided two assists, both with nuanced weighting, displaying a poise that was missing last season. Burke has scored five goals this season and recorded the second brace in Steel history – Seku Conneh has the first – last month.
Burke should be called Cory the Hunter, as a constant from last season is his relentless preying upon enemy defenders. A downside of that style of play is that he tends to accumulate yellow cards, and earlier this season, he served a one-game suspension.
Mr. Roberts
Hugh Roberts is the second veteran constant in the Steel universe. He has started in 17 of his 19 appearances. In addition to performing well as a defender – 90% passing completion rate, several interceptions – in the second home game against Cincinnati, he headed home the game's only goal with three minutes to go. As a result, he earned selection to the league's the team of the week.
He has adjusted well to being part of a player development side. Our understanding of his earlier professional career with Richmond is that he worked his way into the starting lineup over the course of a few seasons, so he has experience with the need for patience and flexibility. He partners well with Auston Trusty and also did so with Mark Mckenzie until McKenzie's departure for Wake Forest.
While Roberts remains firmly with the Steel and not with the Union, at the USL level, Hugh Roberts seems as effective as both Richie Marquez and Ken Tribbett when you judge by the results. He leads the backfield effectively when that is his role. Of course, Tribbett did prove to be better as a defensive center mid than Roberts in some early-season emergency experiments.
Given the multitude of contract decisions available to the first team at central defender at season's end, Roberts' signing may turn out to be a "sign, stash and develop" investment in the short-term future. Even though he had four seasons' experience with Richmond prior to this year, he will only turn 25 at the end of this month.
The captain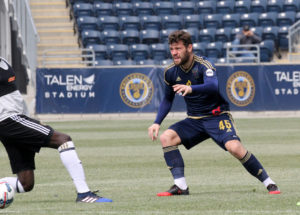 PSP continues to appreciate James Chambers' efforts to make the Bethlehem Steel a better soccer team. While he is their oldest player, he remains their most intense one. The press box occupants for Bethlehem games at Lehigh agree that his voice is the most likely to be heard from the field when our windows are open. We suspect USL refs rank him in the league's top ten as "most animated conversationalist." From direct observation, we know that he demands as high a performance in practice as he does in games.
Perhaps the best Chambers postgame comment came a few days after the win at St. Louis, when he stated categorically that he had not played a good game even though he scored. Not only did he score, but he scored the winner.
This season, he has appeared 20 times with 18 starts. Twice, he has begun on the bench, most recently behind medically-rehabilitating Maurice Edu in Orlando. Head coach Brendan Burke stated after the other bench appearance that Chambers hates being there. In both cases, his appearance onto the pitch corresponded to the Steel scoring. Against Pittsburgh he scored on a penalty kick, but he was less directly involved in Marcus Epps' equalizer on the road against Orlando. Perhaps Chris Sherman might expand his "plus/minus" player analysis to Bethlehem.
He has a 90% success rate as a tackler. Better yet, despite having no assists this season, he has scored five goals.
The point
Without Burke, Roberts and Chambers, the Steel would not be competing for a playoff spot in the last full month of the season.