Photo: Paul Rudderow
Who: Philadelphia Union (9th place, 30 points, 8-6-11) vs. Toronto FC (1st place, 50 points, 14-8-3)
What: 2017 regular season
Where: BMO Field, Toronto, Ontario, Canada
When: Wednesday, August 23 at 8:00 pm
Watch: TCN, MLS Live
Union fans who are devoted enough to stay up late and watch their beloved Boys in Blue in western time zones ought to have known better. Frankly, they ought to have known this heartbreak was coming. This has happened before:
2013: Defender Ray Gaddis was called for a 97th-minute handball in the box in Sandy, Utah, which allowed Real Salt Lake's Javier Morales a chance to slot home a late penalty in a 2-2 draw.
2014: Substitute Antoine Hoppenot lost track of Timbers midfielder Gaston Fernandez on a 94th-minute cross. which was headed home at the far post to secure Portland a season opening draw.
2015: Referee Allen Chapman called a dubious foul in the box on Maurice Edu in the dying minutes of another early-season match at Real Salt Lake when the Union had a 3-2 lead. Alvaro Saborio finished the penalty and the Union left with only a point.
2016: Union castoff Chaco Maidana buried a 95th-minute free kick for a 1-0 Houston win, a gut punch to Union fans and an exorcism for the crafty Argentinian.
2017: Just days ago, a cadre of Union training dummies stood or lunged at former Union winger Shea Salinas as he drove into the box, only to be needlessly hacked to the ground by a rusty and unaware Josh Yaro.
Union fans should have seen this coming, but the gut punch hurt just as badly as the ones that have come before. On Wednesday night, Philadelphia gets a chance to atone for its most recent sin against the class of MLS, Toronto FC.
Scouting Report: Toronto FC
Not only is Toronto the best team in the conference so far this season, they're "inching towards [the] greatest season in MLS history." Comparing them to 1990's era sides is a difficult task of apples and oranges, but should they break that all-time barrier, the result will not be a surprise to anyone who follows the league. In terms of overall balance, Toronto is a bit top-heavy with international stars Sebastian Giovinco, Jozy Altidore, and Michael Bradley. But in a league with as much parity as MLS, great players matter and Toronto have the evidence to prove it.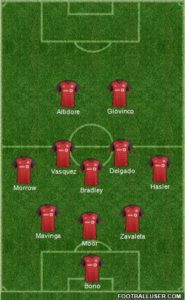 Perhaps even more significantly, though, Toronto FC are also full of quality across the pitch. Liechtenstein international and summer signing Nicolas Hasler was the most recent evidence of that quality with his brilliant run and goal from the wingback position during a massive 3-1 away win over real contenders Chicago Fire, in Chicago, over the weekend (one that matched their 3-1 home win earlier in the year). That result puts the Reds at 5-3-5 on the road this season, an astonishing feat considering no other team in MLS has a winning away record.
File Toronto's 3-5-2 under "If it ain't broke" for Wednesday night's match, and though they have some players that may rotate in, the Reds are focused on finishing strong this season, winning the Shield, and atoning for their MLS Cup loss at home last fall to Seattle.
Injury Report: OUT – M Benoit Cheyrou (calf), D Nick Hagglund (knee)
Suspensions: None
Scouting Report: Philadelphia Union
Some lazy defending and a missed penalty by team captain Alejandro Bedoya conspired to take an early season win away from the Union in their 2-2 March 11th home draw with these Reds. Though an optimist could have seen two important points in difficult situations to start the season (in addition to the season opening draw in Vancouver), after that result the Union failed to win a match for nearly two months and have done little more in addition to inspire confidence.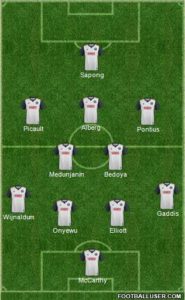 If Toronto is operating under the "If it ain't broke, don't try to fix it" philosophy, the Union's strategy might instead be called "If it can't be broken anymore, don't fix any of it now." An optimist could point to a dozen bounces the wrong way that have taken points from a team that really is one player away from being competent, while the casual observer would wonder why these random bounces keep coming up "Tails" when the team keeps calling "Heads."
The Union have not deviated from their formation nor their mantra, despite results that don't match the team's ambition – thus, expect little squad rotation, despite the quick turnaround. Desperate times call for the exact same measures, as the saying goes.
Injury Report: OUT – M Fabian Herbers (groin), QUESTIONABLE – GK Andre Blake (hand), M Maurice Edu (leg), GK John McCarthy (knee)
Suspensions: None
Players to watch: 5 v 5
In March, a Union midfield with Derrick Jones and Alejandro Bedoya doing the dirty work so that Haris Medujnanin could create outplayed the East leaders and should have earned a win. There's a saying about how one needs people to move the piano as much as one needs people to play it, and the Union haven't done enough of the grunt work moving to allow anyone to do the playing. If they expect to compete in this fixture, that will have to change.
Prediction: Philadelphia Union 2-2 Toronto FC
There's another old saying about pianos that goes, "A piano might fall on your head… but it also might not. And in the meantime, you never know. Something nice might happen." Here's hoping.