Photos Mikey Reeves
With the Steel recently returning from a short midseason break, we discuss a portion of the roster important to all who coach at any level and to many who have played – those whom head coach Brendan Burke has called "the character players."
The phrase focuses on the individuals who step aside when first-team players come down for game minutes, maintain a positive attitude despite being displaced, and remain ready for their opportunities while working hard every day in practice.
Who they are not
He does not refer to Seku Conneh or James Chambers who are both regulars in the Steel game-day sides when stateside.
Only in a very limited, sporadic way does he refer to Cory Burke or Hugh Roberts, or even Santi Moar and Chris Nanco. And recent comments indicate that Matt Real is transitioning towards a larger, more frequent game-day role.
He faces an interesting question about whether Chris Wingate will fall into the category once the tetchy hamstring is fully, cautiously evaluated as having completely recovered from its second injury of the season. The current six-game unbeaten streak (four wins and two ties) corresponds 5/6ths to Ken Tribbett's presence in Wingate's spot next to Chambers in the double pivot. But the situation regarding Wingate is only hypothetical.
Who they are
The character players are lesser-known to the fans because their usual game-day roles are on the bench or being out of uniform. Every one of these young men has already started at least one game if you include preseason, and none of them has failed his responsibilities. In fact, all played of them played in the recent charity match.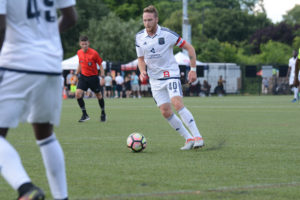 First up is Josh Heard, the man who in his regular and preseason Steel career has appeared at every position save center back and goalkeeper. We once joked with him whether he had a pair of goalkeeper gloves, and he laughed. "Bring them on," he said. Coach Burke speaks highly of the trust he has in Heard. His best position is probably as a flank midfielder, and his most prominent characteristic is his fearlessness.
A fellow survivor from 2016 is Jamaican Amoy Brown. The pencil-thin twig from the March 2016 scrimmage against Georgetown, who made perfectly timed runs to exactly the right place as a striker, is no longer a stick. In preseason and his few 2017 appearances, his role is a reserve offensive player, flank mid more often than striker. That may reflect Seku Conneh's considerable improvement as a number 9 and Cory Burke's availability there as a primary substitute. He remains a development project but has improved in the past 15 months.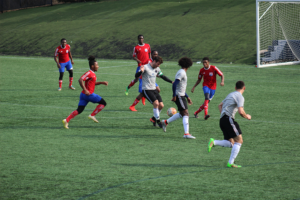 Matt Mahoney is an athletic outside back from Temple new to the Steel this season. Injuries to fellow backs put him into substitute roles off the bench (as well as one start), and he has performed reliably well. Most recently he deputized for Hugh Roberts at center back. His bag of "twinkle toes" tricks is limited, but his soccer IQ seems strong, and he has played both on the left and the right. His engine is excellent and his coach has indicated that in an emergency, he could fill in on the flank in the midfield. Such versatility is important for a small roster.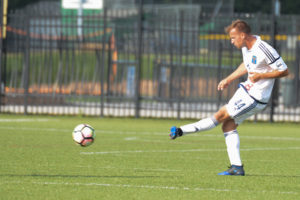 New this season as well is Charlie Reymann from the University of Kentucky. Charlie plays left outside back and offers more offensive flair than the Steel had at the position last season. During preseason, he consistently started behind Santi Moar in the left channel with whom he meshed well. Matt Real's forward strides, Gili Wijnaldum's earlier need for Steel game minutes, and an injury have changed the pattern. He started against St. Louis in Real's absence and would have knocked a less well-anchored goal awry with his thunderous shot off the bar. Such an upgrade over last year playing a supporting role says something about improvement in this year's team.
Technically, the final character player is a survivor from 2016 since Yosef Samuel signed his Steel contract late that summer and appeared as a second-half substitute in the last two games of the season. He illustrates the value of faith, for PSP's October impressions were definitely uncertain.
Young Samuel has proved us wrong. He has heeded his coaches advice about improving the execution of his defensive responsibilities, which was emphasized in February. Either as a starter or substitute, he has provided energy and courage and is growing in confidence using the ball to trick his defender.
He created the opportunity that Seku Conneh finished to tie the game in St. Louis with hard work and guts. Quite recently, coach has said that he trusts him, an important sign of progress. He is growing into an effective USL player and he most recently scored in the charity match in West Chester (see above).
The Academy supports all of its graduates
The most important lesson Yosef Samuel's improvement teaches us is the importance of regular practice with USL full professionals.
Samuel's positive improvement in less than a year is certain. Growth and maturity would occur in a college program but his training and support at YSC Academy has taught him how to manage his academics. He will begin working on post-secondary credits online while he continues to improve as a soccer player.
Matt Real may teach us the same lesson, but it is not yet as obvious to the outsider looking in. His body of work available for observation is smaller due to an early-season hamstring issue.
The Steel's reserve goalkeepers are three academy players and have only played once among them, although the number is expected to increase with Andre Blake away from the Union for the Gold Cup. They are sophomore Tomas Romero, and college-bound seniors Matt Freese and Jahmali Waite. Similarly, the primary reserve center channel midfielders have all been academy players, two college-bound seniors and a junior, Dawson McCartney, Josue Monge, and Anthony Fontana.
Important family decisions
August 1 is the approximate start date of NCAA preseason and the point by which this year's seniors must have chosen between remaining college-eligible or turning professional. As fans learn those decisions, we must keep in mind all the various rewards and risks those choices entail.
The academy may have provided a family its only meaningful opportunity to send a son to college. A son that may have had his heart set on a university education as well as parents that may have had their hearts set on achieving that for their child.
Turning professional ends the opportunity for college education via athletic scholarship, and it does not guarantee professional success. Competition and injury both pose risks.
Internet-provided post-secondary credits and degrees can mitigate the risks of going pro, but this particular avenue to further formal education is cutting edge new. It does not have the prestige of a parchment labelled Harvard, Wake Forest, or Swarthmore.
YSC Academy's Head of School, Dr. Nooha Ahmed-Lee, and Director of Operations, Jim Pierce, are developing such postgraduate remote education opportunities for their own alumni and other interested parties from the Union and the Steel, but these are brand new ideas rather than well-established pathways. Comfort levels with the risks of being on the cutting edge will vary from person to person and family to family. We need to remember that.