Photos: Paul Rudderow
Let's start with a before and after.
Take a look at the photo to the right. Tim Howard is caught in two minds. His heart urges his body to make a lunging, desperate attempt. His mind realizes the futility. Howard becomes a spectator, rooted to his spot, helpless to prevent the game-winning goal.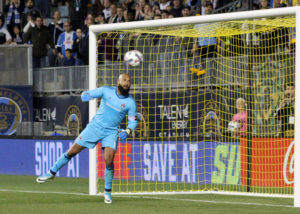 Now, look at the featured image. It's a moment after the former picture. Anguish and anger radiate from the keeper's scowl. Howard's moment of rage is a concession. It's a recognition that one moment of brilliance ended Colorado's chance of collecting any points.
The embodiment of the Union's season
With his curling free kick in the 75th minute, Haris Medunjanin all but sealed a fourth consecutive victory for Philadelphia. It typifies what he brings to the field every week. The Bosnian midfielder has the skill to change the outcome of a match in an instant. Not all are as overt as Saturday's goal, however. Often it can be as subtle as a pinpoint 40 yard switch of play to spring an attack.
One part of PSP's Adam Cann's interview with Jim Curtin echoes this sentiment.
"Haris doesn't beat you with stepovers and tricks, he does it with just little, subtle movements of his hips, will make the entire defense shift the wrong way, and then he can play a 40-50 yard ball on the ground or in the air and put it where he wants. There's a ball from this weekend [against D.C. United] that comes over his shoulder and he actually hits it off a half-volley and actually hits a throughball to C.J. and you're just going, "Holy [crap]." Not many people even realize what he just did, but that's hard to do."
A handful of games on a new team in a new country is not a strong enough sample size to label a player as a defensive liability. In those handful of games, though, that is exactly what Medunjanin was. As he adapted to his role in Curtin's formation, his creative impact was counteracted by his inability to contain the opposing midfield.
Curtin's patience paid off. There is a correlational if not causational nature to the Union's success and Medunjanin's play. As his comfort in his role and partnership with Alejandro Bedoya blossomed, he proved to be surprisingly adept at applying his vision to his defensive game. There is a beauty in his ability to see an opposing player's pass before it's made and step up for a key interception. The Union are now controlling the midfield and winning games.
There were other names to consider for player of the week. Ilsinho was dynamic in Wednesday's victory over the Houston Dynamo, as were wingers Fafa Picault and Chris Pontius.
C.J. Sapong finished a lovely penalty kick for his eight goal of the season against the Colorado Rapids. It was the statistical reward to validate his exceptional hold-up play in both games.
Saturday evening saw the Union host the team with the fewest points in MLS after a midweek game. There was no reason to be anything other than optimistic about a fourth consecutive victory. Some of that optimism dissipated after the Rapids took an early lead.
When Medunjanin sent his shot past Howard, he ensured Philadelphia's, and his own, success would continue.
Haris Medunjanin is PSP's player of the week
Previous Winners