In May 2016, Philadelphia Union were riding a stellar defensive record to the top of the Eastern Conference.
One year later, they entered May leaking goals and staring up at their rivals, dazed, from the bottom of the east.
Fans who had reinvested time and money in the club after the lengthy spiral that ended when Earnie Stewart replaced Nick Sakiewicz atop the Union org chart were restless. Stewart came with a proven track record of squeezing on-field success out of limited funds, but his offseason acquisitions were either struggling to get in the lineup or looking talented but problematic defensively.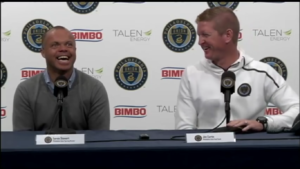 Placing the blame on Stewart is uncomfortable for a number of reasons. First, he has always touted a long-term vision and remains relatively new to the job. Second, the specter of Nick Sakiewicz and his chaotic approach to roster management remains fresh in the mind.
Third, Stewart is an acolyte of the "Moneyball" family of strategies that argue they can achieve the same goals as other clubs but for a lower financial cost. Instead of hitting the market and trading dollars for players, the return on money spent can be increased by investing it in innovative ways that allow value undetected by competitors to be uncovered.
There is a very real way in which this boils down to placing a bet that you are smarter — or, a bit haughtily, more hard-working — than your competition, and that you can stay that way even as each marginal advantage you discover is quickly identified and implemented at richer clubs. There is, perhaps, an inherent "pride of the underdog" in this approach, and abandoning it can seem like admitting you were not quite as uniquely talented as you once believed. (To his credit, Stewart has consistently argued he will find value through hard work, not greater intellect.)
With Stewart well (and rightly, given his short tenure) insulated, blame for the Union's recent winless run largely fell on head coach Jim Curtin. Unlike his sporting director, Curtin cannot point to a lengthy track record of success in a European league. And while few can question that he performed admirably in his original role guiding the club through a tumultuous and somewhat rudderless period, it is fair to ask whether he is truly the right candidate to enact the new prerogative: Build a foundation for long-term success.  
Tactically speaking
A team of expensive stars is more tactically forgiving than one without. Though obvious and perhaps cliche, this statement communicates an important assumption: Talent can hide tactical laxity. Thus, Argentina can feel more comfortable letting Diego Maradona — a great player but highly suspect tactician — lead them into the World Cup when the only Argentinian better than Maradona with a soccer ball is starting up front.
Philadelphia Union do not have a Lionel Messi to paint over a manager's tactical shortcomings with brushstrokes of near-impossible genius. Teams that are regularly outspent can't just be smarter in the front office. They must also find more value in how they approach each game and adjust within it. The coaching staff, then, should be a source of advantage when measured against other clubs.
Curtin took over the Union in the summer of 2014. Since that time, the club has appeared in two U.S. Open Cup finals, losing in extra time and on penalties to favored opponents. They made — or slouched into — the playoffs in one of his two seasons, and navigated an absurd goalkeeping situation to produce a MLS Goalkeeper of the Year. Each season Curtin has been in charge, the team has lost — through injuries, trades, personal issues, or simply a desire to return home — at least two key midfielders. Their international recruitment has been, at best, a mixed bag, and they have relied heavily on the draft even as other clubs have begun to treat it as a more developmentally-oriented event.
None of this is meant to exonerate the head coach from the faults many find with him (a plethora of which have made their way into both the articles and comments on this website). Instead, recognizing the chaotic situation that has, until recently, often defined the Union means that it is likely quite difficult to separate the effect of the chaos from the effect of the coach, particularly when that coach has a relatively short track record.
But when the Union faceplanted out of the gate and threw away a three-goal lead at home, it finally appeared to provide clarity. Alejandro Bedoya exerted minimal influence from the attacking midfield role while new signing Haris Medunjanin, dubbed a "controlling midfielder" by Stewart, seemed incapable of controlling opposition attacks. Keegan Rosenberry, Chris Pontius, and Richie Marquez regressed; Ilsinho remained anonymous in the final third. Curtin couldn't cut it.
Three wins and four shutouts later, however, and suddenly Philly's head coach seems to have found the answers.
Overall, though, the question remains:
Can Jim Curtin's management provide the extra value Philly needs from its coaching staff to compete in MLS?
Perhaps the best way to peek into Curtin's development as a tactician is to find out exactly how his broad coaching philosophy has evolved, and how that has influenced his tactical and personnel decisions this season.
Curtin's developing style
"My style would be more tilted toward defense. With each role, I still want to have the confidence to pass," Curtin told PSP this week. "That's why I believe in guys like Haris, Bedoya — who is good on the ball, who makes good decisions — even though Keegan's not in form right now, or in favor, he's still a guy that I see, in the future, as a guy that's good on the ball in an outside back position. So we've scouted and recruited — I throw Josh Yaro into that group, I throw Herbers into that group — where they're all two-way guys. They're fully committed to defend, but when we do win the ball they give it away and now we're defending again."
As he did last year when he spoke with PSP, Curtin invoked Mauricio Pochettino at Tottenham Hotspurs as an influence.
"Pochettino, everyone thinks he has this open style, but he's defense-first," Curtin said. "They don't give up anything. If I could mold myself and take a little bit from each coach: He'd be the one where I'd say: This is what my ambition is for Philadelphia Union. Similar 4-2-3-1. Can it look different once in a while, where they do play three in the back and can juggle it — I actually think we have the personnel to evolve to that sophistication.
"But for right now, we need to get a foundation where everyone knows their job, knows their role from the defensive standpoint first. It can evolve, and can we get a little more sophisticated each year? Can we add a couple more pieces? Can an academy kid step through? That's kind of the way I envision our style evolving."
One of Curtin's best attributes as Union head man has been that he treats the constraints of Philly's situation as beyond his control, which means he doesn't brace against them but instead sees them for what they are.
"It does start with a defensive foundation," he said, "Because guess what: LAFC? Gonna spend like crazy. You saw what Atlanta did. Atlanta bought a bunch of young guys. Almiron, they paid $8.5 million just to get him and then they paid him $3 million. So it's getting crazy."
The Union are not going to spend that kind of money any time soon. And while that can be deflating for fans, succeeding in spite of that is what makes the Moneyball approach so intriguing in theory.
The problem thus far is that, despite making the playoffs last season, calling the Union a success would garner more incredulity than support. This is likely why Earnie Stewart explained to fans last week that he was still working to understand what they had been through as supporters before he arrived.
The shape of it all
Stewart also said "it really pisses me off" when Curtin is booed, because he believes the boo-birds don't understand what it takes to implement tactical concepts and get players to follow them. Some fans might respond: What concepts? Every week we see the same 4-2-3-1. The team shape has, in fact, become a point of some contention.
But the focus on the shape entirely ignores a key issue: By signing Haris Medunjanin, Philly was never going to come out and try to play the same high pressing 4-2-3-1 they hoped to execute last season. Medunjanin may be (a bit) more mobile than given credit for, but his inclusion was a clear signal the Union would not simply try to replace Tranquillo Barnetta with more energy. The 2017 Union may look the same from the air, but a similarity in shape masks a far different tactical approach than before.
"Obviously, losing Tranquillo changes a lot as to the type of playmaker that you have," Curtin said. "Tranquillo is a guy that did it by volume, getting on the ball over and over again, and he can get goals and assists, but also did a lot of work defensively in that 10 spot. So losing that was obviously a big loss.
"And then you look at the kind of personnel that we had. Obviously Mo Edu, big question marks in terms of where he was at. Brian Carroll, Warren Creavalle, and Derrick Jones coming up, so you think of those four guys and their skill set, all were predominantly, you'd say, good ball-winners, and experienced ball-winners — with the exception of Jonesy — guys that are more about athleticism and breaking up plays. So we wanted to add someone — and you also factor in that you lose a 'Quillo — someone that had the ability to look different.
"The other guys can all pass, but they aren't really necessarily guys that play a final ball. And the way we wanted to set it up, it is a little different, it's almost inverted, in that you have kind of a playmaking deep-lying guy, a little different look at it.
"When we lost Josh Yaro in preseason, that was kind of critical," Curtin continued. "He has better feet than people realize and he also gave us that speed at the back that could win the ball quickly and give it to Haris. So we lost a little of that, and there's been some juggling. But overall, the thinking was: How do we start our attack a little differently? Who is a guy that wants the ball in tight spots?
"Haris doesn't beat you with stepovers and tricks. He does it with just little, subtle movements of his hips, will make the entire defense shift the wrong way, and then he can play a 40-50 yard ball on the ground or in the air and put it where he wants. There's a ball from this weekend [against D.C. United] that comes over his shoulder and he actually hits it off a half-volley and actually hits a through ball to C.J., and you're just going, 'Holy [crap].' Not many people even realize what he just did, but that's hard to do.
"And it gives us a break, too. When we work hard to win the ball and get it to him, it lets us breathe a little bit because he's usually going to connect that first pass. And he's done a really good job of it. And if we have two to three more wins in the books like we should –" At this point, Curtin laughs. "– he'd be getting a heck of a lot more accolades right now, because he's good, man."
Returning to the team shape, Curtin said: "Again, the 4-2-3-1 is something we believe in, but as Earnie mentioned, the difference of five or six, sometimes eight yards can make it look like a 4-3-3 or a 4-1-4-1. The semantics of that, people ran with that. And that's because we weren't having wins. So it defaults to this 4-2-3-1 and people say, 'They're stubborn, it doesn't work, and they're insane,' that kind of thing."
People have indeed said this, and Curtin is right that changing the shape is often considered nearly synonymous with making tactical adjustments. Additionally, the perception of stubbornness is exacerbated when a team goes 16 matches without a win and continues to insist the shape isn't an issue.
In large part, though, the notion that Curtin was too stubborn or inexperienced to make the right adjustments may have come from the unavoidable fact that subtler changes are more difficult to notice and rarely explicated publicly. So what are the more nuanced tweaks Philly has made that have finally begun to pay off?
Let's start in back
"Our outside backs now, especially against Red Bull, their cue is: As soon as it goes wide, that's when Wright-Phillips cuts it off and their wingers [are] flying at the outside backs," Curtin said. "So our outside backs played a pass to the opposite center back. Only about 3-4 times during the game. But in those 3-4 times, it kills their pressure, it kills the life out of them.
"It happened in the D.C. game a lot, too. Where now it was quite simply better, and we're a little more patient playing these 25-30 yard diagonal balls where teams think they have you pressed and squeezed in, but it just opens up the whole game. And a lot of them have come from our outside backs not rushing forward and getting baited into turnovers, and just playing backwards to our center backs who are just 10 yards deeper than before.
"Having our center backs drop just 10 yards deeper — and this is when we have the ball and we've finally won it — what that does now, instead of Wright-Phillips having to run 15 yards to start their initial pressure, he has to run an extra 10. And it's also more time for our center backs on the ball to make the decision. So it's less rushed. And that's what Red Bull wants to do, is rush the hell out of you.
"And you can actually see it in the clips. Wright-Phillips does it the first 15 times of high pressing. But you can see by the second half he's like, 'Really? I gotta run the extra 10 yards again?'
"If you can make [strikers] have to do it over and over again, that can kill them. And then obviously having Haris in there to play the smart pass, to calm us down, to play a long clipped diagonal that makes them have to run again. Lloyd Sam didn't want to do it over and over again. Neagle didn't want to do it over and over again. Mullins wants to stand between the center backs. So you catch them in between, and they don't really want to do the defending.
"Where we got caught a bunch at the end of last year and the beginning of this year [was] with two fullbacks up the field," he continued. "Now you're in a fire drill with two center backs trying to put out a fire. And you know what Toronto is going to to do you with Giovinco and Jozy [Altidore]. So we always have three back now, as a general rule. So if Gaddis or Rosenberry is forward, Fabi stays with the two center backs. So it's never both outside backs all the way up in the 18 like you see Columbus do.
"A little more safe, but it's what we needed at this moment where we needed to start keeping some clean sheets."
Midfield improvements
A persistent criticism of Medunjanin is that he lacks the speed and agility to defend in MLS's high-octane environments. Is it simply that the Bosnian doesn't pass the eye test, or is he really a limited defender?
As his partnership with Ale Bedoya has developed, Medunjanin has found himself in the right spots more often than not.
"He'll tell you," Curtin said, "he's not [former Chelsea holding midfielder/destroyer Claude] Makelele, he's not [current Chelsea holding midfielder/destroyer N'golo] Kante, he's not going to run around and win balls, and he knows that. I've never met a player that knows exactly what his strengths and weaknesses are more than Haris; he'll just tell you.
"Defensively, he has an engine to run. He can run forever. It's more like a diesel though, not for a quick change of direction. Once he gets going, he covers the most ground, statistically, on a regular basis. It's usually him, occasionally Fabinho as an outside back, they cover the most ground with the data that comes back to us. It's not that he doesn't run, it's that the quickness isn't his forte.
"We've worked a lot now, starting in particular with the LA game, between Haris and Bedoya, just really sliding a little bit more together, because a lot of times when one would get pulled out to the sidelines, the other one wouldn't slide and be protecting the two center backs, or vice versa. If Bedoya would get pulled out, Haris was kind of slow to slide. And now they've gotten a much better understanding of each other.
"Unfortunately, we lost a lot of time in the preseason because Roland wasn't fit, and I had to tweak. But Bedoya was out of position at the 10, and we lost a lot of reps with him. Doesn't mean he can't play at the 10, that's another thing that gets exaggerated. Watch the game against Toronto with Bedoya at the 10 and tell me he can't play there.
"And Derrick Jones has done a great job at the 8 as well. So there's a lot of variables that went into it. But mostly we've worked with Haris and Bedoya just really sliding together, covering for each other so it's not just there's a big gaping hole between the center backs. Because I don't care what team you are. If you're not compact in our league and have cover for each other, you're going to get picked apart."
Up front
There have also been adjustments in how the Union press from the front. Against Montreal, they were persistently undone by Ambroise Oyongo on the left flank. Whenever a Union winger stepped over to pressure from a wide angle, the Impact moved the ball to Oyongo, leaving Ray Gaddis lost in space and caught between stepping to Oyongo or monitoring Nacho Piatti.
"The change there is: Our wingers, now, they're not flying out to the center backs," Curtin said. "And I think part of that is just playing to everyone's strengths and weaknesses, the whole group. Where we would previously have Pontius or Ilsinho or Fafa [Picault] or whoever run to the other team's center backs and it would start this domino effect where they would get it out to their outside back and now Haris is scrambling, and Bedoya is scrambling, and we're putting out a fire, it's much more organized now.
"Our wingers are staying, we're getting pressure — part of it is all the work C.J. does — but our number 10 and our number 9 are the ones that pressure the center backs, and that keeps Haris and Bedoya home. Also, our wingers are pinching in more to help. If the ball is on the left-hand side our opposite side winger is pinched all the way over to the middle. If they're going to beat us, they've got to hit an 80 yard ball over us and by then we can slide.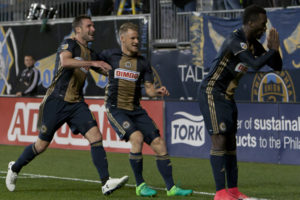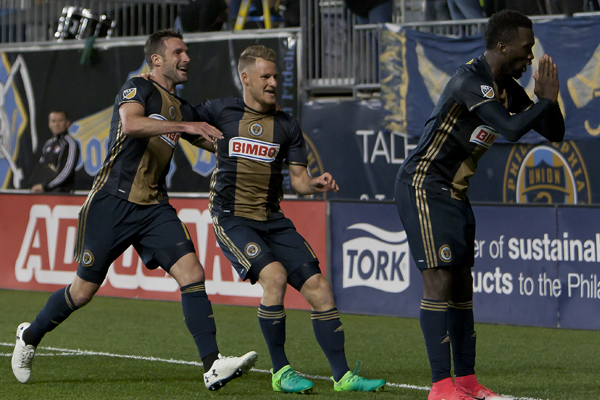 According to Curtin, so much of the team's defense comes down to how Sapong leads the line.
"[The attacking midfielder]  plays off of C.J. Let's say the ball goes to the other team's right center back, C.J. is instructed to close him down. Roland is in the passing lane. If it does somehow go back to the other center back, then Roland would slide to him and C.J. would drop into the 10 role.
"So they're almost on a rope together. You don't want them flat, you don't want them completely flat, where just one pass eliminates both of them. So it's almost like they're switching from the 9 to the 10. And they're instructed to make it as predictable as possible for the guys behind them. Does it always work perfectly? Absolutely not.
"But the general idea is that we want pressure to the other team to come from our 9 and 10. And we want them to force the opposition into playing a straight pass, not an angled pass, just because straight passes are so predictable and easy for defenders to defend.
"So with our 10 and our 9, if they can put pressure on the center backs, that puts our wingers somewhere in the passing lane between the center back and the outside back. So you're not man-marking the other team's outside backs, for sure. If there are instances now where you'll see, if the ball does get to their outside back, you're seeing a recovery sprint from Fafa and Chris to get to their outside back. So that's not leaving Ray and Fabi and Keegan in that no-man's land where they have to make up 25-30 yards and they're flying out there all or nothing.
"It's a lot of variables, but overall we're not just flying out with our wingers toward the other team's center backs. Because people watch us, they scout us, and they're able to exploit it a bit early in the year. Now I think we're much more compact, we're getting better pressure to the ball as a result of it. And when you have better pressure on the ball, it makes everyone's job a heck of a lot easier. Without pressure to the ball, I don't care if you have the best defenders in the world, you can't defend."
Beyond shape, and into the future
None of this is meant to be an argument for or against Jim Curtin as a coach.
Instead, it is meant to bridge the gap between Earnie Stewart saying, "I see what [the coaches] do every single day, what I ask them to do every single day" and the team's performances.
The 4-2-3-1 is here to stay. But so are the 4-3-3 and the 4-1-4-1, which are merely different ways for three midfielders and three attackers to settle into defensive positions.
Lift the hood on that shape, though, and it is clear that the Union have been changing and evolving as the season has progressed. Whether that evolution will lead to greater success is clearly yet to be determined, but it seems important at this stage to provide this concrete evidence that it is occurring.
When Taylor Twellman asked Stewart what Curtin has that other coaches might lack, the Union sporting director said, "He's a brilliant people-manager."
Given the internal storm Curtin has guided his team through, this is not a revelation. But Jim Curtin may yet be a very good tactician as well.
Or not.
But it may benefit the club and its fans to find out what he can do in a stable environment.